A Look At Johnny Manziel's Rocky Relationship With His Father Paul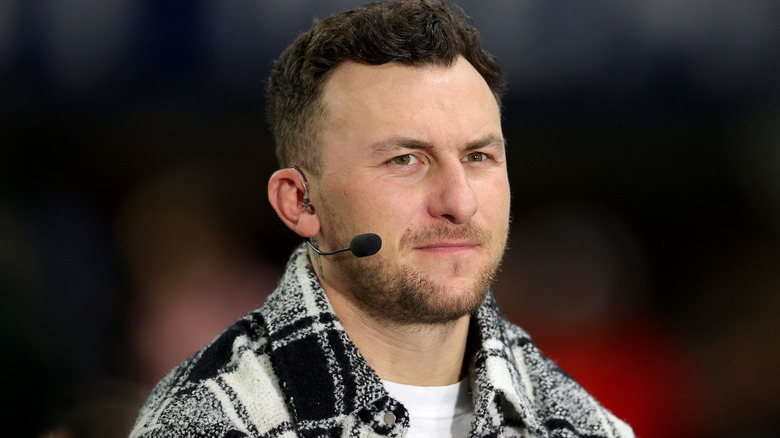 Kevin C. Cox/Getty Images
During the rise and precipitous downfall of Johnny Manziel's football career, his relationship with his father, Paul Manziel, was often highlighted. When Johnny was at Texas A&M University for his first year of college, his parents spoke about the difficulties of keeping their star quarterback son in check. "I'm going to hold him accountable; I'm going to make a man out of him," Paul told the Dallas Morning News in 2012. As part of an effort to temper Johnny's behavior in high school, Paul had offered his son a new car if he abstained from alcohol for his junior and senior years. "We have to keep him focused; Johnny needs incentives," Johnny's mother, Michelle Manziel, told the outlet.
The following year, as Johnny's stardom rose on the gridiron, Paul spoke candidly about his son for a feature article for ESPN in 2013. Paul discussed how Johnny lost control while golfing. "I don't enjoy playing golf with him because I don't want to see that temper," he said. Paul voiced concern for his son's anger and his drinking. "[I]t could come unraveled. And when it does, it's gonna be bad. Real bad," he said — somewhat prophetically — about Johnny's career.
Around that same time, Johnny had become frustrated with his parents. According to a Sports Illustrated feature from August 2013, the quarterback's parents had filled their garage with memorabilia for him to sign, which had become taxing on Johnny. Things really heated up between Johnny and his dad once his football career imploded.
Paul Manziel's harsh words for his son
Just as Johnny Manziel's brief stint in the NFL came to a close, the Cleveland Browns quarterback came under legal fire as he faced charges of domestic abuse from an ex-girlfriend in early 2016. This led to him being dropped by his agent and Paul Manziel voicing his concerns to the press. "I truly believe if they can't get him help, he won't live to see his 24th birthday," Paul told The Dallas Morning News in February 2016.
Later that year, Paul lambasted his son to the media. In June 2016, Johnny was served papers for his domestic violence charges, leading to Paul sharing incendiary words. "He's a druggie. It's not a secret that he's a druggie," the father told ESPN. Paul said that the family had repeatedly tried to help the troubled football star but that Johnny had fled rehab. "He's either going to die, or he's going to figure out that he needs help," Paul added. He painted a dire picture of his son and said the family was done trying to help Johnny. In fact, Paul believed his son needed a severe intervention. "I mean, I hate to say it, but I hope he goes to jail," Paul said.
A week later, Johnny posted photos of him partying in Cabo San Lucas to Instagram. As a subtle shot to Paul, he added the hashtag #hiDad, per The Washington Post. That appeared to be the end of their public feuding.
Golf was a source of pain and joy in their relationship
Looking back on the father-son relationship shows that Johnny and Paul Manziel almost enjoyed being at odds with one another. Johnny picked up a love for golf from playing with his father, and the pair delighted in competing against one another — even though they often complained about it. "It's him getting in my head. He knows exactly what to do to throw me off my game. I can't play with him," Johnny told Golf Digest in 2014. Despite the tension on the links, the father-son duo shared great memories on the golf course. Johnny spoke about the time he toured Augusta National — where The Masters Tournament is held — with his pops and how they hoped to one day play a round on the famed course. "I'm pretty sure that playing Augusta and walking my sister down the aisle are the only two things left on my dad's bucket list," Johnny said.
The father and son might have since found peace. After Paul went nuclear on Johnny Manziel to the press in 2016, he no longer had disparaging public words about his son. Perhaps the two were able to mend their relationship once Johnny took ownership for the demise of his football career. "What do you do when you throw away that opportunity and you have nobody to blame but yourself?" the former Cleveland Browns quarterback asked on "The Pat McAfee Show" in August. Only time will tell.