Smash Mouth's Steve Harwell Was Never The Same After The Tragic Loss Of His Infant Son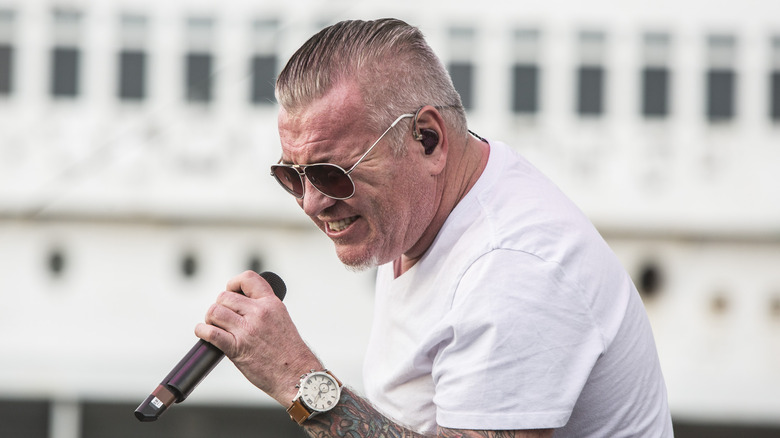 Harmony Gerber/Getty Images
The founder and former lead singer of the band Smash Mouth, Steve Harwell, died of liver failure on September 4, 2023, at 56. Though he achieved a successful career over several decades, the rock star also struggled with difficult times, including being diagnosed with illnesses such as cardiomyopathy and Wernicke encephalopathy, as well as a public battle with alcohol abuse. However, one of the musician's most tragic experiences was losing his infant son in 2001.
According to The U.S. Sun, Harwell was in a relationship with a woman named Michelle Laroque in the early '00s. The pair welcomed a son named Presley in January 2001. Sadly, the little boy died in July of the same year due to complications from acute lymphocytic leukemia (ALL).
Smash Mouth was performing out of state when frontman Steve Harwell got the news that his son was sick. He explained to The Morning Call that he and Presley's mom barely had time to wrap their heads around their son's diagnosis before he succumbed to the illness. "It all happened so quickly ... I got a call in Minneapolis that he had leukemia. Within a day and a half, he was gone," the singer said.
Steve Harwell tried to stay positive after his son's death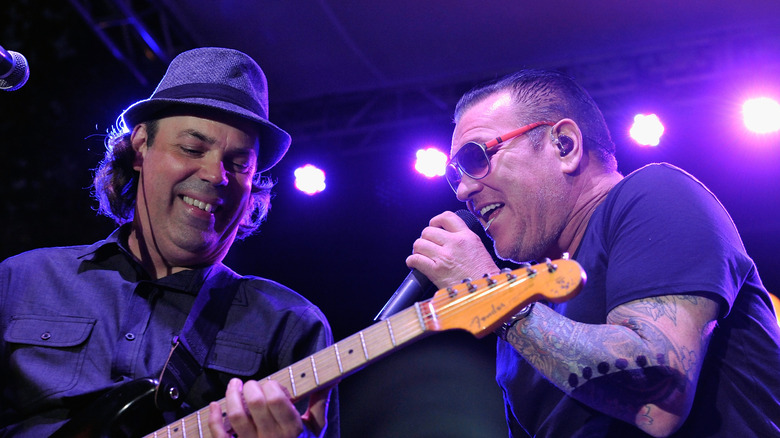 Michael Tullberg/Getty Images
Understandably, Steve Harwell struggled following his son's death. He told The Morning Call, "It was so shocking. I thought I was invincible until that happened to me. It happened to Steve Harwell, lead singer of Smash Mouth, the rock star. All the money in the world couldn't save him," he said. The band canceled their ongoing tour promoting the release of their self-titled album, so Harwell and his family could grieve their loss. Shortly afterward, the 9/11 terrorist attack occurred, only heightening their pain.
However, the "Believer" singer did his best to maintain a positive outlook for the future. With an outpouring of empathy, Harwell said, "I had just been through a tragedy too, and what I can tell everybody is that it gets easier. But it is so hard. It's even hard to talk about this," adding, "We have to recover. The one thing we have to do is get back into the swing of life." The musician did that himself by returning to playing live shows with his band and leaning on Smash Mouth's uplifting songs to help ease his heartbreak.
Steve Harwell created a leukemia research foundation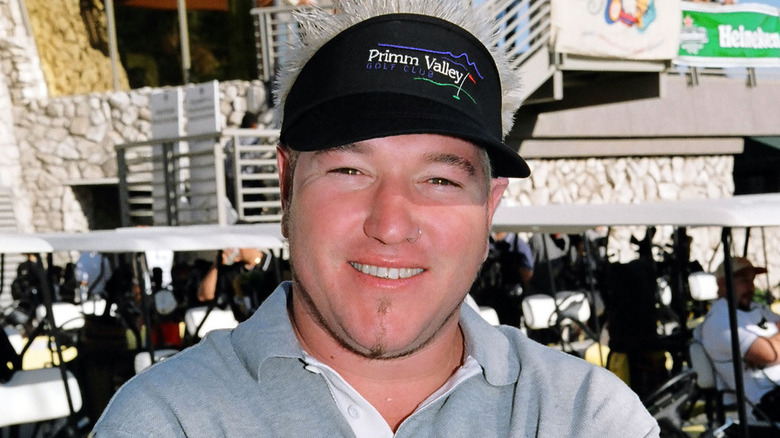 Jeff Kravitz/Getty Images
After the death of his son Presley, Steve Harwell wanted to do something to help other families going through similar experiences. He told The Morning Call, "I needed to do something positive. So I set up the Presley Scott Research Foundation for Leukemia."
According to the Mayo Clinic, acute lymphocytic leukemia is a quickly progressing cancer that often begins in the bone marrow and spreads to the blood. It is the most common type of cancer in children. Fortunately, research into the disease has greatly improved treatment options and increased the possibility of remission. The five-year survival rates for pediatric ALL have increased from 3% to 85% in the last 50 years, per the Leukemia & Lymphoma Society.
For Harwell, seeing others beat the illness that killed his son was a healing experience. "I love kids. When I see parents with healthy children, I don't get sad. I just thank God they have healthy, happy children," he once said. We share our deepest condolences with the Harwell family and anyone affected by Steve's loss.