A Look At Dwyane Wade's Close Relationship With His Daughter Zaya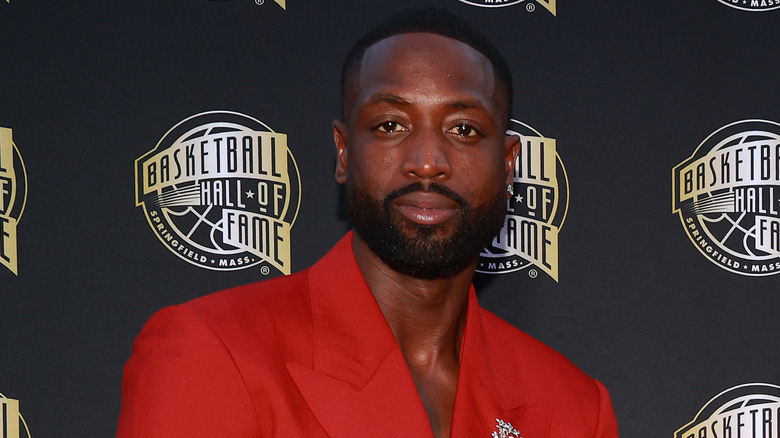 Mike Lawrie/Getty Images
A 13-time All-Star and three-time champion, Dwyane Wade has enjoyed a successful NBA career, but being a dad remains his biggest achievement. "No label sounds as good to me as Daddy. Fatherhood has been a life-changing experience for me," he wrote in a 2010 essay for HuffPost. The athlete is a proud father of four kids, including Zaire and Zaya, whom he shares with his ex-wife, Siovaughn Funches. He also shares son Xavier with reality star Aja Metoyer and daughter Kaavia James with Gabrielle Union, whom he married in 2014. Additionally, Wade is the legal guardian and full-time custodian of his nephew, Dahveon Morris, per People.
But while fatherhood has been his most fulfilling role, Wade has had to prove himself and sometimes fight to remain present in his kids' lives. Following their 2007 separation, Wade and Funches were embroiled in a lengthy custody battle that lasted four years. Eventually, in 2011, the NBA star was granted full custody of the former couple's two kids. "When I decided to go for custody, I really didn't have a lot of examples," he said of the custody battle during a 2021 appearance on the "All the Smoke" podcast. "But once I got that opportunity to be there more, I think it was beneficial for both of us — I needed them, and they needed me."
Unsurprisingly, in the years that have since passed, Wade has gone on to form a strong bond with his kids, particularly his oldest daughter, Zaya Wade.
Dwyane Wade supported Zaya through her transition
In 2020, while appearing on "The Ellen DeGeneres Show," Dwyane Wade revealed that Zaya Wade, only 12 at the time, had come out as transgender. Speaking to host Ellen DeGeneres, Dwyane recounted the moment his daughter came out, adding that he instantly supported her decision. "Once Zaya came home and said, 'I want you to call me Zaya, and I'm ready to take on this,' I looked at her and said, 'You are a leader. And this is our opportunity to allow you to be a voice,'" Dwyane explained. True to his words, Wade has been nothing but a support system for his daughter — even when it meant tension with her biological mother.
In November 2022, Zaya's mother, Siovaughn Funche, filed a petition against Dwyane, objecting to the NBA star's previous request to legally change their daughter's name and gender. While Funches accused Dwyane of pressuring Zaya and trying to profit off her, the NBA star fired back, insisting that it was the best decision for the then-15-year-old. "This petition is about empowering Zaya to live her truth," Dwyane wrote in his counter-filing, per E! News. "This petition is about allowing Zaya to take on the milestones of being a young adult with confidence and joy and to ensure that those moments are not clouded by the self-doubt that comes from checking a box or signing a name that does not reflect her identity," he continued.
Given his commitment and unwavering support, it is no surprise that Zaya holds her father in very high regard.
Zaya and Dwyane Wade inspire each other
It is not every day that a 12-year-old publicly comes out as transgender, but that is exactly what Zaya Wade did. For that, Dwayne Wade couldn't be any prouder. During his speech at the 2023 NAACP Image Awards, where he was honored with the President's Award, Dwyane commended Zaya for choosing to come out and making him a better person. "Even though it's not easy, I watched you walk out of that house every morning as yourself. I admire how you've handled ignorance in our world. I admire it that you face every day. To say that your village is proud of you is an understatement," he added. Wade had also previously called Zaya "a hero" during a 2021 appearance on "The Today Show."
Similarly, Zaya has remained inspired by her father and his support through her transition process. In an August 2023 interview with Harper's Bazaar, the teenager opened up about living as a transgender person and how Dwyane's love and support has shaped her. "Kids always tend to look up to their parents, but not only did I idolize him growing up, but especially now, as I'm growing older and getting to know him and see him as a real person, I realize that he has played such an essential role in supporting me and the way that I choose to present myself to the world," she told the publication. Nothing is better than true, unconditional love from a parent. Just ask Zaya Wade — she'll tell you all about it!