Why Rob Kardashian And Lamar Odom Aren't Close Anymore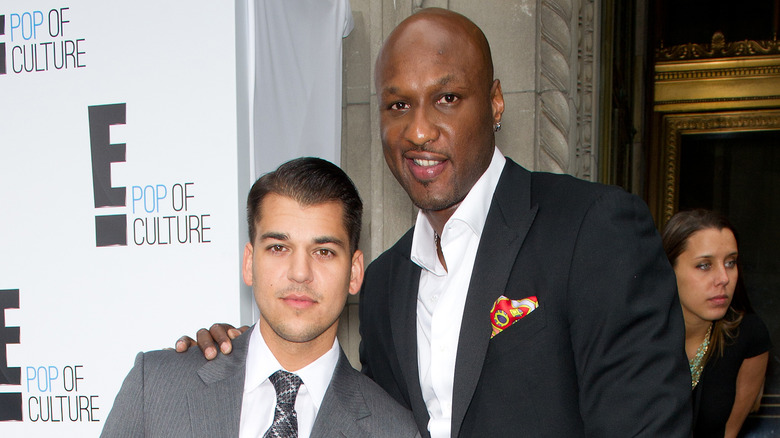 Gilbert Carrasquillo/Getty Images
During its time on-air, "Keeping Up With The Kardashians" was filled with relationship drama — but it was Rob Kardashian's bromance with Khloé Kardashian's ex-husband Lamar Odom that was one of the show's longest-running storylines. Before Khloé and Odom's breakup, Odom and Rob were best friends. At one point, Rob and Odom were living under the same roof, as the youngest Kardashian temporarily moved in with his sister. The two bonded over their similarities — for example, Odom is an only child, while Rob is the only man in a family full of women.
When Khloé first filed for divorce from Odom in 2013, it seemed like the breakup wouldn't affect Rob and Odom's friendship. In 2015, as the former NBA athlete was rushed to the hospital following his overdose, Rob took to Instagram, where he wrote that he was "praying nonstop for [his] Brother." A year later, in 2016, Odom and Rob remained close. "Rob and Lamar speak all the time," a source told E! News. "They have a very strong friendship and have helped each other out of dark times and continue to lift each other up." Their bond played out during a 2016 episode of "KUWTK," in which Odom urged Khloé to call her brother and ask about his then-relationship with Blac Chyna. "I have always loved Lamar and Rob's relationship," Khloé confessed at the time.
But as of this writing, Rob and Odom are no longer close. What changed?
Lamar Odom and Khloé Kardashian's divorce strained his relationship with Rob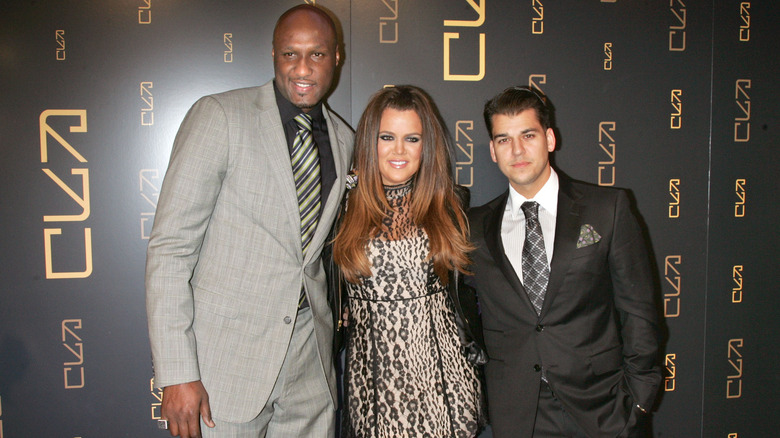 Jim Spellman/Getty Images
Appearing on a 2017 episode of "The Wendy Williams Show," Lamar Odom noted that he and Rob Kardashian never had an explosive falling out. Rather, life gradually got in the way of their friendship. "I mean, we were close. He has a child; I haven't met his child yet. It's been a minute," Odom said, referring to Rob's daughter with Blac Chyna. "I don't know [why we don't talk]. I guess maybe because I hurt [Khloé Kardashian] too much. I mean, if she was my [sister], I would have a problem with me too."
Khloé's relationship with Odom never recovered, plagued as it was by infidelity and substance abuse. Speaking to People in 2019, the basketball star reflected on how his breakup with Khloé had a domino effect on other relationships in his life. "It's too bad that when you're in a relationship with someone that doesn't go the way you want it to go, that all the relationships get hurt by it," he said. "I miss Rob a lot."
While Odom and Khloé's divorce strained his friendship with Rob, it likely wasn't the only factor that did so. In 2017, Rob and Chyna split, with both parties accusing the other of infidelity and physical abuse, per Insider. The breakup was ugly and spiraled into a "revenge porn" lawsuit. Rob had his hands full. Let's just say maintaining his bromance with Odom wasn't a top priority.
How is Rob Kardashian doing today?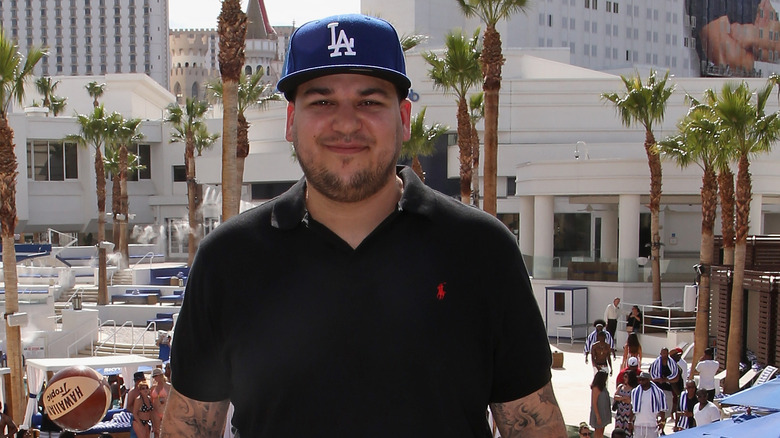 Gabe Ginsberg/Getty Images
Fans of "KUTK" noticed that Rob Kardashian began gaining weight after he and Lamar Odom fell out. And despite once being a staple on the reality show, Rob now avoids the spotlight. According to Us Weekly, Rob's big sister Kim Kardashian believed that the loss of his friendship with Odom was directly correlated to his weight gain and subsequent depression. "Whether it's, you know, the loss of our father, or certain breakups or, you know, [Rob] was extremely close to Lamar and when, you know, Khloé and him broke up, that was really hard on him. So, I think [his weight gain was related to] a couple things," she said in 2015. TMZ also reported that Rob may have looked up to the basketball player as a father figure. When Odom went radio silent in the wake of his breakup with Khloé Kardashian, Rob took it harder than most.
As far as we know, Rob and Lamar don't hang out today. Rob still continues to live a mostly private life! — which is no easy feat for anyone born into this famous family — but his sisters speculate that he may be ready for a comeback. "I do think Rob will come back to the show," Khloé mused on a 2023 episode of "The Kardashians" (via PopSugar). For now though, Rob is focused on co-parenting Dream Kardashian with his ex, Blac Chyna. Everyone in the KarJenner clan agrees that he is a wonderful father.