Is Martin Truex Jr Still Dating His Longtime Girlfriend Sherry Pollex?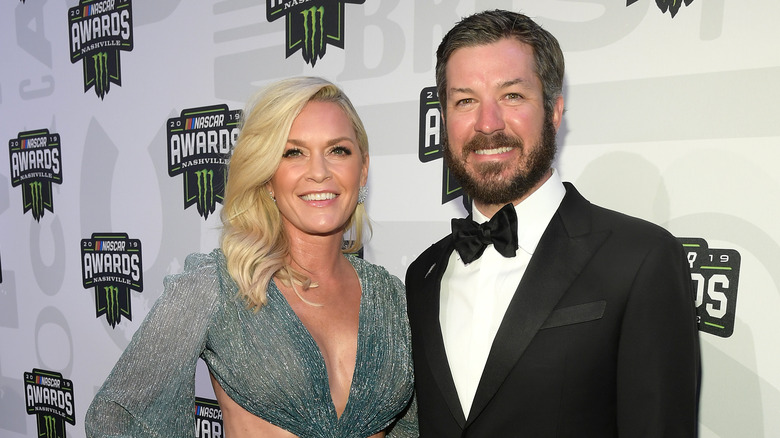 Jason Kempin/Getty Images
The relationship between Martin Truex Jr. and longtime girlfriend Sherry Pollex has been well-documented as, besides dating, the two worked together on charitable organizations. They met in 2005 as Truex's racing career was taking off, and Pollex was working in public relations for NASCAR. Once Truex and Pollex became an item, he moved out of an apartment he rented from his then-teammate Dale Earnhardt Jr. and into her place. Eventually, they bought a home together in Mooresville, North Carolina, where Pollex opened a boutique shop.
In 2007, the NASCAR racer founded the Martin Truex Jr. Foundation, a charitable organization aimed at helping children with cancer, with help from his girlfriend. Unfortunately, Pollex was diagnosed with ovarian cancer herself. "We were constantly running. I ran a business and Martin's foundation and travel full-time with him. I never stopped," Pollex told USA Today in 2014 after receiving her diagnosis.
Despite the devastating news, Truex and Pollex continued their work on and off the track. This led to the couple being named as co-recipients of the Myers Brothers Award in 2017. An award given to those who have given outstanding contributions to stock racing. "It's emotional for sure, especially when you start talking about what she's been through. It pulls at your heart strings," Truex said at the time, per NASCAR. Although they were beloved in the racing community, Truex and Pollex later decided to call it quits — stunning many.
They remained on good terms following the break up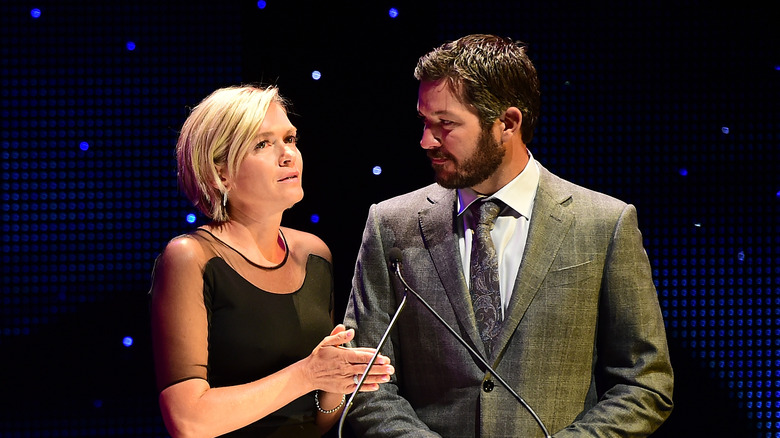 Jared C. Tilton/Getty Images
Sherry Pollex posted photos of her and Martin Truex Jr. to Instagram from their annual Catwalk for a Cause event in September 2022. The event is a fashion fundraiser for the Martin Truex Jr. Foundation and features children with cancer walking a catwalk. "Thank you to every single person that makes this night possible. We are so grateful," she wrote at the time. That wound up being her last social media post featuring Truex as the couple broke up a few months later.
Truex made the announcement on his Instagram Stories in January. "Sherry and I have made the decision to end our relationship," he wrote, according to Racing News. "I will continue supporting Sherry moving forward. I would ask that you respect our privacy as there will be no further comment about this matter," the NASCAR driver added. The pair did not offer details about the reason for their split but appeared on good terms. Pollex is still listed as the Vice President of Truex's foundation, and the "About" section still features a photo of the former couple.
As Pollex had received a cancer diagnosis herself, Truex remained supportive of his long-time girlfriend. "But cancer has never met someone like Sherry," he told USA Today in 2014. "She will be the person that can change the way this all works for other women," the racer said. While Pollex survived cancer, it did have disastrous consequences, such as keeping her from having children with Truex.
Why Shelly Pollex and Martin Truex Jr. never had kids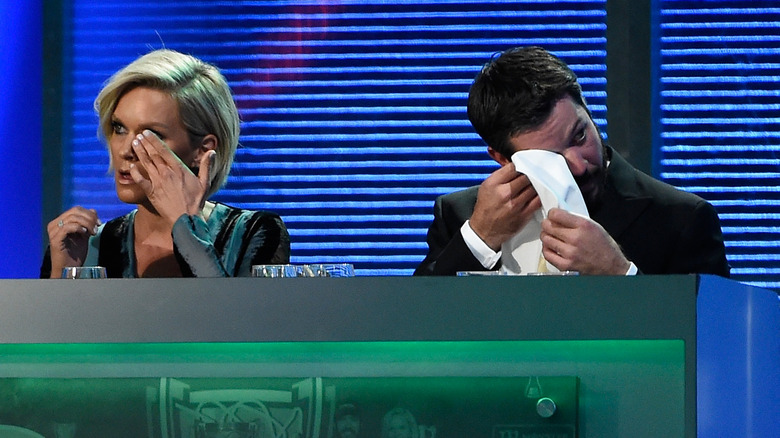 David Becker/Getty Images
Martin Truex Jr. and Sherry Pollex had planned on starting a family together. Sadly, Pollex's stage III ovarian cancer diagnosis came around the time they had decided to have kids. "I had stopped taking birth-control pills," she told USA Today in 2014. When Pollex received the diagnosis, her first thought was to possibly save her eggs, but the doctor said they needed to rush the operation to remove cancer from her ovaries. "There was no time to think about the fact that I was devastated that I could never be a mother," she added. Two years later, Pollex spoke about being unable to have children. "I've always wanted to be a mom — I knew I wanted that mother-daughter relationship that I have with my mom," she wrote in an op-ed piece for Time in 2016. Due to Pollex's health issues, the couple were never able to have kids together.
Perhaps she did not have children of her own, but Pollex focused her efforts on helping others. In addition to working on the Martin Truex Jr. Foundation, Pollex started Sherry Strong. An organization aimed at not only raising funds for cancer treatment and research but to help keep women informed about ovarian cancer. "I was a woman with a mission: to make the most out of life, with [Truex] by my side," Pollex wrote on Sherry Strong when discussing her diagnosis.
Even though their relationship did not work out, the former couple's charitable work lives on.