Matchmaker Tells Us Kylie & Timothée Are The REAL Deal After Steamy Concert Appearance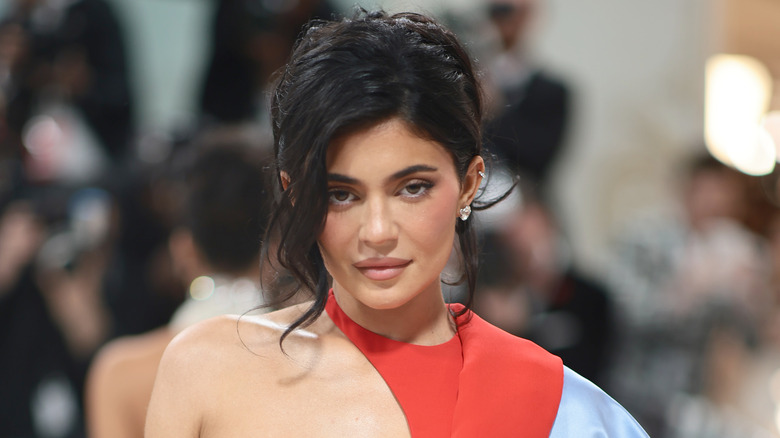 Dimitrios Kambouris/Getty Images
Kylie Jenner and Timothée Chalamet packed on serious PDA at a concert, which was surprising to many fans as speculation had swirled about their potential relationship. The two were romantically linked in April, and after Jenner's Range Rover was spotted outside Chalamet's home, a source for People confirmed the pair had been "hanging out." For months, not much was heard about their potential relationship, but in early August an insider confirmed to E! that Jenner and Chalamet were still an item.
Months later, the duo made their first public appearance together when they attended Beyoncé's Renaissance Tour stop in Los Angeles on September 4. They were in the VIP section along with the reality star's sisters, Kendall Jenner and Kim Kardashian, plus a slew of celebs including Justin Bieber and Hailey Bieber, Adele, and Chalamet's "Dune" co-star Zendaya. Video obtained by TMZ showed the Kylie Cosmetics founder exchanging multiple kisses with Chalamet. In the footage, the actor was seen holding Kylie while they danced to Beyoncé's performance. Throughout the show, the pair not only swapped kisses but swapped positions. Kylie stood behind the "Bones and All" star, and wrapped her arms around him. Their hands were interlocked, and Chalamet held Kylie's hand close up to his mouth for an extended period.
A matchmaker expert spoke to Nicki Swift about the PDA. They broke down the body language of Kylie and Chalamet, and how it pointed to a real connection between the two. 
Matchmaker believed their PDA spoke volumes
After seeing Kylie Jenner and Timothée Chalamet's embrace and exchange several kisses at the Beyoncé concert, Nicki Swift spoke to Susan Trombetti, matchmaker and CEO of Exclusive Matchmaking, to lend insight into how serious the couple's relationship could be. According to Trombetti, the pair were not simply putting on a performance for the press. "When it comes to Timothée Chalamet and Kylie Jenner, they are definitely into each other and there is chemistry and sexual attraction all over this video. It's definitely not staged," the matchmaker told us. She mentioned that usually you can discern chemistry by seeing how two people position their hips but "there is so much going on here sexually attraction wise" between Jenner and Chalamet that no hip analysis was necessary. "At first, it looks like a mating dance," Trombetti said about the pair's body language.
Although we cannot hear what Jenner and Chalamet were talking about while they packed on the PDA, their physical reactions spoke volumes. "Let's not forget the laughter at whatever is being said and tossing her head back," the matchmaker expert told Nicki Swift.
Trombetti weighed in on whether she believed the duo met up occasionally, or were actually together. "[T]hey either have been casually dating or they are very much an item which I think is the latter," the matchmaker said. Just a week earlier, Page Six spotted both Jenner and Chalamet leaving the actor's home separately, which would support Trombetti's theory.