How Tyler Perry Discovered The Man Who Raised Him Wasn't His Biological Father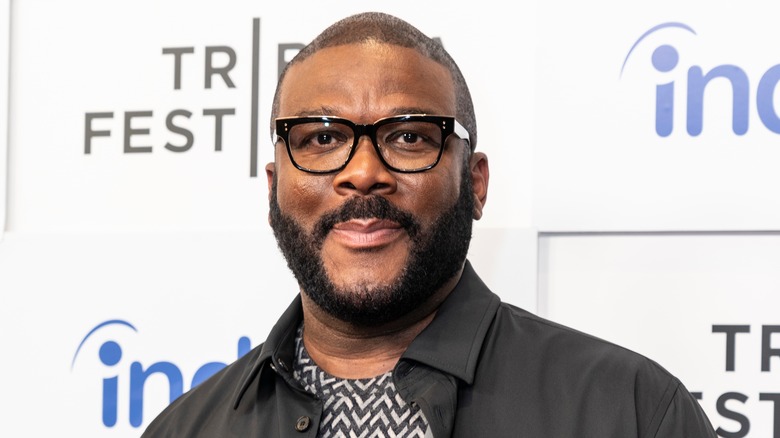 lev radin/Shutterstock
Tyler Perry — the creative visionary behind the popular "Madea" franchise and an impressive string of other hilarious, heartfelt movies and television shows — had an especially tragic childhood. During his early life, Perry suffered abuse from his father, Emmitt Perry Sr, with whom he shared an unhealthy dynamic. When speaking with People in 2019, Perry revealed that he didn't think he "ever felt safe or protected as a child" when discussing his physically abusive father.
Two years earlier, Perry appeared on "The Jess Cagle Interview" and shared that his father "had a lot of issues" (via People). He explained, "The thing that helped me get over it and still take care of him today is, I took a moment to find out more about him and his childhood and where he came from, and his was way more horrific than mine. So it kind of formed the person that he was." During the interview, Perry also revealed that he eventually forgave Perry Sr. and believes it opened up doors in his career. "I don't think it's any coincidence that the day I forgave him, not two weeks later the show ["I Know I've Been Changed"] began to have success," added Perry.
But in a twist of fate, Perry Sr. wasn't actually Perry's father — something he learned after taking a DNA test later in life.
Tyler Perry's mom didn't tell him who his real father was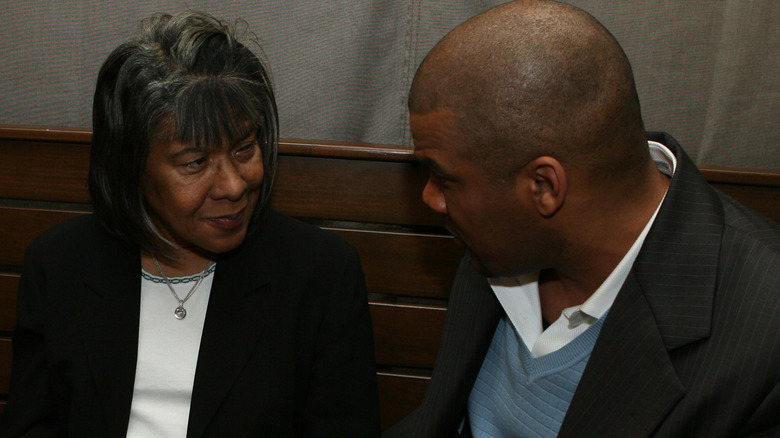 E. Charbonneau/Getty Images
Tyler Perry realized he and Emmitt Perry Sr. weren't biologically related after his mother's death. "From a child, I'd always known that this man despised me, and I could not figure it out for the longest. I could not figure out why he hated me so," shared Perry during an episode of "Oprah's Master Class." Perry periodically asked his mother, Willie Maxine Perry, if Perry Sr. was his real father. She always assured him he was. He said, "On her death bad, I'm 40 at the time, I asked her again, 'Is he my father?'" After she died in 2009, Perry did a DNA test and learned that Perry Sr. wasn't his actual dad. "I'm sure she had all of her own reasons for why she didn't tell me," Perry continued. "I don't even know if she knew, but if I could wake her up and have one conversation, that would be the one."
During Perry's panel at 2014's Women's Empowerment event, Perry opened up about his mother's decision to keep his father's identity a secret. "I love my mother to death, but she lied to me," said Perry (via Essence). Perry also revealed that he was on the hunt to find his actual father, though it doesn't appear as if he's had any luck. However, Perry has continued to take care of Perry Sr. because, despite the abuse, "he always brought every dime he made home to my mother," he told People.
Tyler Perry takes a different parenting approach for his child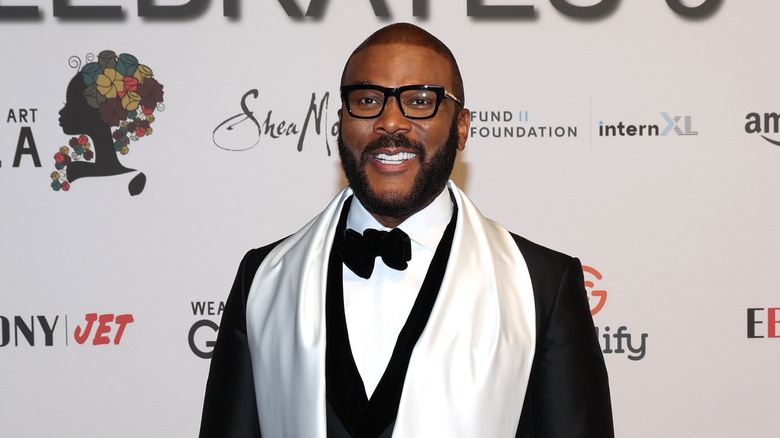 Jerritt Clark/Getty Images
Although Tyler Perry went through terrible things as a child, he's finally gotten the family he deserves. In 2014, Perry's then-girlfriend, model Gelila Bekele, gave birth to their first child, Aman Tyler Perry, per People. And Perry has made it his mission to stop the cycle of abuse. When appearing on the "Michelle Obama: The Light Podcast," Perry shared a sweet story about how he gently disciplined Aman after he refused to brush his teeth. "So to have a moment where I had a chance to have a conversation with a child, who is my spitting image, I was not only correcting and leading him the right way but helping my own little boy inside of me heal, it was a beautiful moment," shared Perry.
Perry yearned to have children before he even became a father. In 2013, Perry appeared on "The Steve Harvey Show" and when Harvey asked him the "one thing" he'd "not done that you want to do," Perry answered, "More than anything, I think that it's fatherhood. ... I know I would be a great father. I don't want to work this hard. I don't want to have all this and not leave it to my children." The timing was quite right back then. Perry added, "I'm what I'm doing, I'm enjoying the work, I'm enjoying being a bachelor. But eventually, I'll get there." Fortunately, Perry got his wish just over a year later.