How Tessa Brooks And Blake Gray Sent Relationship Rumors Into Overdrive
Fans speculated for months that Tessa Brooks was dating Blake Gray, and the two had formed an influencer power couple. That came on the heels of Gray's split from actor-influencer Amelie Zilber earlier in the year. In March 2023, Zilber posted an emotional TikTok to her followers where she quickly addressed the breakup. "Really, no one did anything wrong. It just happens that when you start dating someone, and you're young, and you're together for a few years, you just grow up a little," the "Grown-ish" actor said. A couple of months later, rumors swirled that Gray was romantically linked to another wildly popular influencer.
During an interview with Seventeen in May 2023, Brooks was asked if she had locked lips with anyone recently, and the YouTuber hinted at an unnamed beau. "If you guys asked me this in a week from now, I would reply. Because I think he's going to be my boyfriend," she replied. Around that same time, Instagram gossip page The Tea Talk claimed that she and Gray were an item, but nothing was verified.
Fast forward two months to July 2023, when Gray fanned the flames of the rumored romance. He posted footage from his time playing in the Open Invitational celebrity golf tournament in the U.K. to Instagram, including a snap of him and Brooks cozying up on the links. Around that same time, a Reddit thread claimed Gray and Brooks were dating. Later that summer, the two dropped serious hints about their relationship. 
Tessa Brooks vacationed with Blake Gray in Switzerland
On September 1, Blake Gray appeared to confirm a relationship with Tessa Brooks with an Instagram post of photos taken on vacation. The first photo in the five-slide post was a snap of the two influencers holding hands while walking the mountains in Switzerland. In the caption, Gray simply wrote, "Happy." He added pictures on the mountain, including an image of him on an old swing set, and a video of him throwing a snowball. Brooks popped up in the comments to gush over her boyfriend. "You're the cutest ever," she wrote.
Brooks further fanned the flames about their relationship status. She not only posted the same picture of her and Gray holding hands to her Instagram Stories, but the influencer added a photo of the two embracing while on the Swiss mountains. Not long after Gray uploaded his snaps from the trip, Brooks uploaded a collection of photos from her time in Switzerland and Monaco to Instagram on September 6.
Although Brooks did not leave pics of her and Gray on her actual profile, the YouTuber did leave a few Easter eggs, besides the location. Brooks posted a photo of her on the same swing set that Gray swung on, plus she included a pic of a hand (presumably Gray's) throwing a snowball. "I mean at least his hand made it into the 4th pic," one follower commented. The posts of the influencers vacationing together sparked a strong reaction from followers. 
Fans are split about the possible romance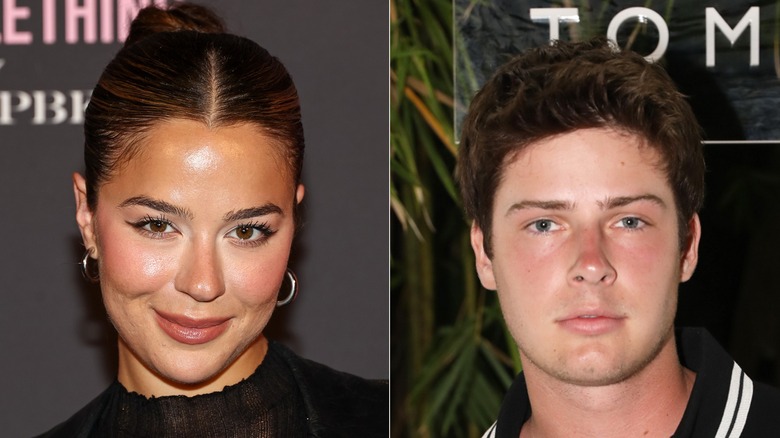 Aaron Davidson & Jamie Mccarthy/Getty
When Blake Gray uploaded the Instagram post of him and Tessa Brooks on vacation in Switzerland together, fans flooded the replies with their reactions to the possible celebrity pairing. "This is what a power couple [looks] like. Competition shook," one enthusiastic follower commented. "OMFG TESSA?!??!?? Power couple fr. Both are hot af," another added. 
Meanwhile, as word spread that the two popular influencers were vacationing together and apparently dating, some fans were surprised, and others flat-out disapproved. "Noooooo! Blake Gray and Tessa Brooks. I mean I'm happy for him but like ew. Sorry guys," one person tweeted after seeing their Instagram posts. Other followers referenced Gray moving on quickly after parting with Amelie Zilber not too long ago. "Nah wtf that's crazy after a 3 year relationship that fast...he def been waiting," one shared.
Of course, this is not the first time either has been part of an influencer power couple. Gray dated Zilber, and Brooks had history with Bryce Hall. In 2020, rumors circulated that she was dating the TikToker and YouTuber. These came after footage surfaced from The Hollywood Fix of the two cozying up while out with a group of friends. Brooks and Hall unconvincingly diffused those rumors with a joint YouTube video released on Hall's channel titled "Are We Dating." In the video, the two reacted to the footage of them looking like a couple. Both of them refuted claims they were a couple and said they were "bros."