Everything We Know About Danny Masterson And Laura Prepon's History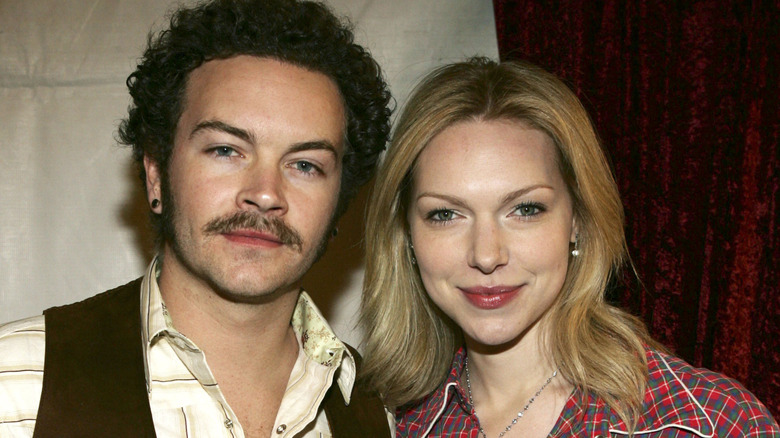 Frazer Harrison/Getty Images
After Danny Masterson was sentenced to 30 years in prison for two counts of rape, some Twitter users made an observation about Laura Prepon: Unlike married couple Mila Kunis and Ashton Kutcher, she had apparently not written a character letter in support of their "That '70s Show" castmate, per Vulture. "The fact that Topher Grace and Laura Prepon did not send in letters and were cast friends on that show should tell all y'all something," one person tweeted. In response to a tweet about Kunis and Kutcher's support of Masterson, another person wrote, "It's also worth noting Laura Prepon, arguably the cast member who knew him best, has stayed silent."
The intent of the letters was to help out someone Kunis and Kutcher considered a friend by convincing the judge in his case to give him a more lenient sentence, and there was a time when Prepon was also incredibly close with Masterson. According to Tony Ortega's The Underground Bunker website, Masterson even convinced Prepon to convert to Scientology while they were working together. One of Masterson's accusers believes that Prepon confronted her at the Church of Scientology's Hollywood Celebrity Centre on Masterson's behalf in the early 2000s, a source told Ortega.
But Masterson and Prepon's connection once went beyond being castmates for eight years and fellow members of the Church of Scientology, which Prepon left sometime in the mid-aughts, per People. In fact, they were pretty close to actually being family.
Laura Prepon dated Danny Masterson's brother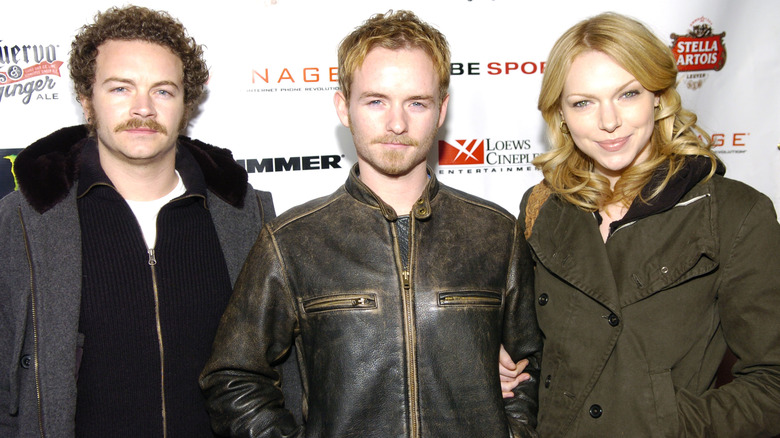 Polk Imaging/Getty Images
From 1999 to 2007, Laura Prepon dated Danny Masterson's brother, "Malcolm in the Middle" star Christopher Masterson. In an interview with Phase9 Entertainment, Prepon revealed that Christopher was the first guy she ever dated. In addition to getting to know him through Danny, she said that their paths crossed often because "Malcolm in the Middle" and "That '70s Show" were filmed at the same studio. "I liked him for the longest time and finally I just picked him up one night in a bar and we just started from there," she said.
Per a 2005 ESPN article, Prepon and the Mastersons are avid poker players, and Danny often participated in the poker nights that his co-star and his brother hosted at their home. "No matter if he wins or loses, he's always pissed off at the table, and thinks everyone plays poorly," Prepon said of Danny's disposition during games. When Prepon produced the E! Series "Hollywood Hold'em," the Masterson brothers both appeared on the show.
Despite the longevity of Prepon and Christopher's relationship, she and Danny never officially became in-laws. But even after she and Christopher called it quits, she considered her former co-star family. "I dated his brother for nine years. I'm like best friends with his mom, so Danny really is like my brother," she said in a 2013 AP interview. Four years later, Danny told the Daily News that he was still in regular contact with Prepon.
She married one of Danny Masterson's friends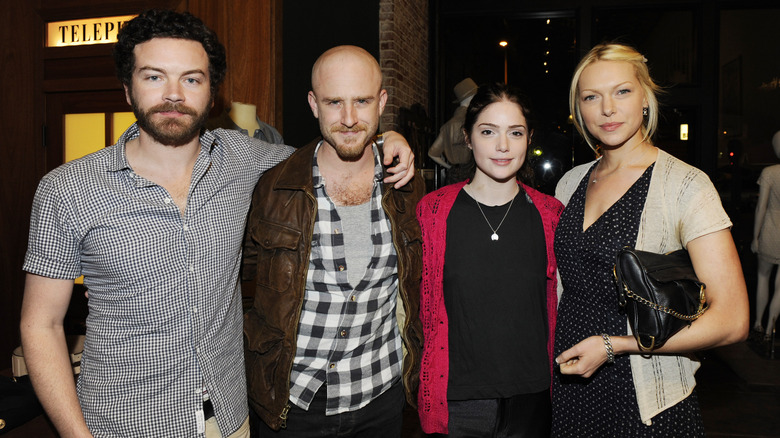 Amy Graves/Getty Images
In 2016, we learned that Laura Prepon had yet another connection to the Masterson clan when she started dating "Hell or High Water" star Ben Foster. According to People, Foster and Danny Masterson go way back and are close friends (or at least they were at the time), while Prepon has known Foster since age 18. Foster attended Masteron and Bijou Phillips' 2011 wedding, per Us Weekly. The year prior, Foster, Masterson, and Prepon had been photographed together at an event. 
When Foster and Prepon announced their engagement in 2016, Masterson shared a throwback photo of himself and Prepon on Instagram and wrote, "This little baby just got engaged. Over/under on me crying at the wedding." But by the time Prepon and Foster tied the knot in 2018, Masterson was being investigated for rape, and we don't know whether he received a wedding invitation. 
One of the last times Prepon and Masterson were seen together publicly was when most of the "That '70s Show" principal players reunited on the set of Ashton Kutcher and Masterson's Netflix series "The Ranch" in 2016. The only member of the gang that was missing from the meetup was Topher Grace. "Last episode of the season. Had three friends come by and say hello," Masterson captioned an Instagram photo of the group. In January 2017, Prepon told E! that Kutcher wanted her to join him and Masterson on "The Ranch," but that's clearly not happening now.