What O.J. Simpson Has Said About His Experience In Prison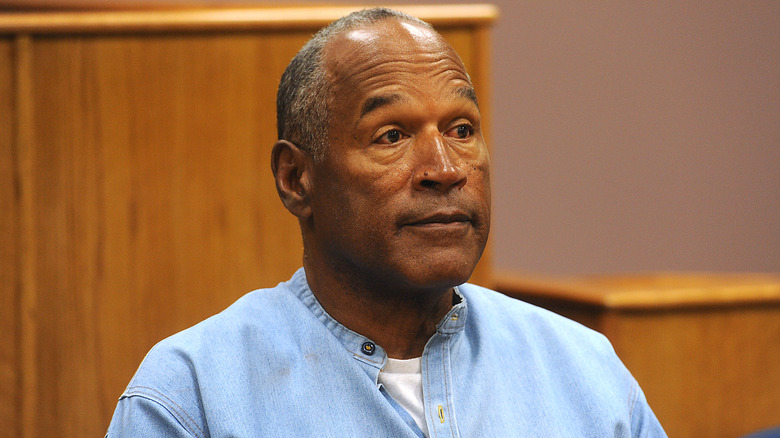 Bloomberg/Getty Images
O.J. Simpson's prison life was different from a typical inmate's sentence. After famously being acquitted of the murder in 1995, Simpson served nine years in prison for his involvement in an armed robbery from 2008 until being paroled in 2017. Despite the attention his celebrity caused, the former NFL star managed to stay out of trouble. "His cell mates were usually bigger dudes that could take care of business if anybody hassled him," Greg Lewis — a former inmate who served time at Lovelock Correctional Center in Nevada around the same time as Simpson — told CNN in 2017.
In fact, Simpson often enjoyed preferential treatment, which included perks at mealtime. "What happened usually O.J. Simpson cuts in front of every line," Jeffrey Felix, a former correctional officer who befriended Simpson while he was behind bars at Lovelock, told CNN. Felix spoke about the famous Lovelock inmate on multiple occasions. "O.J. Simpson is not suffering in prison. He's eating well. He's exercising well. He's got a flat screen TV," the former correctional officer told ABC News in 2017. "There's plenty for him to do at that prison and he's always happy," Felix told USA Today in a separate interview that same year.
When addressing the parole board in 2017, Simpson spoke fondly of his time at Lovelock. "To some degree, I feel lucky that I ended up here ... I find that there's no stress," he said. That said, Simpson has opened up about his experience time behind bars before arriving at that facility.
O.J. Simpson's first days behind bars were stressful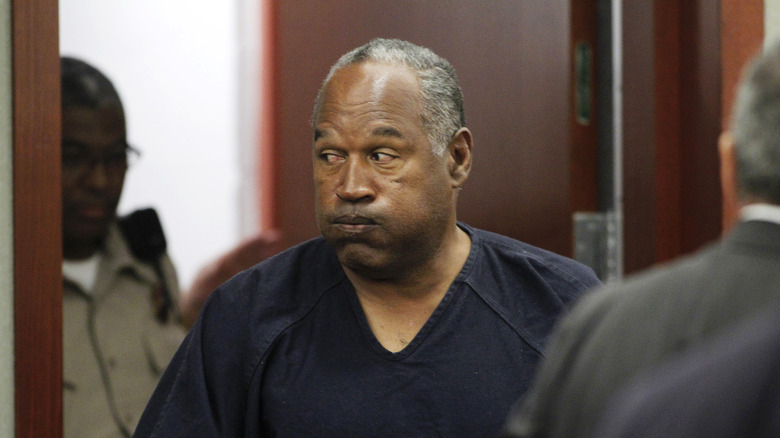 Pool/Getty Images
While O.J. Simpson's time at Lovelock Correctional Center wound up being relatively smooth, the beginning of his prison sentence was rather harrowing. In August 2023, after former NFL player Henry Ruggs was sentenced to prison for causing the death of a 23-year-old woman while driving drunk in Nevada, Simpson detailed his own experience after being sentenced in 2008. "They put you in something called holding lockdown. We called it the 'Fish Tank,'" Simpson said in a video posted to Twitter. The "Fish Tank" is Nevada's High Desert State Prison, where prisoners are temporarily held before being sent to the facility where they will serve their time. "They put you in a room. They give you absolutely nothing. I mean nothing," Simpson added. "After about three days, I went crazy. I said, 'Guys, I need help.'" Simpson said the prison's pastor came to visit and gave him a copy of the bible to read.
Simpson hoped Ruggs would be sent to Lovelock after leaving High Desert. "Compared to the 'Fish Tank,' it's almost heaven," he said in the Twitter video. Later, he ingratiated himself with inmates, but there was an adjusted period for Simpson. 
Due to his celebrity, Simpson was initially kept away from the general population in his first few months at Lovelock. During his first few years, he also put on significant pounds. "I gained weight eating all those beans, but just because I can't get enough fruits and vegetables," Simpson told the New York Post in 2013. Eventually, he settled into his life behind bars.
Why O.J. Simpson felt safe in prison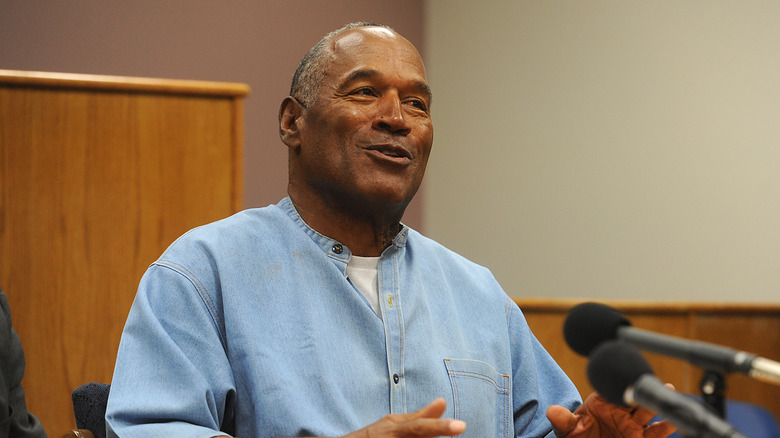 Pool/Getty Images
Once O.J. Simpson had spent some time living with the general population at Lovelock Correctional Center, he became rather popular among the other inmates. "He's like the Godfather of the prison," Norman Pardo, a former business manager of Simpson's, told the New York Post in 2013. Part of his popularity stemmed from the large TV Simpson was able to purchase through the commissary. The former football star even held a Super Bowl watch party in his cell with other inmates.
After being paroled from Lovelock, O.J. Simpson discussed his relationship with his fellow inmates. "Nobody would think about screwing with me," he told The Buffalo News in 2018. "Virtually all the guys had my back. I was setting the tone. I was helping the guys." The former Buffalo Bills running back told the outlet he dedicated a lot of time to helping other inmates in programs and also played peacekeeper when tensions arose.
Simpson developed a fondness for Nevada after serving out his sentence at Lovelock, and friends convinced him to live in the state after his release as he took up residence in Las Vegas. "Life is fine," Simpson told the Associated Press in a 2019 interview. "The town has been good to me. Everybody I meet seems to be apologizing for what happened to me here," Simpson added while describing his post-prison lifestyle.