What OJ Simpson's Life In Prison Was Really Like
Ethan Miller/Getty Images
In 1995, the country was buzzing over OJ Simpson. Time notes that more than 150 million people watched the verdict of his trial, in which he was accused of murdering his ex-wife Nicole Brown Simpson and her friend Ronald Lyle Goldman. Touted as the "trial of the century," the infamous OJ Simpson murder case turned into a 252-day trial, which ended with him being acquitted. The former football legend managed to convince jurors that he wasn't guilty despite the "mountain of evidence" saying otherwise, accord History.
The trial became a media spectacle, having made celebrities out of some of the people connected to the case, including Kris Jenner and her former husband, Robert Kardashian. Simpson also went down in history as one of the most famous suspects of all time. And while he didn't go to prison for the murder he supposedly committed, he served time later in his life for an entirely different crime. In 2008, he was found guilty of 12 felonies from an armed robbery in which he had been involved (via NPR).
Simpson ended up serving nearly a decade in prison, with many saying that he got what he deserved. But, as it turns out, the former athlete didn't suffer at all during his years behind bars — and even managed to earn more than half a million dollars while serving time.
OJ Simpson enjoyed special perks in prison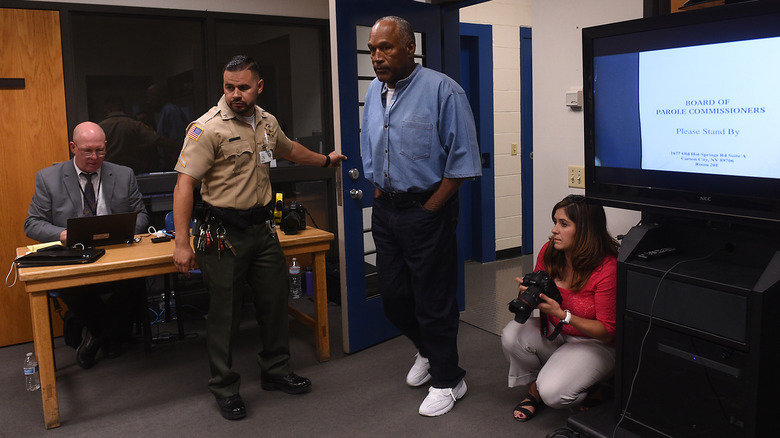 Pool/Getty Images
According to Jeffrey Felix, a retired correctional officer, OJ Simpson had a grand ol' time during his nine years in prison. The football star was sent to the Lovelock Correctional Center, which Felix describes as a "cruise ship with barbed wire" because of how pleasant it is compared to other penitentiaries.
"I mean, that prison is not like a normal prison," Felix told USA Today in 2017. "The food at Lovelock is very good. That prison is super duper clean." Apparently, it has a ton of amenities to make inmates' life there tolerable, as it features a gym, a softball field, volleyball courts, a ping pong table, and cable TV. "There's plenty for him to do at that prison and he's always happy," Felix added. "He's always in a good mood, always laughing, always telling jokes."
Simpson apparently enjoyed preferential treatment, too, explaining that Simpson cut "in front of every line," Felix said in a separate interview with CNN. "Everybody understands that. Because that is just the way of life at Lovelock." Greg Lewis, who spent seven years with Simpson at Lovelock, also shared that inmates much burlier than Simpson would be paired with the inmate in case anyone attempted to harm him. "His cell mates were usually bigger dudes that could take care of business if anybody hassled him," Lewis said. To top it all off, Simpson earned money from his NFL pension in the years he was in prison, raking in $10,565 a month since he turned 65, per ESPN. He had accumulated more than $600,000 by the time he was granted parole.
OJ Simpson's post-prison life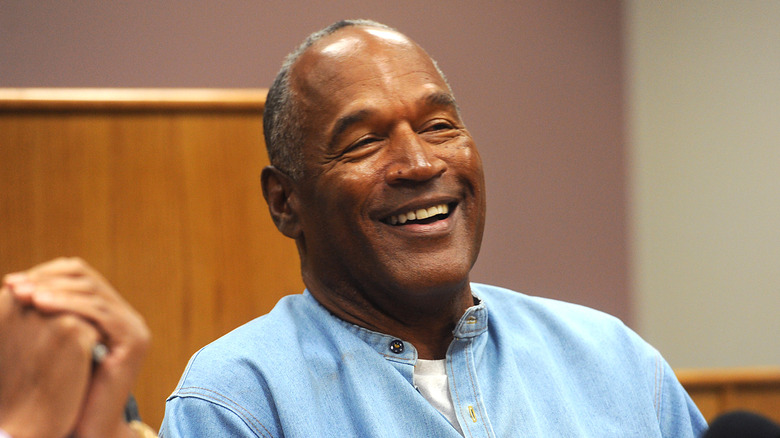 Pool/Getty Images
At his parole hearing, OJ Simpson said that he felt lucky for ending up in such a decent facility. "To some degree I feel lucky that I ended up here," he told the parole board members, per USA Today. "I find that there's no stress. I find that there's virtually no gang activity happening here. And honestly I feel respected to some degree by most of the inmates here." And while he claimed that his years there had been both "illuminating" and "painful," he did his best to be on his best behavior. "I gave them my word that I would try to be or would be the best prisoner they've ever had here," he added. "And I think for the most part I've kept my word on that."
In 2017, Simpson finally got out of prison and has been living on the down-low since. He told the Associated Press in 2019 that "life is fine," and that he was happy and keeping himself healthy in Las Vegas. His attorney, Malcolm LaVergne, said his client only "wants to enjoy the very simple pleasures that he hasn't enjoyed in nine years" (via ABC News). And per his friend, Tom Scotto, Simpson doesn't need much to be happy: "All he wants to do is spend time with his family and friends and his kids. And play a little golf."