Tekashi 6ix9ine Sends Girlfriend Luxury Gift From Behind Bars
Rapper Tekashi 6ix9ine, or Tekashi69, apparently won't let his current stay in jail stop him from expressing his affection for his girlfriend.
Tekashi, whose real name is Daniel Hernandez, sent his girlfriend, a woman named Jade, a gift while he's sitting behind bars on federal racketeering and firearms charges, according to TMZ. The celebrity gossip rag noted that Jade celebrated her 22nd birthday on Tuesday, Nov. 27, 2018, alongside friends and family in New York City. And though boyfriend Tekashi couldn't be around to party it up with her, he reportedly made sure she had a gift from him to open.
As noted by TMZ, Tekashi gave Jade a 41mm Rolex Datejust, which he'd reportedly customized with "18k white and rose gold and 24 carats worth of VS diamonds."
The 22-year-old "Gummo" rapper is thought to have spent about $35,000 on the timepiece, which he reportedly picked out for Jade weeks before her birthday. So, just how did Jade get Tekashi's gift if he's in jail? Well, TMZ explained that celebrity jeweler JimmyBoi gave the expensive present to Jade himself on behalf of her boyfriend.
Jade shared a photo of herself in a strapless pink number with her new blinged-out watch (and a wad of cash) on Twitter on Nov. 28, telling her 11,000 followers that she had the "BeSt birthday EVER!!" Thanking Tekashi, she said, "Your [sic] the best even when your [sic] not around." She also gave a "shout out" to JimmyBoi "for the drip."
She also gave her fans a closer look at the watch in two videos on Twitter.
Posting a short video of herself with Tekashi on Nov. 29, Jade commented on her boyfriend's absence, saying, "I missssss him."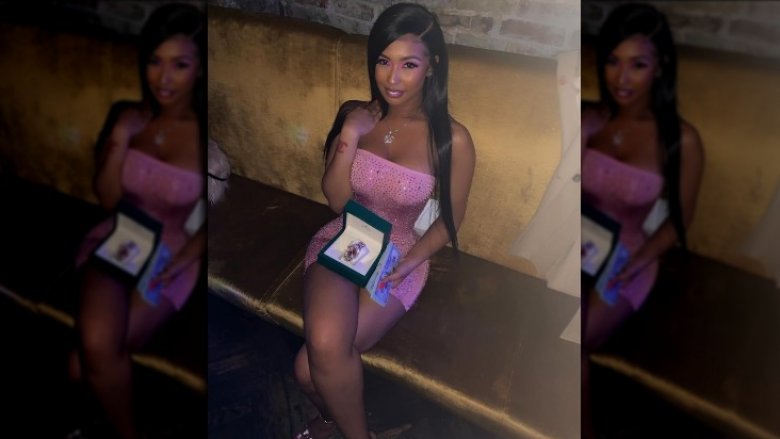 Twitter
Teskashi 6ix9ine was arrested on Sunday, Nov. 18, 2018, and was taken into custody in New York City by the Justice Department's Bureau of Alcohol, Tobacco, Firearms, and Explosives. He was charged with several counts involving "alleged involvement in shootings, armed robbery and drug trafficking," as reported by NPR.
His former manager Kifano "Shottie" Jordan, who the rapper had recently fired, and two other people associated with Tekashi — Faheem "Crippy" Walter and Jensel "Ish" Butler — were also arrested in what was described as a "joint effort by ATF, NYPD and Homeland Security."
According to the Daily Beast, prosecutors alleged that Tekashi is a member of the Nine Trey Gangsta Bloods and actively engaged in violent acts, allegedly once recording video of the gang robbing rivals at gunpoint in Manhattan.
At the time of his arrest, Tekashi was already on probation after he'd pleaded guilty to "use of a child in a sexual performance" in 2015 (via the Daily Beast). As part of his probation, he was reportedly ordered to, in part, stay out of trouble and avoid gang activity, according to TMZ.  
After Tekashi's Nov. 18 arrest, TMZ reported that the most serious crime he was charged with was "discharging a firearm while committing a crime." If found guilty, Tekashi could face a minimum of 25 years in prison on that charge alone and could potentially be sentenced to life in prison.
If found guilty of all charges, Tekashi could spend a minimum of 32 years in prison.
Tekashi's lawyer, Lance Lazzaro, requested that his client be released from jail if he paid $750,000, surrendered his passport, and went under house arrest, but a judge denied Tekashi bail. Lazzaro had previously denied all charges against Tekashi, saying in a statement obtained by Rolling Stone, "An entertainer who portrays a 'gangster image' to promote his music does not make him a member of an enterprise."
While he was initially held at Brooklyn's Metropolitan Detention Center, which is considered to be a "brutal" institution, Tekashi was later transferred to another facility on Nov. 21. According to Lazzaro, Tekashi is behind bars in Queens.
Regarding Tekashi's time in jail, Lazzaro's co-counsel Dawn Florio said, "He's safe but he's not happy to be in jail" (via Page Six).
On Nov. 26, Tekashi pleaded not guilty to charges against him, as reported by Page Six.
Despite being behind bars at the time, Tekashi dropped his album Dummy Boy on Nov. 23. According to TMZ, the record "dominated" the charts after its release, with songs taking four spots in the top five tracks on iTunes.