Former President George H.W. Bush Passes Away At 94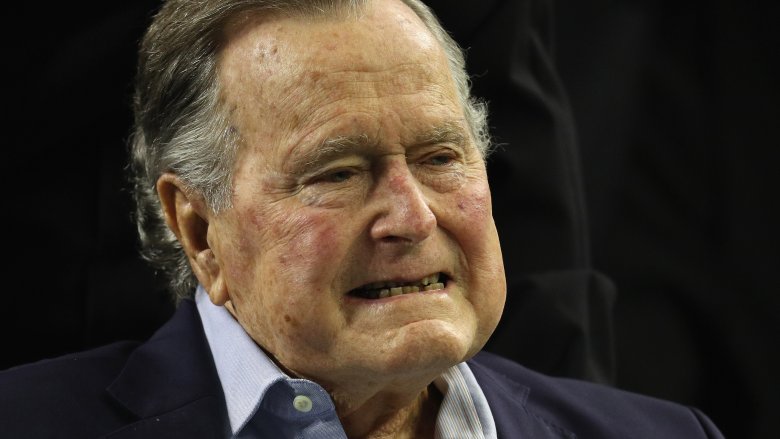 Getty Images
George H.W. Bush, the 41st president of the United States, has died.
The former president, whose term in the White House as commander in chief spanned from 1989 to 1993, passed away on Friday, Nov. 30, 2018, according to NBC News. He was 94 years old.
His death was first announced by his spokesperson, Jim McGrath. In a tweet, McGrath shared the sad news, noting that he'd passed away at 10:10 p.m. CT. At the time of this writing, Bush's cause of death has not yet been publicly announced. However, in 2012, Bush revealed in an interview with Parade magazine that he was diagnosed with vascular parkinsonism, which, as explained by the Associated Press, is "a rare syndrome that mimics Parkinson's disease." The disease had affected Bush's mobility over the years, specifically from the waist down.
Bush's eldest son, President George W. Bush, also released a statement regarding his father's death, saying, "Jeb, Neil, Marvin, Doro and I are saddened to announce that after 94 remarkable years, our dear Dad has died."
The statement continued, "George H.W. Bush was a man of the highest character and the best dad a son or daughter could ask for. The entire Bush family is deeply grateful for 41's life and love, for the compassion of those who have cared and prayed for Dad, and for the condolences of our friends and fellow citizens."
Bush's son Jeb, who memorably campaigned to be the Republican candidate in the 2016 presidential election, tweeted out about his family's loss, writing, "I already miss the greatest human being that I will ever know. Love you Dad!"
George P. Bush, George H.W. Bush's grandson, also commented on his grandfather's passing. Sharing a photo of them together, he tweeted, "My grandfather was the greatest man I ever knew.  His life spanned the American Century—he fought in World War II ... took part in the Texas oil boom ... served out a distinguished career in public service including serving as president during the final days of the Cold War."
He continued, "He was more than a great man; he was a good man. His courage was matched by his compassion; and his dedication to country was equaled only by his devotion to his family.  Gampy, we love you and we will miss you. But we will never forget you."
As noted by USA Today, George H.W. Bush, who was born on June 12, 1924, began his career as a pilot in the Navy when he was 18 years old, fighting in World War II. After marrying Barbara Pierce in 1945, he received his degree in economics from Yale University. He later worked as an oil field equipment salesman for a company before ultimately starting his own oil company.
Bush later entered the world of politics, with his first political gig being chairman of the Harris County Republican Party in Houston, Texas. In 1966, he was elected to the House of Representatives, getting re-elected in 1968. He then became a United Nations ambassador during President Richard Nixon's administration, and afterwards, served as the chair of the Republican National Committee. President Gerald Ford later made Bush the chief of the U.S. Liaison Office in China and director of the Central Intelligence Agency.
Bush also served as the vice president of the United States for eight years, working alongside President Ronald Reagan before becoming president himself.
According to USA Today, many credit Bush, who was known for his foreign policy work, with ending the Cold War. He later spearheaded Operation Desert Storm, liberating Kuwait from Iraqi forces.
Bush is preceded in death by his wife of 73 years, Barbara Bush. She passed away on April 17, 2018, when she was 92 years old. She reportedly died as a result of "complications from congestive heart disease and chronic obstructive pulmonary disease, or COPD," as reported by the Houston Chronicle.
Their daughter Pauline had also previously passed away, dying of leukemia when she was a child in 1953 (via The Washington Post).
Bush is survived by his five children — George W., Jeb, Dorothy, Neil, and Marvin— and their spouses, as well as his 17 grandchildren. He also leaves behind eight great grandchildren and two siblings.
As reported by USA Today, in a diary entry on Sept. 2, 1988, George H.W. Bush pondered about life and death. He wrote, "Life goes on with all its mystery and wonder," adding, "I want to live to do good things and partly to meet the challenges that lie ahead, but I don't fear death."