Who Is WWE Star Cody Rhodes' Wife, Brandi Rhodes?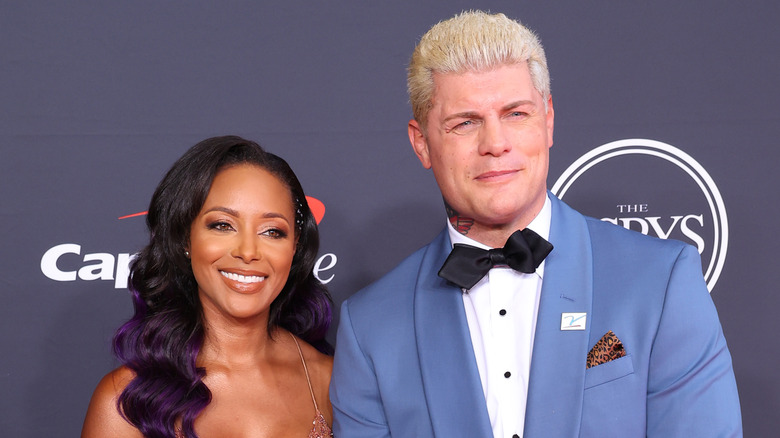 Leon Bennett/Getty Images
WWE star Cody Rhodes is married to his longtime partner, Brandi Rhodes. In November 2012, Brandi announced via Twitter that she and Cody had become engaged. "Last night was for us, time to share! @CodyRhodesWWE is officially my fiancé! (Or my beyonce for those who know)," Brandi wrote alongside a photo displaying her engagement ring. As Us Weekly reported, the couple got hitched in September 2013.
Cody and Brandi explored the earlier stages of their relationship in a 2014 vlog they filmed in St. Louis, Missouri, per WWE. The two ate at the site of one of their first outings together, a Cracker Barrel restaurant. They then stopped by the lobby of the St. Louis Union Station Hotel, where Brandi claimed the two first hit it off. Cody detailed that he was hosting a gala at the time and offered Brandi an invite to the event, which she accepted. TV viewers also got an inside look at the spouse's lives in their 2021 reality show "Rhodes to the Top." Like her husband, Brandi is known for taking on roles in the wrestling world.
Brandi Rhodes is a yoga studio founder and former pro wrestler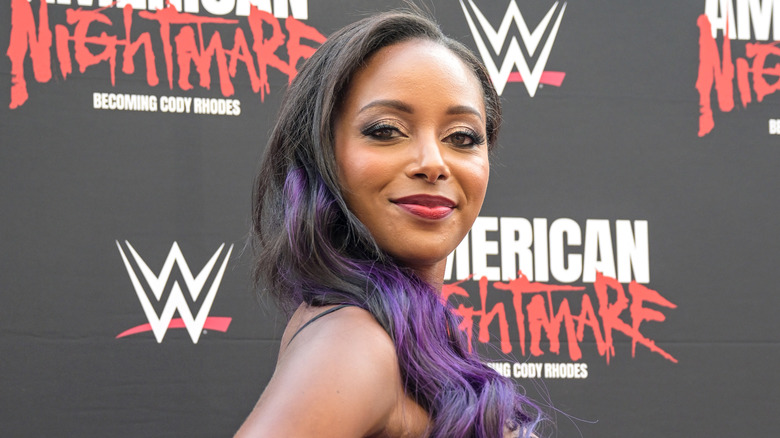 Wwe/Getty Images
Cody and Brandi Rhodes share some similarities in their professional backgrounds. According to Sportskeeda, Brandi participated in competitive figure skating for over 15 years. Following two years of reporting for a news outlet, she tried out modeling and acting in Miami, Florida, before venturing into the arena of professional wrestling. Brandi signed with WWE in 2011 but requested to be let out of her contract later that year. Brandi later returned to WWE and competed from 2013 to 2016. She later became the chief brand officer of All Elite Wrestling while Cody was executive vice president of the company. Brandi also wrestled with AEW until she and Cody left their roles in early 2022.
One of Brandi's latest projects is creating Naked Mind Yoga + Pilates, a yoga studio set to open in the fall of 2023. In an August 2023 Women's Health interview, Brandi noted how she connected with a group of yoga enthusiasts in recent years. "I started doing yoga during the pandemic. I went into it thinking the practice would be the thing that helped me with my mental health. But it was the community of yoga that really filled me up," Brandi said. Aside from her professional achievements, Brandi has started a family with Cody.
Brandi and Cody Rhodes have a daughter together
Cody and Brandi Rhodes are the parents of one child. The two revealed in December 2020 that Brandi was pregnant with their first baby together during an interview with People. "Cody and I are so excited and overwhelmed by this news," Brandi said. She added, "We have always talked about it as a future, and it turns out that the future is now." Brandi then announced on Instagram in June 2021 that she and Cody had welcomed a baby girl named Liberty Iris. "We are so in love with you, sweet beautiful girl," Brandi wrote. "We are so fortunate and blessed to be your mom and dad."
Brandi has taken to Instagram to post fun family photos of herself, Cody, and Liberty, including a pic from July 4, 2023, in which the three are wearing festive matching swimsuits. "Happy 4th from the Nightmare Fam," Brandi captioned the image. Additionally, in October 2022, Brandi started a podcast called "2 Lies and 1 Truth," which features celebrity guests chatting with her about various aspects of parenting. On a January 2023 "Tamron Hall Show" episode, Brandi discussed how the podcast has impacted her approach to motherhood. "It's made me have to be honest. It's made me want to be real and not want to be perfect all the time," she said.