Why Tom Selleck Initially Didn't Want Larry Manetti On Blue Bloods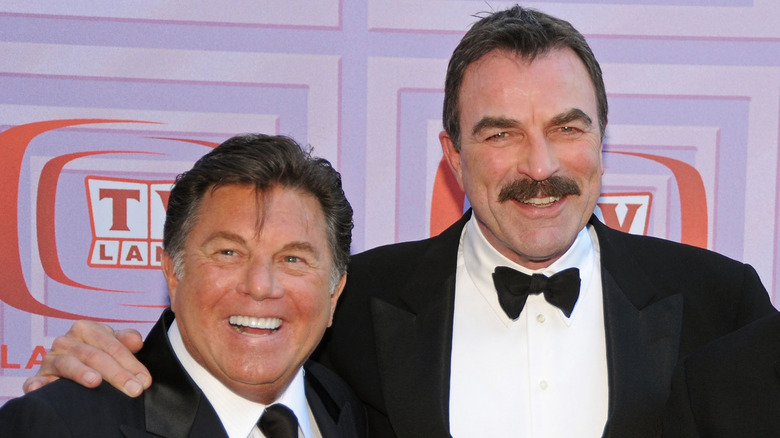 Jeff Kravitz/Getty Images
It was a "Magnum P.I." reunion when Larry Manetti joined the cast of "Blue Bloods," which his buddy Tom Selleck had starred in. In February 2023, Selleck's co-star Donnie Wahlberg teased fans about the reunion through an Instagram pic that included Manetti. He wrote, "#MagnumMonday! It's a mini Magnum PI reunion, on the set of #BlueBloods this week, with guest star Larry Manetti & Tom Selleck — together again." Fans were ecstatic to see the two reunite, but it almost didn't happen, and it was all because of Selleck.
It's rare for Hollywood friendships to last, but Selleck and Manetti have been friends for decades. Manetti talked to Celebrity Drop about what it was like meeting the actor while auditioning for "Magnum P.I." He shared, "I was in a high school auditorium...and the room was filled with about a hundred extras, and there was a lot of chatting and murmurs and all of a sudden this figure entered the room, and the sound stopped." That figure was none other than Selleck, and at that moment, Manetti knew he would be a big star. While that would eventually happen, the "Battlestar Galactica" actor has nothing but nice things to say about his co-star. He shared, "[Selleck] the nicest, sweetest man...he's a real good guy, a man's man and a great friend."
Manetti and Selleck are best buds, and wouldn't you want to work with a close friend? Apparently, Selleck was hesitant about sharing a set with Manetti again, but there's a good reason why.
Tom Selleck thought audiences would get confused if Larry Manetti joined Blue Bloods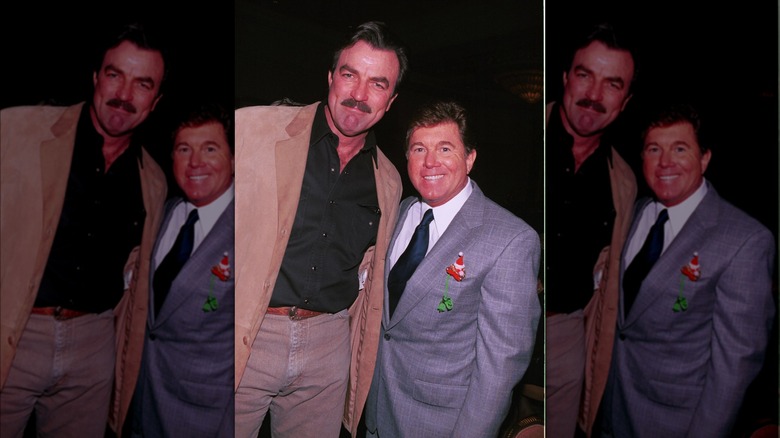 Getty Images/Getty Images
Tom Selleck and Larry Manetti created some television magic when they starred in "Magnum P.I," and that magic doesn't go away over the years — which can be a good and bad thing.
Manetti revealed to TV Insider that his buddy didn't initially want him on "Blue Bloods." He shared, "First of all, Tom did not want to put me on the show because he thought it would confuse the audience because of 'Magnum.' Finally, about 1.5 years ago, he told the exec producer/writer Kevin Wade, 'You know, I'd love to get my friend Larry Manetti on Blue Bloods.'"
Even though it took a while for Selleck to put in a good word, it didn't automatically get Manetti a spot on the show. Kevin Wade, the show's writer and producer, took the referral but didn't do anything about it until he saw Manetti's work for himself. After that, it was a done deal! Manetti shared, "He saw a few episodes of other shows I did and told his writers to 'find something for Larry Manetti — he'd be good for this show.'" Manetti eventually joined the cast as a guest star in 2023 and played a grieving grandfather whose grandson died due to an overdose — and it seemed fans had no problem separating him from his "Magnum" role.
Larry Manetti didn't share scenes with Tom Selleck
When Larry Manetti joined the cast of "Blue Bloods" as a guest star, many were thrilled to see him join forces with Tom Selleck once again. While it was true they reunited on set, it wasn't necessarily on-screen for viewers to watch. Although Manetti and Selleck were in the same episode, they didn't share any scenes together, thanks to Selleck. Manetti revealed to TV Insider, "Again, he thought it might confuse the audience because of our relationship on 'Magnum P.I.'" Cue the disappointment. But their limited scenes have nothing to do with their real-life friendship.
Outside the set of "Blue Bloods," Selleck and Manetti spend a lot of time together. Manetti told PopCulture, "We flew to New York, and we did 'Blue Bloods,' and it was heaven. From the moment I stepped on the New York earth, it was just wonderful. Selleck and I had dinner every night with my wife, Nancy, at his favorite restaurant for, I think, six or seven nights. So it was a truly surreal event." Despite their lack of chemistry on "Blue Bloods" off-screen, it was better than ever. And who knows, maybe Manetti's guest appearance will inspire the show's top dogs to bring him back and actually have scenes with his best bud, Selleck!