Mel B's Daughter Phoenix Is All Grown Up And Could Be Her Twin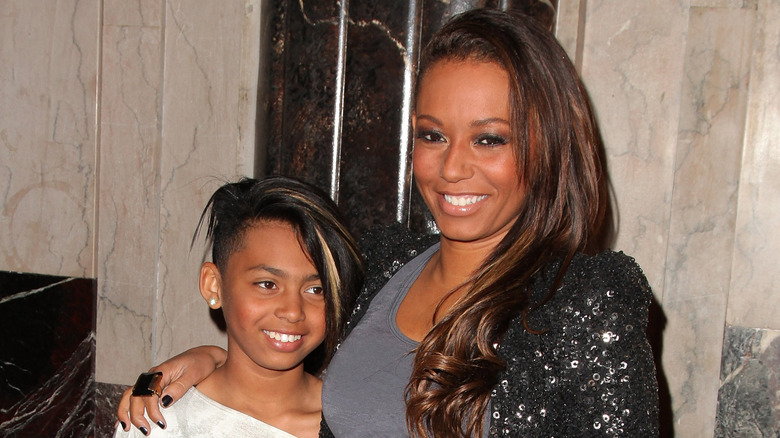 Angela Weiss/Getty Images
Just call her Nepo Baby Spice! It's hard to believe that the oldest of Melanie "Mel B" Brown's three daughters, Phoenix Chi Brown, is an adult, and she's become the spitting image of her famous mom. But she's not just content to share Scary Spice's genetics. During a 2018 appearance on "Loose Women," Phoenix confessed to borrowing clothes from her mom's closet, so she clearly admires Mel B's style.
Phoenix, whose father is Mel B's first husband, Jimmy Gulzar, has grown up in a Spice World. Mel B told The Mail+ that two of her bandmates, Melanie "Mel C" Chisholm and Emma Bunton, were present when she gave birth to her daughter in 1999. Phoenix also once accompanied the Spice Girls when they were on tour, and in a 2017 interview with People, Mel B confessed to blasting some of her girl group's hit songs at home. While she said an unnamed daughter deemed the '90s bubblegum pop "old people's music," it seems Phoenix hasn't become sick of hearing her mom sing. "I like it. I think it's really cool and really hip," she said on "Loose Women."
Phoenix has even taken advantage of her striking resemblance to her mother by paying homage to some of her most memorable Scary Spice looks — and she's also followed in her musical footsteps. 
Why Phoenix Chi Brown dressed up like her mom
In December 2022, Phoenix Chi Brown spiced up her Instagram account by channeling her mom in a series of photos. In one, she wears a leopard-print bustier, black mini-skirt, and combat boots. Her outfit is similar to the one Melanie "Mel B" Brown sports to portray Blazin' Bad Zula in the 1996 music video for "Say You'll Be There." In another, Phoenix's colorful bralette and baggy, patchwork-print pants are a nod to the look Mel B wears on the cover of the "Spice Up Your Life" record. "I honestly just wanted to do it because why not? I think my mom is an inspiration to many people, including myself, so I thought it would be a fun idea to recreate her in my own way," Phoenix told Teen Vogue in 2023.
Phoenix inherited her mom's fondness for fashion. She worked for a London-based fashion magazine as an intern at one point and later started appearing in magazines herself as a model. But she eventually ended up working in the same industry in which her mom got her start. "For the past couple of years, I've been in that rut where I don't really know what fills me with joy. And then I came to the conclusion that it was music, and so I picked up DJing," she said. She explained that she didn't pursue a career as a recording artist because she didn't want to do the same thing as her mom.
Phoenix Chi and Mel B share a close bond
When she appeared on "Loose Women" in 2018, Phoenix Chi Brown spoke about the special bond she and her mother share. "The thing I love most about you is you think you're a kid; you think you're 19," Phoenix told her mom. "So, it's easier to bond with you as a mom because you think you're like me."
Like Heidi Klum and her lookalike daughter, Leni Klum, Melanie "Mel B" Brown and Phoenix Chi have posed together in lingerie. The mother and daughter rocked designs by Pour Moi for its Own Your Confidence campaign in 2023, and they lived up to its name by confidently showing off their figures in unedited photos. "Doing shoots like this, or just seeing other people with their families and different body shapes and proportions, it gives you a different sense of view and it makes you a little bit more confident," Phoenix told the Daily Mail.
Mel B told Women's Health that she was the one who requested that Phoenix be included in the multigenerational campaign, along with her mother, Andrea. As the daughter of a Spice Girl, Phoenix is grateful for opportunities like this that she wouldn't have otherwise, telling Teen Vogue she's aware that others don't have it as easy when pursuing their passions in entertainment and fashion. "I would never try and separate myself from where I came from," she said. "I feel like that's what any nepo baby should do."