Where Britney Spears Reportedly Stands With Her Brother Bryan Today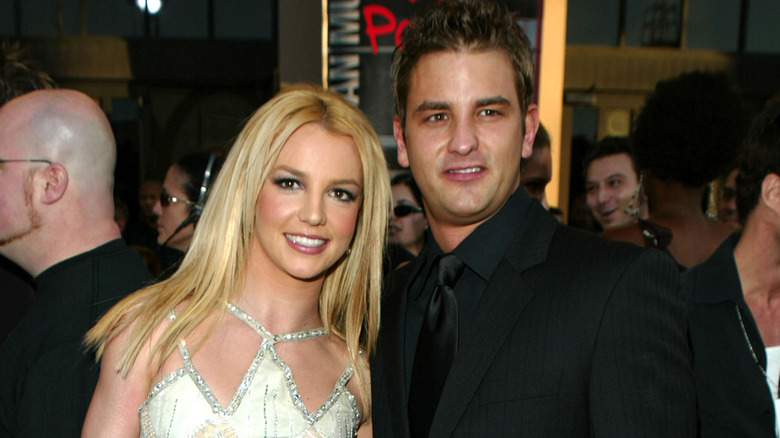 Christopher Polk/Getty Images
Britney Spears' brother, Bryan Spears, maybe the only family member who still has her back. Although Britney hasn't spoken out recently about the status of her relationship with her older sibling, sources have said that he's come to her side in the wake of her divorce from Sam Asghari. "He's been staying over and helping her alongside a therapist," a source told Page Six, adding that it has been "a great thing for all." Back in August, TMZ reported that Britney and Asghari had split and that divorce was imminent. Days later, People magazine reported that Asghari filed for divorce. "After 6 years of love and commitment to each other my wife and I have decided to end our journey together. We will hold onto the love and respect we have for each other and I wish her the best always," Asghari shared on his Instagram Stories shortly thereafter.
Since then, a flurry of rumors has circulated, suggesting that Britney is isolated at home with nobody in her corner. TMZ put out a report indicating that Britney had no one left to support her following her split from Asghari — but it sounds like Bryan may have stepped up to the plate. Interestingly, things have been rocky between the siblings in recent years.
Britney Spears previously called her brother out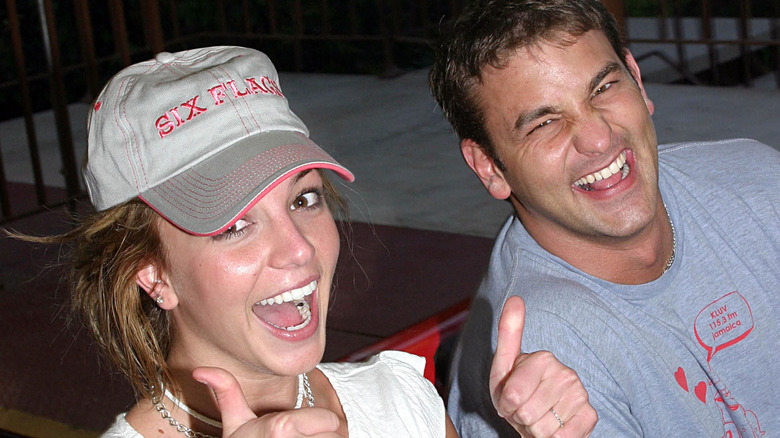 Mathew Imaging/Getty Images
It's no secret that Britney Spears has gone through a lot over the past couple of years, especially once she decided to fight in a (successful) attempt to end her 13-year-long conservatorship. During that period, recordings and transcripts of Britney in court revealed that the pop star felt she had been mistreated by her family, including her father, Jamie Spears, and her mother, Lynne Spears. Britney has also shared some of her feelings about her family on social media. Back in 2022, for example, Britney had some choice words for Bryan Spears. In a since-deleted Instagram post, Britney called out her brother for drinking "every night" and not allowing her a sip of alcohol. 
"You were never invited to my wedding ... Do you honestly think I want my brother there who told me no to a Jack and coke for 4 years? You hurt me and you know it. And I might force myself to drink Jack tonight ... look up and the moon and say 'F**K YOU," she wrote, according to ET. Britney and Sam's wedding took place on June 9, 2022, at her home in Thousand Oaks. None of her family members were in attendance, not even her two sons, Sean Preston and Jayden James, whom she shares with her ex, Kevin Federline.
It's unclear where Britney Spears stands with her family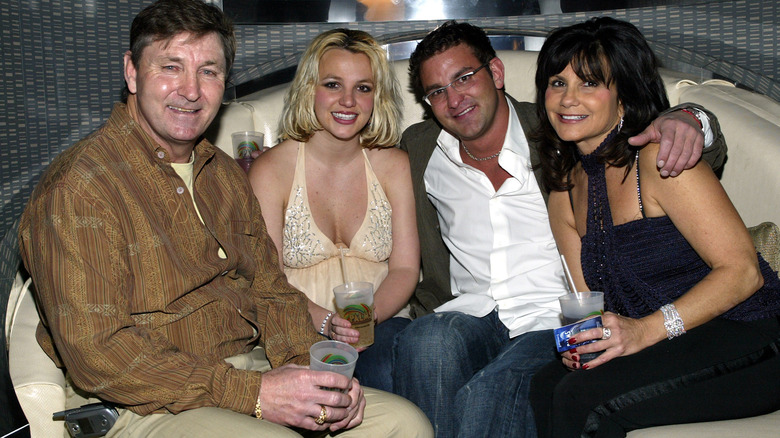 Chris Farina/Getty Images
While reports have indicated that Britney Spears and her brother Bryan Spears are in a good place, it's unclear if the "Piece of Me" singer is in touch with her other family members. In the past, Britney hasn't held back her feelings on the relationships she has with her parents and her younger sister, but no one really knows what's going on behind closed doors. It's no surprise that Britney is estranged from her father, Jamie Spears, and a source told Page Six that the two weren't on a path to work things out despite rumors to the contrary. "Britney is on a healing journey, but a reconciliation with Jamie is not in the cards," the source shared.
As far as her mother goes, Britney actually shared that the two reconciled back in May 2023. "My sweet mama showed up at my door step yesterday after 3 years ... it's been such a long time. With family there's always things that need to be worked out ... but time heals all wounds !!! And after being able to communicate what I've held in for an extremely long time, I feel so blessed we were able to try to make things," she captioned an Instagram post that has since been deleted. About a month later, Britney said she spent some time with Jamie Lynn Spears — acknowledging she missed her — in an Instagram post, although that upload has also been removed.