How Chris Rock Got His Daughter Lola Kicked Out Of School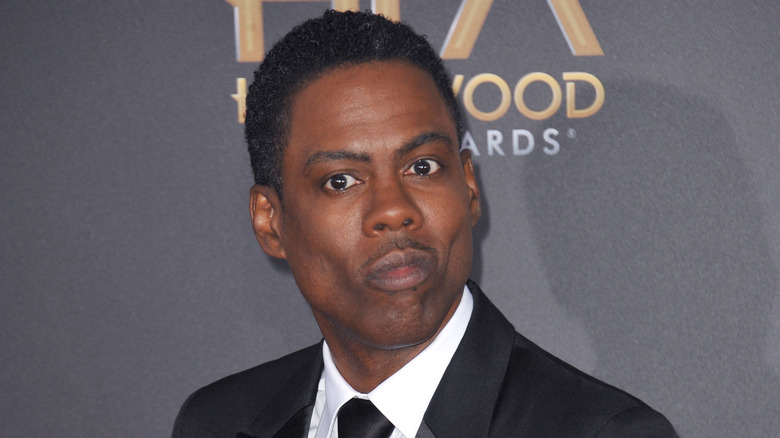 Featureflash Photo Agency/Shutterstock
Chris Rock is known for his raunchy, no-holds-barred style of stand-up, and after becoming a dad, his sense of humor remained just as bawdy. In his comedy special, "Chris Rock: Never Scared," he told the audience he had one job as a parent. "You got to keep her off the pole!" he declared. The comedian welcomed his first daughter, Lola Simone Rock, on June 28, 2002, with his then-wife Malaak Compton-Rock. They also share Zahra Savannah Rock, born on May 22, 2004.
Despite his jokes, being a father isn't something Chris takes lightly. "Every day I'm proud to be a dad. Every morning. Every evening. You know, I just live in the moment," he shared with Chicago Parent. "There's no such thing as quality time when you're a parent. 'We're gonna spend quality time.' Those are bad parents. It's just time," he added. Back then, his daughters were just 6 and 4 years old, respectively. Three years later, he told Oprah that he couldn't give himself a grade as a parent just yet. "It's the one job where you have to put 25 years in before you get your grade — you don't get midterms. ... Parenthood is a journey. It's a marathon. You don't get points for doing half the marathon," the "Grown Ups" star shared. Now that his daughters are older, he is still taking his role as dad seriously, and there was one time he had to come down hard on Lola to teach her a lesson.
Chris Rock wanted Lola to face the consequences of her actions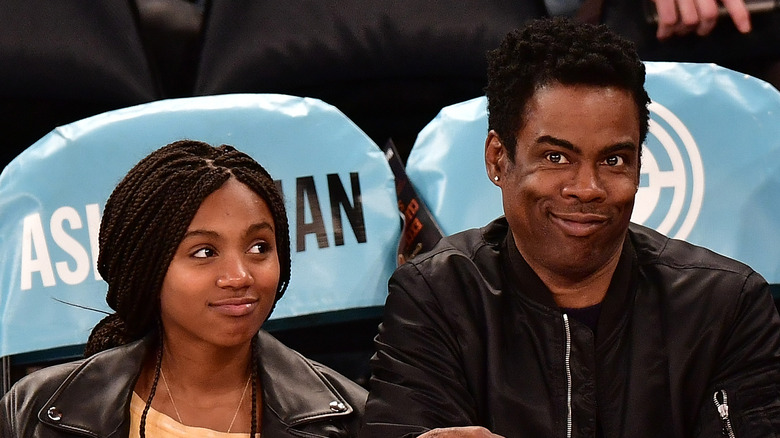 James Devaney/Getty Images
Chris Rock is a mega-celebrity, but he's not about to let his children run wild. In his stand-up special, "Selective Outrage," where he spoke about the infamous Will Smith slap, he also revealed a story about his eldest daughter, Lola Simone Rock, getting caught drinking with her friends during a high school trip abroad. "Lola and four of her little white girlfriends decided they were bored ... Of course, they got busted. Rich white schools, they don't play that s**t," Chris told the audience. Lola thought she would get off lightly and told her dad, "You're so serious! I'll be back in school in no time," which prompted him to talk to the school's dean, "I need you to kick my daughter out of this school. ... I need my Black child to learn her lesson right now before she is up on OnlyFans and some s**t," he said. "Please kick my child out."
It seems Lola ended up just fine after getting expelled from her school. In June 2020, her mother, Malaak Compton-Rock, shared a photo of the smiling teen in a cap and gown. "My first born child Lola Simone has graduated from high school and turned 18! I cannot believe we have reached these milestones! But I could not be prouder of the young woman she has become and am excited for her to begin university in Europe," she gushed. Chris later revealed that Lola was studying in Paris, and after she turned 18, they celebrated endearingly.
Chris Rock and Lola got matching tattoos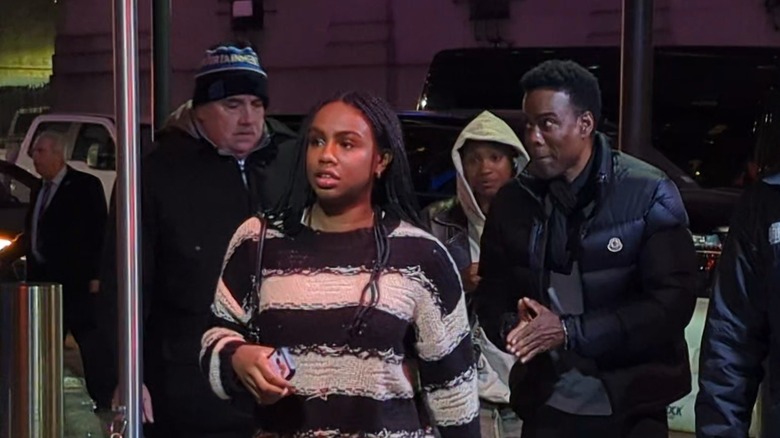 Mega/Getty Images
Chris Rock may be strict when it comes to his daughters' upbringing but now that Lola Simone Rock is an adult, he seems to have relaxed his stance — at least when it comes to body art. In July 2020, the tattoo shop Bang Bang NYC posted on Instagram a pic of Chris with a Basquiat crown on his shoulder. Another pic showed Lola with a dinosaur and matching crown on her shoulder. "My daughter turned 18 ... and she wanted a tattoo. Then she said, 'I want you to come with me because I may go crazy. So, if you come with me I'll be sane and I want you to get one too," Chris explained on "Live with Kelly and Ryan." According to him, Lola is studying to become a documentary filmmaker, so she may be firmly ensconced in the entertainment industry very soon.
While Lola isn't present on social media and Chris is private about his daughters' personal lives, he shared a sweet Father's Day post in 2020. While posting pics of him with Lola and his younger daughter, Zahra Savannah Rock, he wrote, "Nothing makes me happier than my girls. Happy Father Day to all the dads out there. Tonight we get the Big piece of chicken."