Dennis Rodman's Son DJ Has A Close Connection To Bronny James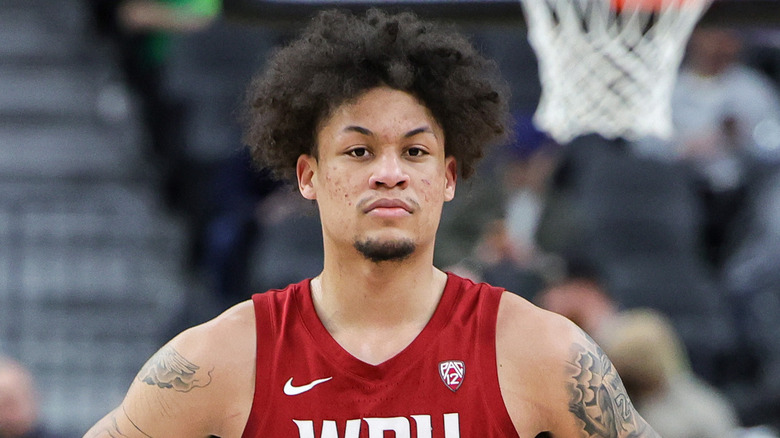 Ethan Miller/Getty Images
Dennis Rodman has three kids, and one member of his brood shares a sports connection with the offspring of another basketball legend. Dennis has three kids. His son, Dennis "DJ" Jr. Rodman, born to him and his ex-wife Michelle Moyer, is 22 years old as of August 2023 and is proudly following in his father's footsteps as an athlete.
Per DJ's page on the Washington State Cougars website, after graduating from JSerra Catholic High School, he played as a forward for Washington State throughout their last four seasons. WSU noted that during the 2022-2023 season, DJ and his teammates competed against several other universities, such as Boise State, Stanford, and the University of Southern California.
That said — Bronny James, the son of LeBron James, is also pursuing a college athletic career. Bronny revealed on Instagram that he'd committed to attend USC and play basketball at the prestigious school. And in a plot twist, DJ announced a big move that has resulted in him and Bronny becoming teammates. 
DJ Rodman and Bronny James are both USC basketball athletes
Dennis "DJ" Jr. Rodman and Bronny James both shared their plans to play basketball for the USC Trojans' 2023-2024 season. In May 2023, Rodman declared through Instagram that he'd chosen to transfer to USC. "All these ups and downs, lefts and rights led me to Fight On #committed #gotrojans," he wrote. As AP noted, as a result of the pandemic, a recent NCAA rule has granted players one additional year of eligibility. Rodman previously completed four seasons with Washington State, but this rule gives him one more year of participation at the collegiate level.
Two months after this news, Rodman was interviewed for "The Schmo" and discussed his interactions with James thus far. "I mean, it's good," Rodman said. "He's young. He's 18. I have the veteran experience, so I can really put him under my wing. And I just want to be that role model ... Obviously, he's got a role model himself in his dad." Rodman then added that he wants to "lead the way" for James and their teammates. The Trojans will kick off their latest season with a game on November 6 against Kansas State, according to ESPN. Following a scary health emergency, however, James' status for the team's upcoming games is not certain.
Time will tell if Bronny James will play with DJ Rodman for USC
It's currently up in the air as to whether or not Bronny James will join Dennis "DJ" Jr. Rodman on the basketball court this season. In July 2023, ESPN reported that Bronny was in stable condition after he went into cardiac arrest during basketball practice. Since his release from the hospital, TMZ Sports wrote that Bronny and his dad, LeBron James, had visited Minnesota "to seek out further treatment" for Bronny at the Mayo Clinic. 
Furthermore, in August 2023, CBS Sports stated that "it's still too early to tell if or when" Bronny will return to play for the Trojans. Meanwhile, DJ is suiting up for USC. The school's men's basketball program recently announced on Twitter that DJ would be donning the jersey number 10 like his dad, Dennis Rodman, wore, according to Bleacher Report. Though this number was retired to honor USC basketball alum DeMar DeRozan in 2020, DeRozan gave his approval for DJ to wear the number while playing for USC. In addition, DJ posted a photo of himself and his USC teammates posing in Athens, Greece, on Instagram in August 2023. "The boys in Athens @uschoops," DJ wrote. This took place during the team's summer tour, which ended in mid-August.