Jessica Simpson Calls Out Natalie Portman For Shaming Her 1999 Bikini Pic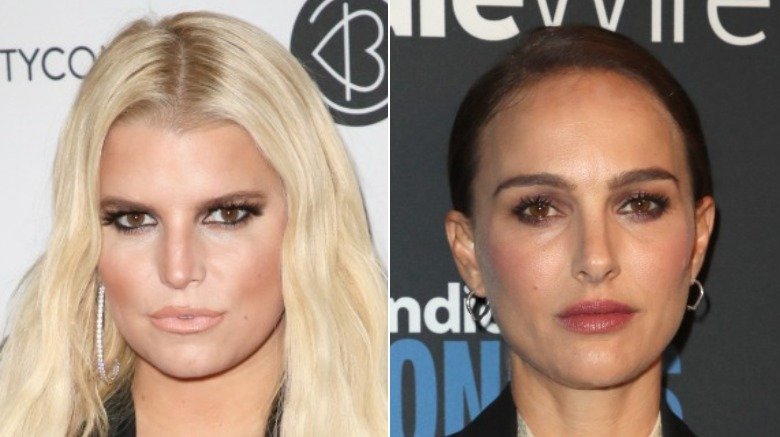 Getty Images
Pop star Jessica Simpson is not happy with actress Natalie Portman.
On Wednesday, Dec. 5, 2018, the "Irresistible" singer took to Instagram to slam the Black Swan star's recent comments on a magazine cover photo shoot dating back nearly two decades.
"I remember being a teenager, and there was Jessica Simpson on the cover of a magazine saying 'I'm a virgin' while wearing a bikini, and I was confused," Portman, 37, had said during an interview with USA Today, on Tuesday, Dec. 4. She added, "Like, I don't know what this is trying to tell me as a woman, as a girl."
In response, Simpson shared a lengthy text-post with her 4.4 million followers, in which she called out the Vox Lux actress for allegedly shaming her. "@Natalieportman- I was disappointed this morning when I read that I 'confused' you by wearing a bikini in a published photo taken of me when I was still a virgin in 1999. As public figures, we both know our image is not totally in our control at all times, and that the industry we work in often tries to define us and box us in." 
"However, I was taught to be myself and honor the different ways all women express themselves, which is why I believed then- and I believe now- that being sexy in a bikini and being proud of my body are not synonymous with having sex," the "With You" hitmaker continued, adding that she's "always embraced being a role model to all women to let them know that they can look however they want, wear whatever they want and have sex or not have sex with whomever they want."
Simpson concluded her post with, "The power lies within us as individuals. I have made it my practice to not shame other women for their choices. In this era of Time's Up and all the great work you have done for women, I encourage you to do the same."
It wasn't long before the post became a trending topic on Twitter, with a number of social media users chiming in to not only call Portman out, but to also express confusion over a celebrity feud no one saw coming. As one person tweeted, "Natalie portman and jessica simpson are beefing? what decade are we in?"
Following the swift backlash on social media, Portman took to the comments section of Simpson's post to apologize. "Thank you for your words," she wrote (via E! News). "I completely agree with you that a woman should be allowed to dress however she likes and behave however she likes and not be judged."
Portman then went on to clarify her initial comments, writing, "I only meant to say I was confused – as a girl coming of age in the public eye around the same time – by the media's mixed messages about how girls and women were supposed to behave. I didn't mean to shame you and I'm sorry for any hurt my words may have caused." The Garden State star concluded her message with, "I have nothing but respect for your talent and your voice that you use to encourage and empower women all over the globe."
The movie star also spoke with Entertainment Tonight about the mix-up. While echoing much of the sentiment in her Instagram comment, she said in part, "I would never intend to shame anybody and that was absolutely not my intention ... It is a mistake to say anyone's name. I could have made my message without naming."
At the time of this writing, Simpson has yet to publicly respond to Portman's apology. However, as readers may already be aware, this isn't the first time the actress has made headlines for challenging double standards in how women are portrayed in the media. As Nicki Swift previously reported, she candidly opened up about her experience growing up as an actress in the public eye at the Los Angeles Women's March in January 2018. 
Due to the sexualized media attention and fan mail surrounding her first film, Léon: The Professional, Portman noted, "I understood very quickly, even as a 13-year-old, that if I were to express myself sexually, I would feel unsafe, and that men would feel entitled to discuss and objectify my body to my great discomfort. So, I quickly adjusted my behavior." She added, "I built a reputation for basically being prudish, conservative, nerdy, serious, in an attempt to feel that my body was safe and that my voice would be listened to."
The signals may have gotten crossed in Portman's initial message, but it sounds like she and Simpson are on the same page on this one.