The Bush Funeral Featured An Awkward Row Of Former Presidents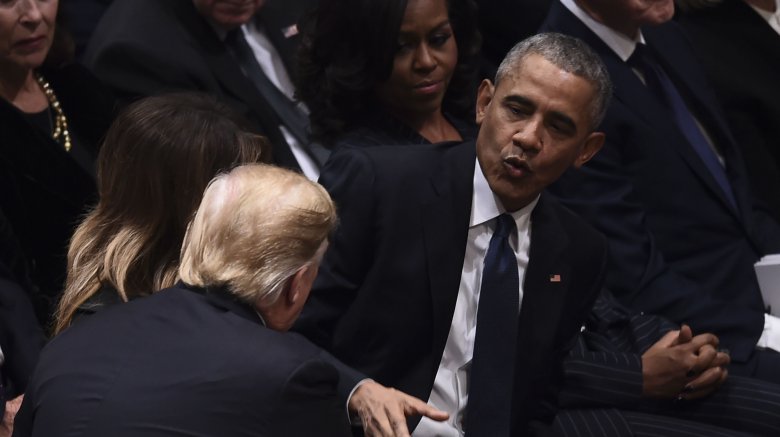 Getty Images
Following the passing of President George H.W. Bush, the 41st commander in chief of the United States, the remaining living presidents attended his funeral ... and it proved to be an awkward affair.
On Wednesday, Dec. 5, 2018, the living presidents and their wives attended Bush's funeral at the National Cathedral in Washington, D.C. Save for George H.W. Bush's eldest son, former president George W. Bush, and his wife, Laura Bush, who sat on the other side of the aisle, all of the presidents sat in a pew together with the former first ladies, as reported by the BBC. That's right — President Donald Trump, Melania Trump, President Barack Obama, Michelle Obama, President Bill Clinton, former Secretary of State and 2016 presidential nominee Hillary Clinton, President Jimmy Carter, and Rosalyn Carter all crammed in together in the front row of the cathedral.
AOL noted that Trump, kicking off the cringe-worthy moments, did not offer a hand to either Bill or Hillary Clinton, though Melania reportedly shook Bill's hand as her husband gave his coat to a military escort.
But perhaps what was most awkward about Trump's encounter with the former U.S. presidents and first ladies wasn't his actions — or, rather, lack thereof. It was actually his past bullying of those high-ranking public officials that served as the elephant in the room.
As senior political reporter for The Washington Post's The Fix Aaron Blake tweeted out about the situation, Trump had previously claimed Barack Obama "was illegitimate," that Bill Clinton had "assaulted women," that Hillary Clinton "should be in jail," and that Jimmy Carter was "the second-worst" president of the United States after Obama. And, well, it's not like Trump kept these thoughts to himself. So, the Obamas, the Clintons, and the Carters are likely totally aware of every little thing Trump has ever said — or more accurately, tweeted — about them.
Michelle Obama, for instance, has spoken out about Trump's past behavior. In her memoir, Becoming, she wrote that she would "never forgive" Trump for his part in the "birther movement" in 2011, during which he'd demanded her husband prove he was American by showing his birth certificate.
"What if someone with an unstable mind loaded a gun and drove to Washington? What if that person went looking for our girls?" she penned, addressing the potential devastating consequences of Trump's actions (via ABC News). "Donald Trump, with his loud and reckless innuendos, was putting my family's safety at risk. And for this, I'd never forgive him."
Still, Michelle Obama politely shook Trump's hand during George H.W. Bush's funeral, though she reportedly did so with "raised eyebrows," according to People. Her husband also shook Trump's hand. As noted by People, the moment marked the first time both Barack and Michelle Obama have publicly interacted with Trump since his presidential inauguration.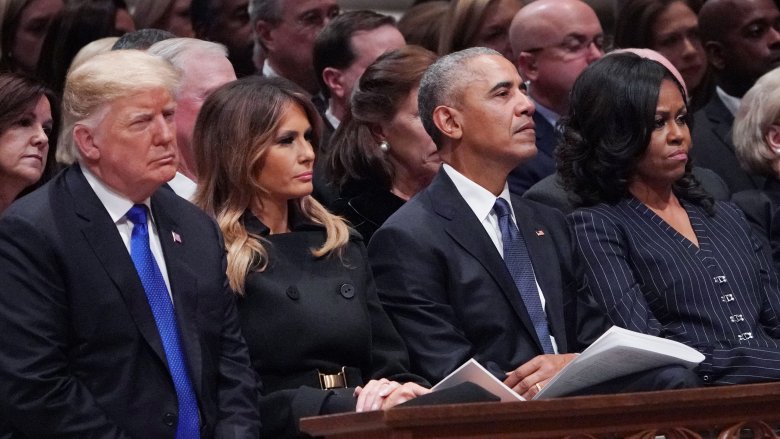 Getty Images
Remarking on the rather quiet exchange between Trump and the former presidents and first ladies, political commentator Michael Steele tweeted, "When Trump arrived everyone else stopped talking and looked straight ahead. Only the Obamas had the good fortune to shake Trump's hand and if Michelle Obama's face was any indication...well, let's just say it wasn't the best part of her day."
The BBC's Jon Sopel noted of the presidential pew, "Body language looks as chilly as the icy weather outside." Indeed, The Washington Post noted that neither the Clintons nor the Carters made eye contact with Donald Trump, though Hillary Clinton reportedly did nod to Melania.
Interestingly enough, President George H.W. Bush, who had voted for democrat Hillary Clinton in the 2016 presidential election and who notably did not attend Donald Trump's presidential inauguration due to health reasons, reportedly wanted Trump to attend his funeral, according to the BBC.
As reported by The Washington Post, if the senior Bush — who passed away on Friday, Nov. 30, 2018, at 94 years old — had expressed that he did not want Trump at his funeral, Trump could have used the moment to criticize the Bush family.
Instead, Bush essentially "put the dignity of the office and, by extension, the nation's dignity, above all," by wishing to have Trump attend. The paper explained that "any chance to demonstrate honor and decorum would provide a welcome contrast to this divided political moment."