Miley Cyrus Comes Clean About Bullying Hailey Baldwin When They Were Kids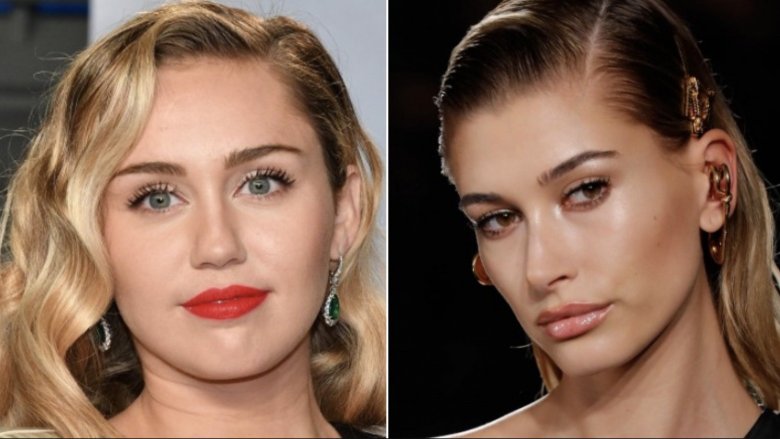 Getty Images
Pop star Miley Cyrus just admitted to being "evil" to model Hailey Baldwin when they were younger.
In an episode of Apple TV's Carpool Karaoke that aired on Friday, Dec. 7, 2018, Miley Cyrus made an appearance while Baldwin (aka Hailey Bieber) was driving with BFF and fellow model Kendall Jenner. After the three women jammed out to Cyrus' past hit "Party in the USA," the former Hannah Montana star opened up about how she used to treat Baldwin in the past, as reported by People.
As noted by the magazine, Cyrus and Baldwin knew each other since they were preteens, as Cyrus and Baldwin's older sister, Alaia, were close friends when they were younger. And, apparently, Cyrus didn't care for Baldwin when she'd try to hang out with them. "I would be evil to her," Cyrus shared. "She would try to play with us, like me and Alaia, and then we would lock her out of the room and be evil."
Cyrus joked, "I had to. It made you who you are, you know? It made you stronger," adding, "Now you can always take like ... the trolls and s***. 'Cause I was such a troll."
Baldwin replied by saying, "Miley was the biggest troll to me! She prepared me for this industry!"
Baldwin, who married singer Justin Bieber in a surprise courthouse ceremony in September 2018, previously opened up about how social media causes her a lot of anxiety, as many take to platforms like Instagram to leave hate about her work and her marriage. "Being off of Instagram is the best thing ever. Whenever I take breaks from it I feel so much better, so much happy as a person...the second I come back on I get immediate anxiety, I get sad and I get worked up," she shared with her followers on Instagram. "It's hard to focus on your well-being and mental health when each time you open Instagram someone is tearing apart your job, or your relationship or essentially any of the things in your life that are positive."
Baldwin went on, "I just don't believe we're called to live a life where we're so easily caught up in strangers opinions on something they have NOTHING to do with."