Who Are Bianca Censori's Look-Alike Sisters Alyssia And Angelina?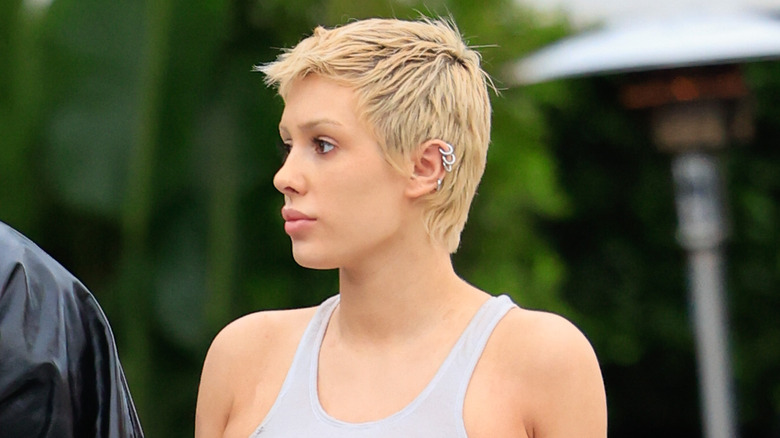 Rachpoot/bauer-griffin/Getty Images
Lately, all eyes have been on Bianca Censori, the (unofficial) wife of Kanye "Ye" West. But what's the inside scoop on her sisters? Here's what we know. 
Bianca led a relatively ordinary (albeit prosperous) life before becoming romantically linked to West. The architectural designer is originally from Australia, where she pursued her passion for the discipline. She received her undergraduate and graduate degrees at the University of Melbourne. According to Elle, she told Hypebeast, "As a child I was consistently drawn to creative endeavors, mostly artistic. I always wanted to be a sculptor and to me, architecture is the union of art and pragmatics." While Bianca has talked extensively about her longtime love for design, she hasn't shared many details about another big part of her life — her family. Also hailing from Australia are Bianca's sisters, Alyssia Censori and Angelina Censori.
Alyssia shares a striking resemblance to Angelina. The sisters practically look like twins due to their similar facial features and long brunette locks, according to photos published by The U.S. Sun. Alyssia and Angelina have kept many details of their personal lives under wraps, as the siblings' Instagram pages are set to private. While fans may not get a visual glimpse into their lives, there's still plenty to know about Bianca's two sisters. Let's take a look. 
Details about Alyssia and Angelina
Alyssia Censori is a nurse with a son named Leandro and a dog called Charlie. Angelina Censori, who is believed to be the younger of the two, is supposedly pursuing modeling. While Angelina's exact age hasn't been disclosed, she reportedly attended her high school prom in May 2021.
The Censori sisters come from an affluent background. They grew up in Ivanhoe, a wealthy suburb of Melbourne. The family later relocated to Alphington, where they settled into a $2.8 million house. Their mom, Alexandra Censori, still lives there.
In August 2023, the Daily Mail revealed some jaw-dropping details about Alyssia and Angelina's family. The outlet shared that Bianca Censori's father, Elia 'Leo' Censori, was given a five-year prison sentence after being convicted of heroin possession in 1982. According to his ex-wife, Faye Glascott, he amassed a large amount of money from illegal gambling. Leo's brother was Eris Censori, an infamous gang killer known as "Melbourne's Al Capone."
Alyssia and Angelina are supportive of Bianca and Ye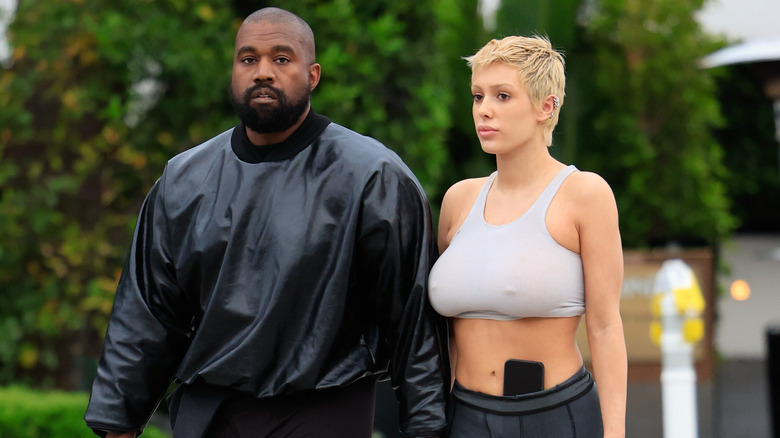 Rachpoot/bauer-griffin/Getty Images
While they've largely stayed out of the public eye, Alyssia Censori and Angelina Censori have shared some brief thoughts about Bianca Censori's relationship with Kanye "Ye" West. In January, TMZ reported that West and the architectural designer tied the knot in a low-key wedding ceremony. They weren't legally declared husband and wife, as the couple didn't file a marriage certificate at the time.
Following their ceremony, Angelina told the Herald Sun (via Page Six), "It's very exciting news for both my sister and the family, but we choose to have some privacy for the time being." Alyssia also said the family is "super happy for them both." According to The U.S. Sun, In June 2023, Bianca introduced West to her parents, Alexandra Censori and Leo Censori, during a trip to Tokyo. Angelina came along as well. She posted a photo of her parents holding hands in Japan's capital, writing, "I love toookkyooo."