Simone Biles' Brother Tevin's Legal Troubles Explained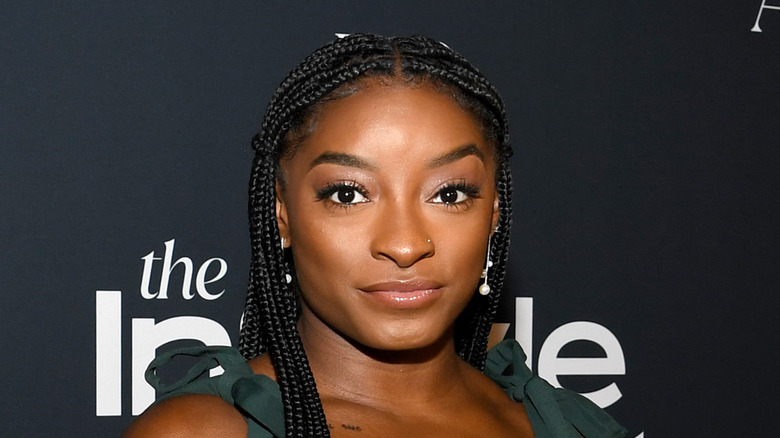 Jon Kopaloff/Getty Images
Simone Biles has always gone for gold, but behind her impressive gymnastic accomplishments is a long and complex family history that many may not know about. Her family history is so complex and even involves her brother getting into some serious legal trouble.
Simone and her siblings had a difficult upbringing as their mother struggled with addiction. According to InTouch Weekly, the gymnast revealed during her stint on "Dancing with the Stars" that her mom suffered from substance abuse issues when she and her siblings were younger and even spent time in prison. Because Simone's mother was incapable of caring for her children, the gymnast and her sister, Adria Biles, were adopted by their grandparents, Ron and Nellie Biles, at a very young age. As for her sister, Ashley Biles, and brother, Tevin Biles-Thomas, they were adopted by Ron's sister.
Although they weren't under the same roof, Simone and Tevin had developed a strong sibling relationship. In September 2017, the gold medalist shared photos of her and her brother on Twitter following her first Olympic win. She wrote, "My brother tevin | everyone says we look like twins but we don't see it." Tevin and Simone are a clear spitting image of one another, and while they were all smiles in those photos, their life would turn upside down just two years later.
Tevin was accused of murder
In 2019, Tevin Biles-Thomas got into some serious legal trouble that changed his life forever. According to People, Biles-Thomas was charged with murder in relation to a multiple shooting that occurred on New Year's Eve in 2018. A statement released by Cleveland police revealed that the incident transpired shortly before midnight when an "uninvited group" attended the party and "an altercation ensued." Shots were fired, and Delvante Johnson, 19, Toshaun Banks, 21, and Devaughn Gibson, 23, all tragically passed away at the incident. After a thorough investigation, Biles-Thomas was revealed as the shooter. Biles-Thomas, who was on active duty with the Army, was later arrested and charged.
Not long after he was taken into custody, Simone Biles released a statement on Twitter regarding the situation. She shared a note with a few words on the incident, saying, "My heart aches for everyone involved, especially for the victims and their families. There is nothing that I can say that will heal anyone's pain, but I do want to express my sincere condolences to everyone affected by this terrible tragedy." The gymnast asked for privacy as she and her family navigated what was to come next. Biles-Thomas ended up pleading not guilty to the charges against him, per Clevland.com. 
Tevin was acquitted of the murder charges
In June 2021, Biles-Thomas was acquitted of the murder charges against him due to a lack of evidence, per USA Today. His defense lawyers reiterated that there was insufficient evidence to charge him, and no witnesses came forward to attest that Biles-Thomas was the one to shoot the three victims. While the acquittal was a weight off Biles-Thomas' shoulders, others were not as happy. In fact, when it was announced by the judge that Biles-Thomas was found not guilty, a woman lunged at the defendant and yelled, "You killed my baby!" Authorities were able to prevent her from coming in contact with Biles-Thomas before she was escorted out.
The case was filled with different emotions, but Biles-Thomas' team was understandably thrilled with the verdict, per CNN. His attorney, Joe Patituce, shared, "This was a horrible tragedy, three families lost three family members and you know, absolutely horrific. So, we understand emotions were running high. But today, Biles-Thomas was vindicated, what he's waited to get for the last two and half years." Since his acquittal, Biles-Thomas has laid low as there have been little to no reports on his life since escaping murder charges.