What We Know About Jennifer Lawrence's Brothers Blaine And Ben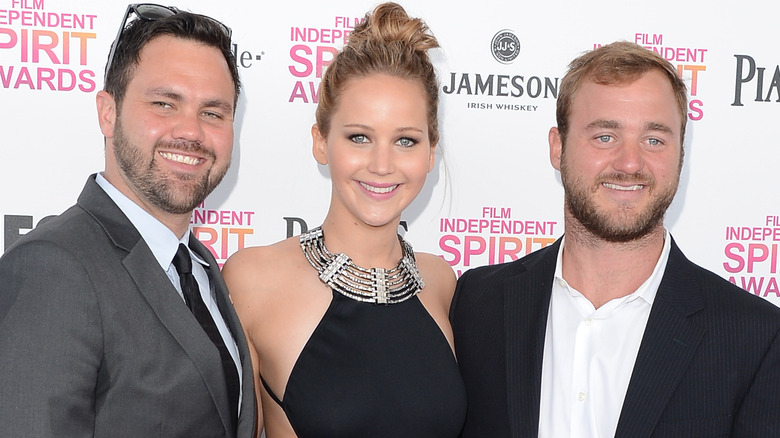 Jason Merritt/Getty Images
Jennifer Lawrence has been acting since she was a teen, but unlike some Hollywood stars, she didn't come from a long line of thespians. J.Law was born in Louisville, Kentucky to parents Karen and Gary Lawrence, whom she often brings to red-carpet events. Despite their daughter being an Oscar-winning movie star, Jennifer's parents work for a living and come from a humble background. They run Camp Hi-Ho in their home state, which the actor still loves to this day. "She loves to go to Hi-Ho. She grew up there horseback riding. She loves to fish, build a bonfire, just be outside," her mom told WDRB. As for Jennifer's famous status, her brother Blaine Lawrence joked, "We're going to try our hardest to keep her grounded and let her know she's not as cool as everyone says she is."
Along with Blaine, Jennifer has another older brother named Ben Lawrence. Of course, having two older brothers means getting picked on, and as she shared on the "Late Show with David Letterman": "When I was doing the gymnastics phase, they used to pin my feet back behind my head ... and then they would get our dachshunds and put peanut butter all over my face. And then they'd shut the door, lock me in the basement with dachshunds, and now — karma! I go on talk shows and tell everybody. I win!" (via Digital Spy). Her brothers obviously share her quirky sense of humor, but unlike the movie star, they lead completely normal lives.
Ben Lawrence runs an IT company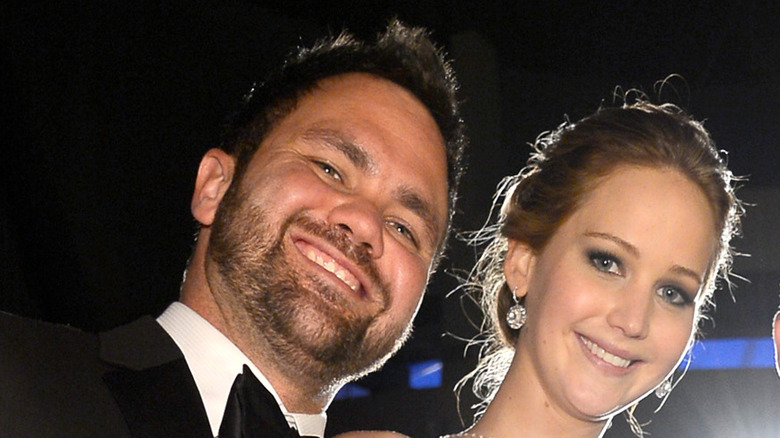 Kevork Djansezian/Getty Images
Jennifer Lawrence is very close to her family, but that doesn't mean she knows what her brother Ben Lawrence does for work. "I don't know. It's something with computers ... It's something called Louisville Geek, I think. I think he goes to an office?" she said on the "Late Show with David Letterman" (via Vanity Fair). In defense of herself she added, "We talk all the time. I just never ask any questions!"
If only the "No Hard Feelings" actor had looked at his LinkedIn, she would have seen that Ben is the managing partner of Louisville Geek. "We provide IT services to small and medium-sized businesses. My primary area of focus within the company is overseeing our marketing department," he wrote in his profile. According to their website, the company was founded in 2004 and started out as a small business but was able to grow into a full-sized technology support business.
Ben married his beautiful bride, Meredith, in 2010 in Kentucky, per Grey Likes Weddings. Jennifer and Blaine were both part of the wedding party as they supported their brother on his big day. Hopefully, the wedding remained prank-free, but it wouldn't be surprising if some Lawrence family hijinx went on.
Blaine Lawrence helps run the family camp
Blaine Lawrence may have tortured his little sister when they were kids, but he proved to be a sweet brother when Jennifer Lawrence was on her way to becoming a massive star overnight. Jennifer desperately wanted to go to New York City to pursue her dream of acting and modeling at the age of 14, per Rolling Stone. Since their parents had to keep Camp Hi-Ho going, a 19-year-old Blaine accompanied Jennifer for six weeks while she worked at booking gigs.
Now, he helps the family in another way — Blaine runs Camp Hi-Ho, which he took over from his mother. Sadly, the farm's barn caught on fire in 2020 and burned down his office space, along with indoor activities for the kids, TMZ reported. "We are deeply thankful that no people or animals were hurt, but we are still mourning the loss of years of hard work and memories that occurred in these walls," he shared on the camp's Facebook page. They were able to rebuild the structure and it looks like the camp is fully running again.
Blaine often shows his love for his little sis on Instagram and posted a pic of the actor in 2012. "So proud of her," he captioned. In another post, he shared a shot of Jennifer at an awards show and simply wrote, "Flof." While many may be scratching their heads at the nonsense word, we're sure it's an inside joke between the two siblings.