The Sad Truth About Tim Allen's Childhood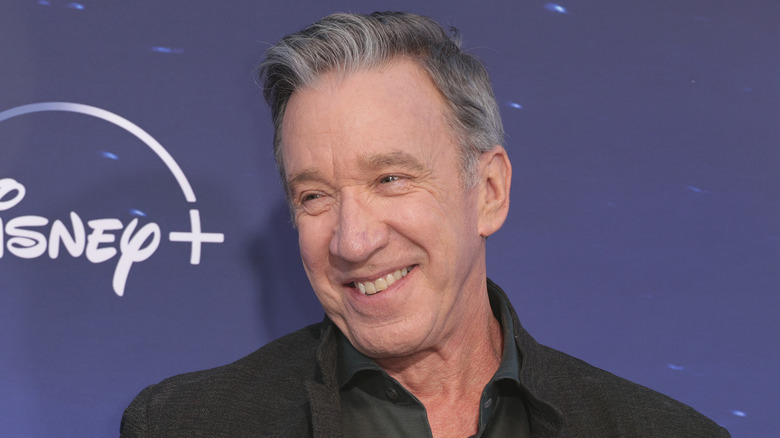 Momodu Mansaray/Getty Images
Tim Allen is best known for making audiences laugh as one of the stars of "Home Improvement." His role as Tim "The Toolman" Taylor in the long-running ABC sitcom scored Allen a Golden Globe win and five nominations. He's also starred in a slew of big-screen smash hits, including as the voice of Buzz Lightyear in the "Toy Story" franchise and donning a white beard and padded red suit for "The Santa Claus." However, the sad truth about Allen's childhood is that it involved way more heartbreak than hilarity.
Before Allen became a sitcom staple and the punchline of an off-color Ricky Gervais joke, he faced his fair share of adversity. Parade noted that Allen spent time behind bars on cocaine smuggling charges, struggled with substance disorder, and underwent court-ordered rehab treatment following a DUI arrest. However, his troubles started years before he even reached adulthood.
Allen's childhood started as idyl. He was born in Denver, Colorado, to loving parents Martha and Gerald Dick. Allen had four brothers and a sister and enjoyed a super close relationship with his realtor dad. Dick used to take his son to watch football games and car races while teaching him about sports and the meaning of life. However, everything changed when Allen was 11. In the blink of an eye, his life went from being a dream to a nightmare, and the turbulent, traumatic aftermath would have repercussions for years to come.
Not being a Dick
Tim Allen was born Timothy Alan Dick, and he was bullied mercilessly as a young kid because of his last name. "Dick! Hahaha! Like Penis! Hahaha," Allen writes in his memoir "Don't Stand Too Close To A Naked Man" about the taunting he received. "I wasn't going to just stand there and take it, so I'd have to run through a whole routine just to defuse the situation. For a while, I hated everyone, and the teasing caused me unnecessary grief."
"I'm back in high school; this is exactly how my life started," Allen told Jimmy Fallon after he raised the subject of his birth name, eliciting sniggers from the audience. Allen shared some of the jokes he was subjected to growing up, including, "Hey, is your dad named Harry?"
"Ask Tim Allen to tell you something about himself that you might not yet know, and he'll tell you with utter honesty and a lowered voice, Okay— I'm a Dick," he writes on his website. "Yes. I am a Dick. My closest friends know I'm a Dick. In fact, my brothers are Dicks, my cousins are Dicks, and my sister — before she was married — a Dick. My dad? One incredible Dick, and the Dick responsible for me being a Dick. Timothy Alan Dick. Some of us are just born lucky."
Grief and heartbreak
Tim Allen's happy childhood was totally upended after his father died in a car crash when he was 11. "When you're 6 or 7, your father becomes this wonderful presence in your life," Allen told Parade Magazine in an interview from 2002 shared on his website. "I really responded to my father. And then, the very moment I realized that I loved him unconditionally, that life was going to be great just because he was in it, he was gone."
Gerald M. Dick was driving home from a football game when a drunk driver smashed into his vehicle. Allen had stayed home that day, but the rest of his family, who all survived, were in the car. "It changed everything forever," Allen told AARP. "Part of me still doesn't trust that things are going to work out all right. I knew my father was dead, but I was never satisfied with why he was dead. I wanted answers that minute from God. 'Do you think this is funny? Do you think this is necessary?' And I've had a tumultuous relationship with my creator ever since."
"That day, I was unsettled from mid-afternoon on, before I even knew my father's life was leaving him as the sun was going down," he explained in his interview with Parade. "The State Police called. All of a sudden... Bam! It hit me hard. I didn't see it coming, didn't understand it, and it hurt like hell."
Drowning out emotions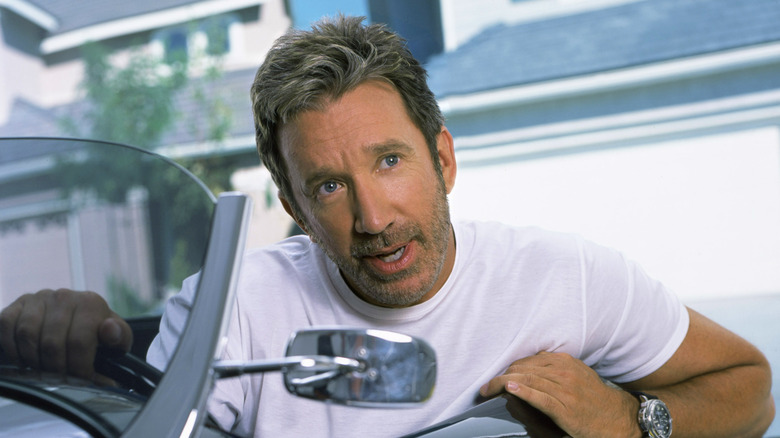 Aaron Rapoport/Getty Images
Tim Allen was left heartbroken by his father's unexpected and untimely death. He admits that he struggled to process the overwhelming emotions that flooded over him. "I kept looking around for someone to help me deal with these feelings. I needed taking care of, but nobody was going to do it," Allen explained to Parade Magazine. "Nobody in my family spoke much about it. There was nobody in school or the neighborhood like me."
He eventually turned to alcohol to try and drown his sorrows. Although, Allen confessed on the "WTF With Marc Maron" podcast that he'd started drinking a year before when he was just 10. Allen said that cowboy movies showing rugged men on horseback chugging back whiskey had inspired him to pick up the bottle. "That stuff's gotta be pretty damn refreshing," he admitted to thinking at the time.
Allen's drinking became heavier, though, when he lost his father. "I was an eff up. After my old man died, I really just played games with people and told adults what they wanted to hear and then stole their booze," he explained. "Really, I was Eddie Haskell [from 'Leave it to Beaver']: 'Yes, Mrs. Cleaver. No, Mrs. Cleaver,' I knew exactly what adults wanted — make your bed, be polite, use a napkin — and then I'd go steal everything in the house."
The loner lost years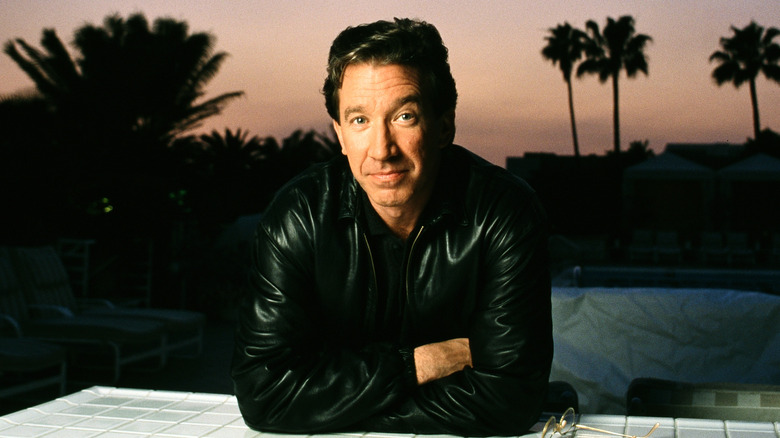 Paul Harris/Getty Images
Tim Allen's struggle to come to terms with his father's death left him feeling lost and alone as he searched for understanding and meaning in life. According to his Twitter profile, it's a quest that remains with him to this day. "Hey, I'm still that wisecracking kid from the Midwest, looking for answers to life's big questions," it reads. The big questions began forming immediately after he lost his father. "When my dad was killed, we had a priest that said, 'He's in a better place,' and I kind of snapped, like, 'What are we doing here, then?!'" He told Parade.
"I was an outsider. I always felt different from everybody else. I never really felt connected," Allen admitted to Parade in his 2002 interview. "Why would God take my father away? Then came guilt and anger," he continued.
"I cut myself adrift. It was like I was going down the same river as everyone else, only now I was no longer in the same vessel. I was alone. When no one dealt [with my grief], the 'butchy-boy' inside me, the survivor-boy, says: 'You don't want this to happen again, so don't love too deeply anymore.' That's the simple lesson I learned."
Anger and angst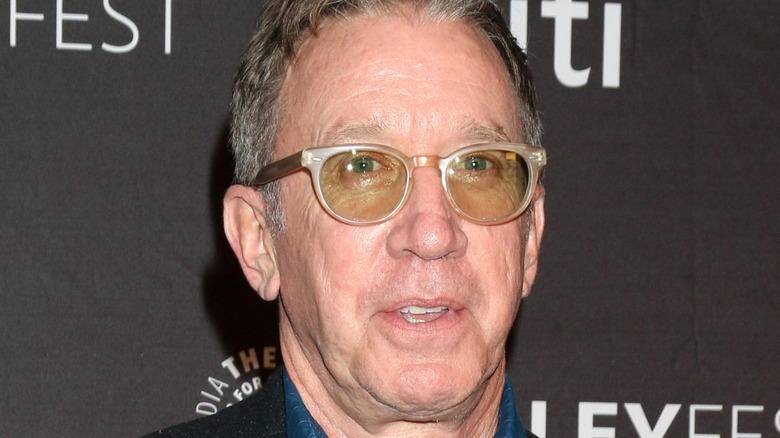 Kathy Hutchins/Shutterstock
Two years after his father's death, Tim Allen's mom, Martha Fox, married her high school sweetheart, Bill Bones. His new stepdad relocated the family to Detroit, forcing Allen to start over again at a new school, which is a daunting task for any 13-year-old, let alone one still grieving their dad's demise. "When my family [moved across the country], I went from being in a cool group at one school to being at the bottom [of the social hierarchy at another]," Allen told Entertainment Weekly.
The teen was already suffering anxiety about having no control over his life, so the sudden move couldn't have helped. "I have irrational fears, and they all go back to losing my father as a kid. I've never gotten over it," Allen told Esquire. "As children, your world is yours. That day taught me that it's really not your world. Somebody else is in control — fate, God, whatever it is. It is not your show. And the show can be brutal. Brutal in its coldness. Brutal in its love and affection. S**t can hit you straight between the eyes, and you never saw it coming."
It likely also didn't help with Allen's ever-increasing teenage angst. "I was an adolescent who woke up too early when my father was killed, and I stayed at that angry adolescent level [until I went to prison]," he admitted to the Los Angeles Daily News (via All That's Interesting).
The end of the line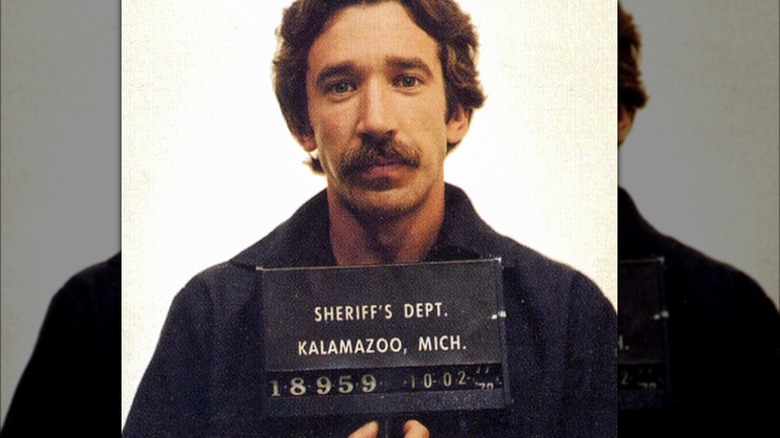 Kypros/Getty Images
Tim Allen had a strong appreciation for his mom's new husband. "My stepfather stepped in where no man would've stepped in — six kids, five of them boys — and that's heroic," Allen told Esquire. Still, there was little that Bill Bones or Allen's mom could do to prevent the teen from self-imploding.
According to his 2002 interview with Parade, Allen graduated college with a B.A. in TV production. However, he chose to sling dope rather than hunt for a career. "I didn't have any idea what I wanted to do," Allen admitted. "What happened? Certainly, there was self-destructiveness, but I didn't set out consciously to screw up. I was going to make money and buy property. But as soon as I started [dealing drugs], I wanted out. I walked into this, then I got hit really hard."
Per AARP, when he was 25, Allen was arrested at a Michigan airport while attempting to smuggle a pound and a half of cocaine. He was booked on drug trafficking charges and served over two years in a Minnesota Club Fed. "When I went to jail, reality hit so hard that it took my breath away, took my stance away, took my strength away," Allen explained to Esquire. "I was there buck naked, humiliated, sitting in my own crap and urine — this is a metaphor. My ego had run off. Your ego is the biggest coward."