The Bad Habit Sasha And Malia Obama Picked Up From Their Dad
Chip Somodevilla/Getty Images
Being the daughter of any president, let alone one as well-liked as Barack Obama, comes with intense scrutiny for any conduct considered less than impeccably pristine. The same goes for the former president, who has admitted to behaviors he didn't love — like smoking cigarettes.
According to Obama, when he was in his peak smoking years, he could go through 10 cigarettes every day. The politician continued the habit as a U.S. senator representing Illinois, but once he decided to run for president, Obama promised his wife, Michelle Obama, he would kick the habit. He mostly stayed true to his word, drastically cutting back on smoking, though he admitted the desire to smoke was something he still struggled with. During a 2009 White House press conference, President Obama confessed: "Have I fallen off the wagon sometimes? Yes. Am I a daily smoker — a constant smoker? No. I don't do it in front of my kids. I don't do it in front of my family."
The former president ultimately quit smoking for good as his daughters Sasha and Malia grew older. Michelle explained that her husband wanted to tell the girls about the danger of smoking while not being hypocritical. The former president claimed his daughters and nicotine gum helped him kick the habit. Even though he hoped to lead by example, it appears both Sasha and Malia picked up smoking from their father.
Malia Obama has no problem lighting up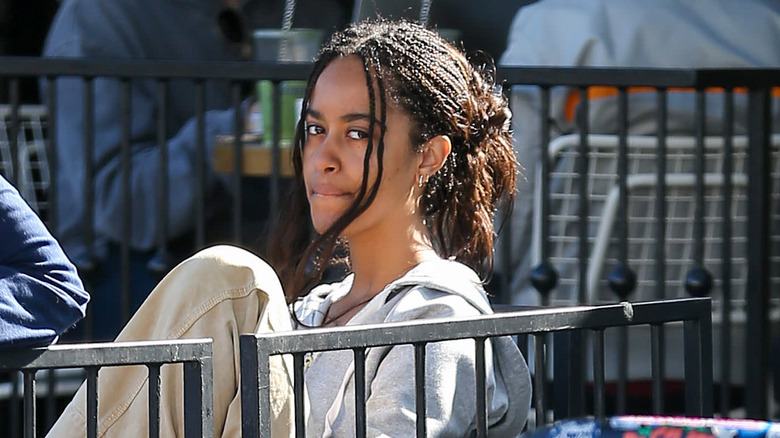 Bellocqimages/bauer-griffin/Getty Images
In 2017, while Barack Obama's oldest daughter, Malia Obama, was a freshman at Harvard University, she was spotted in attendance as Harvard went up against Ivy League rival Yale in the yearly football game. While Yale dominated the game, the most newsworthy moment was a video that appeared to show Malia smoking a cigarette. While the video made the rounds on social media, many came to Malia's defense, including some other president's daughters. "Malia Obama should be allowed the same privacy as her school aged peers. She is a young adult and private citizen, and should be OFF limits," Ivanka Trump tweeted. Chelsea Clinton also wrote on Twitter that Malia's "private life, as a young woman, a college student, a private citizen, should not be your clickbait. Be better."
As reported by the New York Post, a year earlier, Malia was allegedly photographed smoking cannabis while attending the Lollapalooza music festival in Chicago, Illinois, where the drug is decriminalized. Not that her dad would necessarily disapprove, as Barack admitted he smoked marijuana as a young man while growing up in Hawaii. He and his friends called themselves the Choom Gang, a reference to their use of marijuana. Later in 2016, Malia seemed to reference the stir she made by wearing a homemade shirt that read "Smoking Kills" when she attended the Budweiser Made in America Festival.
Sasha Obama is like her dad too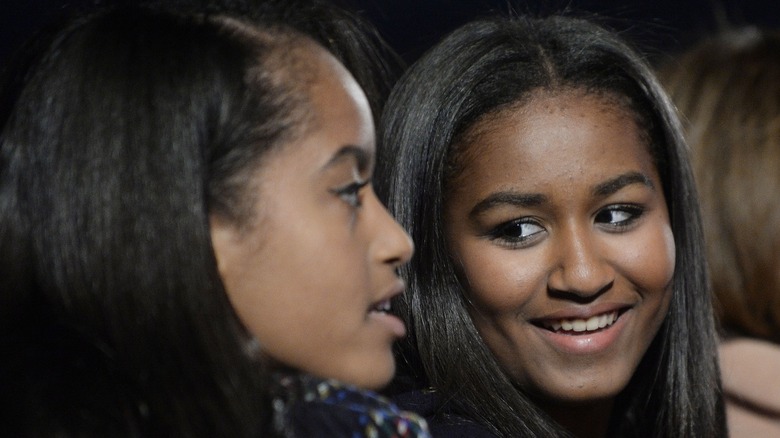 Pool/Getty Images
Living in Los Angeles, Barack Obama's youngest daughter, Sasha Obama, clearly knew how to soak up the sunny weather when she was spotted in September 2023 wearing a colorful bikini top in photos published by Page Six. Yet, it was her throwaway accessory, a cigarette she smoked while hanging with friends, that also caught the attention of the paparazzi. It didn't appear to be a one-time occurrence, as about a week later, photos published by the Daily Mail showed Sasha lighting up again. Appearing to mix healthy and less healthy habits together, Sasha was seen smoking a cigarette in her car after leaving a luxury spa in Los Angeles. Similar to when her sister, Malia Obama, made news for smoking, many on social media came to the defense of Sasha, saying she should be able to do — or smoke — whatever she wants.
One year earlier, Sasha linked up with Clifton Powell Jr., the son of actor Clifton Powell. The two began dating after Sasha transferred to the University of Southern California for her undergraduate degree. Even better, Powell Jr. appeared to get along with Malia as the two were spotted taking a walk in a Los Angeles park. Showing she still preferred her dad's former habit, Malia was spotted smoking a cigarette during the stroll.