Steven Tyler Once Adopted A Teenager And Got Her Pregnant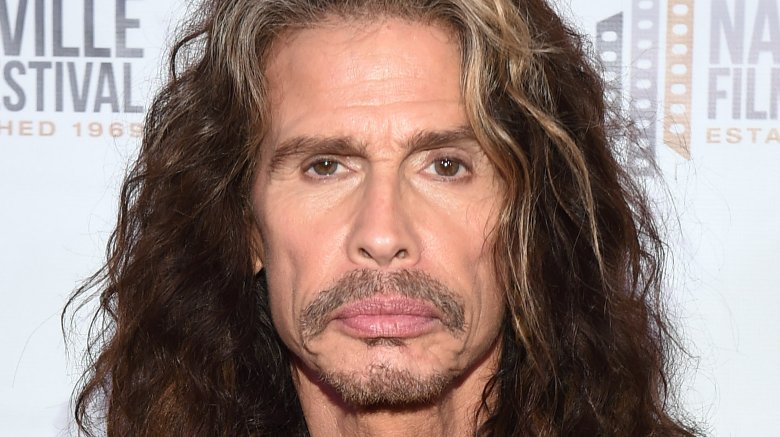 Getty Images
Aerosmith rock star Steven Tyler's relationship history is as tragic as it is complicated — particularly the "Dream On" singer's shocking three-and-a-half-year involvement with a teen named Julia Holcomb in the 1970s. 
According to a Lifesite piece written by the rocker's much younger ex-girlfriend back in 2011, she and Tyler reportedly first met backstage at an Aerosmith concert in Portland, Ore. in 1973. At the time, the frontman was in his late 20s, while she was just 16 years old.
As Holcomb claimed, Tyler was so taken with her that he asked her mother to sign over legal guardianship to him, which would allow the minor to join the "Walk This Way" band on the road. "I became lost in a rock and roll culture. In Steven's world it was sex, drugs, and rock and roll," she wrote, adding, "I didn't know it yet, but I would barely make it out alive."
Three years later, Holcomb became pregnant with Tyler's child, and while the former couple initially planned to marry, the rock star had a change of heart. Fueled by his reported doubts about impending fatherhood, he allegedly pressured Holcomb into getting an abortion. "His guardianship of me complicated things further," she wrote, explaining that she eventually agreed to having the procedure. "I was subordinate to him as in a parent relationship and felt I had little control over my life." 
"Steven sat beside me in the hospital until it was over," she continued, but noted, "When the nurse would leave the room he was snorting cocaine on the table beside my bed. He even offered some to me once, but I just turned away, sick inside." According to Holcomb, both felt deep regret over the decision, and she returned home in early 1977. Now an anti-abortion advocate, she added, "I was a broken spirit. I could not sleep at night without nightmares of the abortion and the fire. The world seemed like a dark place."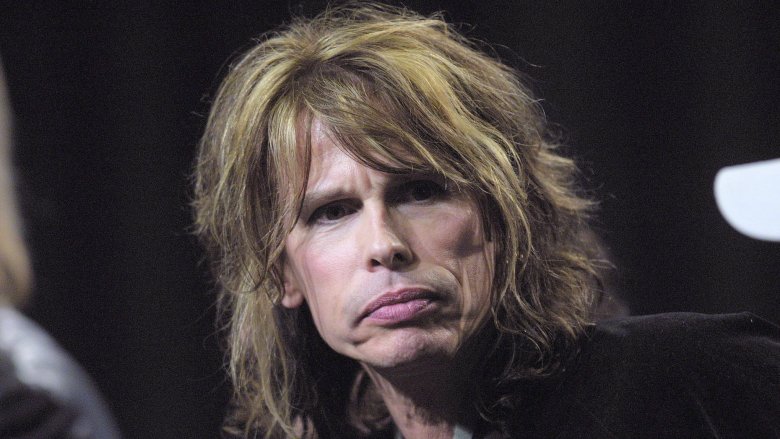 Getty Images
While Holcomb told her side of the story back in 2011, Tyler had already publicly disclosed the ordeal in Aerosmith's 1997 autobiography, Walk This Way. "It was a big crisis," the "Cryin'" hitmaker wrote at the time (via the National Review). "It's a major thing when you're growing something with a woman, but they convinced us that it would never work out and would ruin our lives. You go to the doctor and they put the needle in her belly and they squeeze the stuff in and you watch. And it comes out dead." He continued, "I was pretty devastated. In my mind, I'm going, Jesus, what have I done?" 
According to the band's co-founding member and former guitarist, Ray Tabano, the abortion "really messed Steven up."
Readers may already be aware that Tyler briefly had an affair with supermodel Bebe Buell, with whom he shares daughter and actress Liv Tyler, while he and Holcomb were still together. The former Playboy model later agreed with Tabano's assessment, telling the National Review that her ex began to spiral following the abortion while on tour in Europe. "He was crazy," she said of his drug and alcohol abuse at the time, adding, "Totally drunk, really out of it."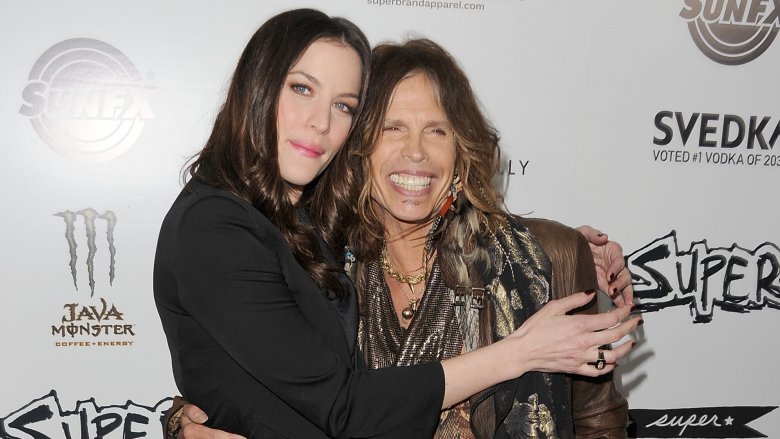 Getty Images
Of course, when Buell became pregnant with daughter Liv in 1977, she broke things off with Tyler and famously kept his paternity a secret for years while music producer Todd Rundgren took on the role of dad. As the Lord of the Rings star later recalled on The Jonathan Ross Show in 2015, "My mother was very young when she had me and there was a little bit of confusion about where I came from." 
She went on to say, "I kind of figured it out because [Steven] looked exactly like me, and I have a sister named Mia who is a year younger than me, and I saw her standing at the side of the stage at a concert and I was literally like looking at my twin. She looked exactly like me." The actress, who was just eight years old at the time, added, "I looked at my mom and she had tears in her eyes, and I kind of put it all together."
For his part, Steven Tyler remained deeply affected by the abortion, particularly when he and his then-wife, the late model Cyrinda Foxe, welcomed daughter Mia in 1978. "I was afraid," he wrote in Walk This Way (via the National Review). "I thought we'd give birth to a six-headed cow because of what I'd done with other women. The real-life guilt was very traumatic for me. Still hurts."
More recently, Tyler opened up about his admittedly promiscuous rock 'n roll lifestyle throughout the '70s during an interview with Fox News' Objectified in July 2018. "I think rock stars ... I felt like I had an obligation to keep that alive," he said of sleeping around (via TMZ). "I certainly had my way with women and women had their way with me."