How Jamie Foxx Helped Save A Man's Life After A Fiery Car Accident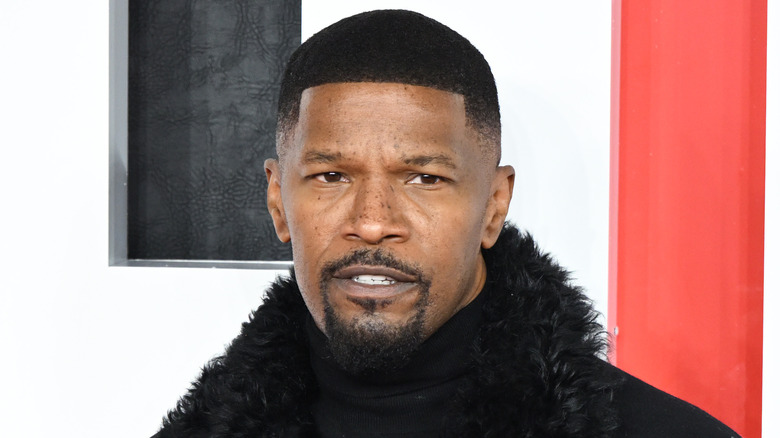 Karwai Tang/Getty Images
Jamie Foxx is no stranger to action. Although he's played fictional heroes in action movies, his own courageousness was on full display when he helped save a man's life. 
While the actor started his career as a comedian in the cast of "In Living Color" in 1991, he eventually drifted into more daredevil roles. The actor showed his appreciation for real-life heroes when he played a Navy Lieutenant in the 2005 movie, "Stealth," admitting that the training for the film was intense. "Navy people are real people. They do somewhat of a thankless job. And this movie, I think, helps, in a sense, to shine some light on them. Never enough light, because when they're doing it, they're really doing it for real," he told Radio Free.
Little did he know, years later, a car accident would take place outside of his home, and his own bravery would be put to the test.
Jamie Foxx pulled a man out of a burning car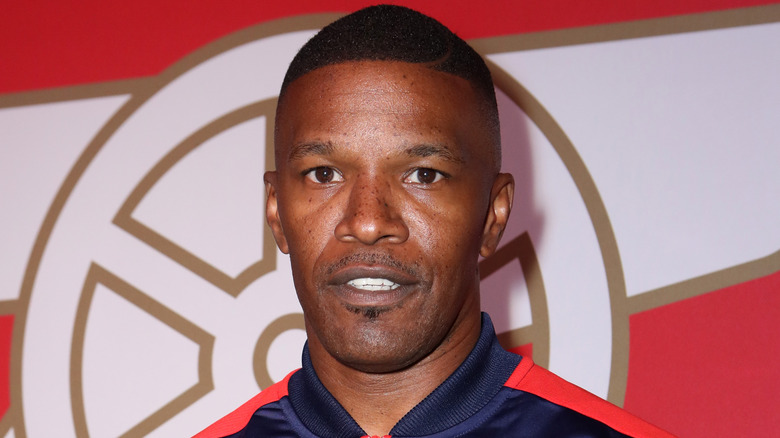 Ari Perilstein/Getty Images
Jamie Foxx is used to playing an action hero, but he went straight into actual danger during a scary 2016 incident. A man — later identified as Brett Kyle — was driving a car when it slid on water, hit a ditch, and flipped over before setting ablaze, TMZ reported. The accident happened right in front of Foxx's Hidden Valley, California house, and without hesitation, he ran toward the burning car in an effort to wrangle the man out of the vehicle.
According to ABC, another bystander ran to get a rescue tool from his car, and along with Foxx, they were able to free the man. Following the evening of the accident, Foxx shared the harrowing details. "He has EMT scissors, hits the window, clears the glass. I climb in and try to hit his seat belt, but he's hovered over, so the seat belt is on him. So I grabbed the scissors from him, cut the seat belt, but it's on his neck. So I cut it off his neck," he told the news outlet. He described the fire spreading to the interior, causing Kyle's legs to extend and allowing Foxx and the other bystander to pull him out. 
The medics and authorities arrived at the scene and took the victim to a hospital where he was treated for injuries. Kyle was later arrested for driving while intoxicated, as reported by ABC, but his father had nothing but kind words to say about Foxx's heroic act.
Jamie Foxx and Brett Kyle's father shared a touching moment post-accident
Jamie Foxx doesn't want to be called a hero, even though he saved someone's life. "I don't look at it as heroic, I look at it, like, you just had to do something and it all just worked out," Foxx stated after the incident to Entertainment Tonight. Foxx revealed that the bystander who helped him with the rescue was named Christian, and the actor described his karmic feelings around the incident. "I said [to Christian], 'That's God doing something right now.' We'll sit up one day and have some waters and talk about it," the actor shared. 
Brett Kyle's father, Brad, showed his utmost appreciation for Foxx. "It doesn't matter to me who it was, or what they do for a living, or whatever. Just the idea that someone would do that is so much more than I can fathom ... It's all tears of joy. He's got two sisters and a brother, they would've lost their brother if it wasn't for him," the father tearfully stated to ABC. 
Foxx performed another heroic act in July 2023 amid his recovery from his health struggles, but this one wasn't as perilous. As reported by People, Foxx saw a woman in Chicago drop her purse from a pedicab and followed the vehicle until they stopped. The woman thanked the "Ray" star and his slick response was, "You're welcome, baby."