Roger Mathews Claims Jenni 'JWoww' Farley Filed Restraining Order Against Him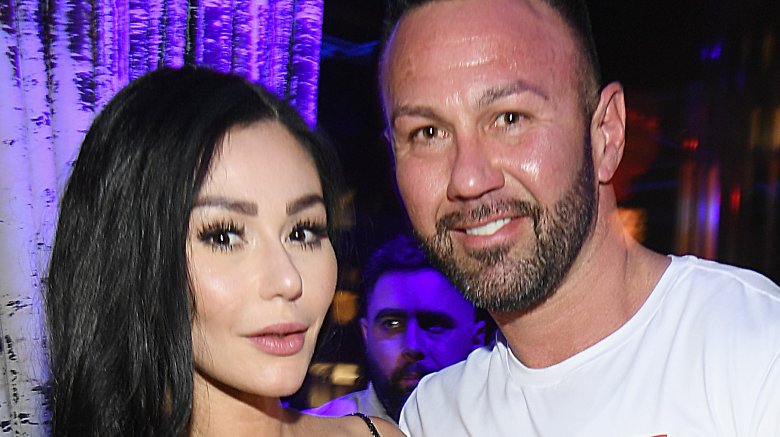 Getty Images
Jersey Shore star Jenni "JWoww" Farley's husband, Roger Mathews, told his Instagram followers that his wife filed a protective order against him.
In the early morning of Friday, Dec. 14, 2018, Mathews posted a video on his Instagram page from the back of a police car. He claimed that he'd had an argument with Farley the day before, which had resulted in him calling the cops allegedly out of fear that she would somehow spin what had happened. Then, he said, at 2 a.m. in the morning, he was woken up by officers who informed him that Farley had filed a restraining order against him and they escorted him out of the house.
In the caption, he wrote, "This is the level my ex wife takes it to after telling my kids their dad is a piece of s*** and she's sorry she ever had children with him. She gets so emotional and irrational in her anger this is the level she brings it too." He continued, "Saddest day of my life watching her tell my daughter 'she is sorry she had children with your daddy.' The truth will come out. The truth will set you free. I will never stop fighting for my kids."
In a separate video, Mathews, who has two kids with Farley, shared, "I'm not allowed to see my children. I'm not even allowed to text Jenni about my children." He called his wife "hate-filled." He also teared up recalling how his daughter had hit him because he'd "upset her mother" during their argument.
Farley's team later released a statement on the Jersey Shore star's Instagram account. Noting that Farley herself has not commented on what's happened with her husband, her team said, "Certain events transpired last night which lead Jenni to involve the authorities, as she felt it was in her best interests, and the best interests of her children to do so. Any statements and social media posts depicting anything to the contrary are entirely false, misleading, and intentionally designed to cast Jenni in a negative light."
The statement continued, "She is proud to be a hard working parent who provides for her children." Her team also confirmed that Farley received a "temporary order of protection" against Mathews on Dec. 13.
In response to the message on Farley's Instagram account, Mathews said in a video, "I am not the violent one, I assure you."
As Nicki Swift previously reported, Farley filed for divorce from Mathews in September 2018, citing "irreconcilable differences" as the reason for their breakup and noting that she and Mathews had experienced a "breakdown of the marriage" for at least six months. However, Mathews took to social media at the time to tell fans that he wasn't "done fighting" for their marriage.
By that November, the pair were reportedly "working on things." Evidently, fixing any problems in their marriage isn't the easiest feat to accomplish.