Here's What Lara Trump Looks Like Without Makeup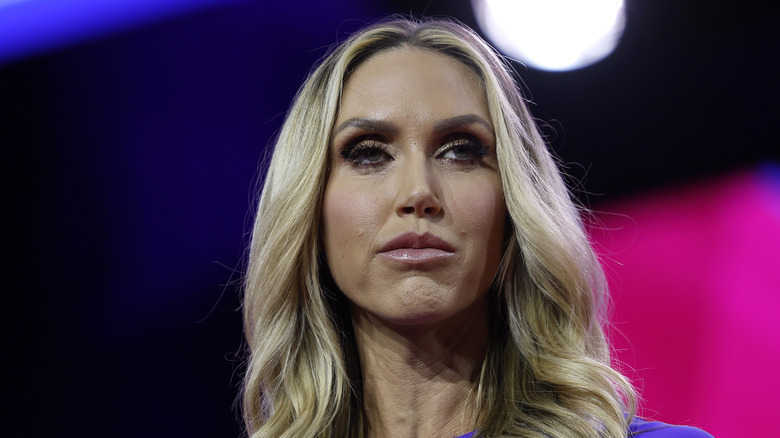 Anna Moneymaker/Getty Images
Donald Trump spewed 30,573 falsehoods during his presidency, per the Washington Post. And the Trump children have been caught in more lies than their father has golf balls. So, the family's no stranger to bare-faced fibs. Still, the Trumps weren't known for their bare-faced Instagram posts until Eric Trump's wife, Lara Yunaska Trump, threw caution to the wind and started showing the world what she looks like without makeup.
It's a bold move for somebody from a family whose members refuse to reveal their authentic selves, choosing instead to project what they think people should see and believe, no matter how fantastical. For example, Donald's recent claims about his height and weight didn't fool anyone. On his jailhouse booking records, the former POTUS alleged he's 6'3" and 215 pounds, which places him in the same ballpark as Tom Brady at 6'4" and 225 pounds, per Sportskeeda. Enough said. And let's not even go there regarding the truth about Donald's hair. Although that would be a picture worth a million words — and dollars. 
Eric also isn't renowned for his commitment to transparency. He's better known for his backward baseball caps and love of grifting. Donald Trump Jr. is famed for spreading misinformation and lying through his capped teeth. Meanwhile, a Vanity Fair reporter told the New York Times that Ivanka Trump has created a totally fake image of herself. As for Melania Trump, she really doesn't care, do U? So, what's the happs with Lara suddenly laying herself bare?
Lara Trump has no time for makeup
When Lara Yunaska Trump hits the stage or TV studios, it's compulsory to have a thick layer of makeup caked on her face to counteract the bright lights and cameras. But she's one of those rare people who actually looks better without makeup. The Republican stalwart has naturally flawless skin, fine features, and a delicate bone structure, the latter of which is in direct contrast to her strong and muscular physique.
Lara prides herself on her extreme fitness built from years of high-intensity workouts. The Daily Express U.S. reports that Lara abides by a grueling regime that includes CrossFit, push-ups, rowing, horse riding, and deadlifts. In addition, Lara frequently competes in triathlons — all of which she documents on her Instagram. No wonder she doesn't have time to slap on some lippy. "As someone who likes to have goals to strive toward, I like to compete in triathlons on a regular basis," Lara shared on the Trump family website. "It makes going for a run, bike ride, or swim that much more meaningful while I'm doing it."
Of course, Lara is also a busy mom of two. Per Newsweek, she and Eric Trump share a son, Eric Jr., and a daughter, Carolina Trump. The Conservateur reports that Lara was in two minds about whether it was the right time to start a family. Still, ever the romantic, Eric told his wife it was time to "get the baby train moving," and the rest is history.
She may be the one Trump to watch
When she's not "on," Lara Yunaska Trump likes to chillax and go au natural. "At weekends and when I'm on vacation, it's all about comfort and chasing a toddler around," Lara told Hello! "There's nothing quite like putting on a comfy pair of jeans and a tank top when Friday afternoon rolls around," she added.
There's been a lot written about the Trump women aesthetic, and despite her love of bare-faced selfies, Lara definitely fits the mold. Dr Clyde Ishii, M.D., president of the American Society for Aesthetic Plastic Surgery, analyzed the 12 most prominent females in the Trump orbit for Refinery 21. He noted they all have "clear skin, eyebrow shapes, and full lips," synonymous with youth and conventional beauty ideals. Then, of course, there's the long blonde hair, Fox News-adjacent wardrobe choices, and high heels. "All 12 of them possess very feminine features that are youthful and attractive," Ishii opined.
Meanwhile, with 2024 hurtling ever closer, Lara will again be plastering on the war paint to hit the campaign trail. And forget Donald Trump Jr. and Ivanka Trump; the smart money is on Lara becoming the next family member to follow in Donald Trump's political footsteps. Per People, there was serious buzz that she would run for the North Carolina senate seat after Richard Burr stepped aside in 2022. However, Lara shot down the reports, insisting she was focused on her family and didn't have the time to give it her all at the moment.