Wendy Williams' Friends Reportedly Worried About Her Health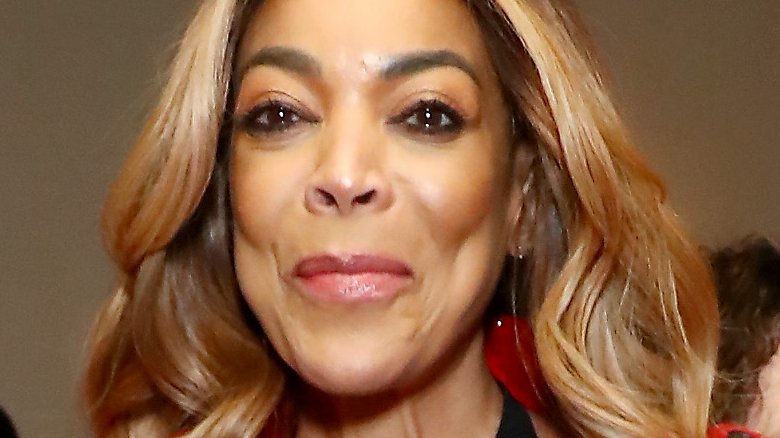 Getty Images
Talk show host Wendy Williams' loved ones are allegedly concerned about her well-being.
Following an episode of Wendy: The Wendy Williams Show being canceled last minute on Dec. 17, 2018, a source reportedly close to Williams revealed to Radar Online that friends are worried about the TV star's health. "Something bad is going on with Wendy," the insider said, noting that Williams has been acting oddly "for weeks."
The source alleged that both friends and colleagues "have been concerned about her in recent weeks." The insider also claimed, "She can barely stand at times, and has totally checked out. It's a major problem."
Williams, 54, has previously spoken out about her lack of standing during her daytime show. Speaking to her viewers on Dec. 12, 2018, Williams explained that she often sits while filming because she simply prefers to. "So it has come to my attention ... that you all are noticing that I sit, a lot. I love to have several seats. I don't just sit here, I've been sitting in the audience, I sit to do demo projects as well. You know why? Cause I want to!" she stated (via Radar Online). "Cause this is my show, and this is how I want to do it. I bust my a** on this show, every single day."
Radar Online's report comes shortly after Williams revealed that she'd injured her shoulder. On Tuesday, Dec. 18 — one day after she unexpectedly canceled an episode of her show — Williams opened up to her audience about suffering a hairline fracture on her right shoulder. Sharing that she'd hurt herself on Sunday, Dec. 16, she said, "By Monday morning, my shoulder was on fire."
Continuing on, Williams, who was wearing a sling under her sweater during her show, stated, "There's no way I could have done yesterday's show," adding, "I was all about the medical care yesterday, from one doctor to the other." Fortunately, Williams said, she doesn't need to have surgery for the injury and she's "on the mend."
She noted, "They tell me I'm very healthy for, um ... a person after 50."
William's shoulder injury is only the latest health scare that the popular TV talk show host has endured over the past few years. As fans of her show may remember, on Oct. 31, 2017, Williams fainted while live on television, passing out while wearing a Statue of Liberty costume.
At the time, Williams claimed that she'd simply "overheated in [her] costume," telling audience members and viewers at home, "That was not a stunt."
Her publicist later shared that Williams was "dehydrated" and was later sent home to rest. "She has been examined by medical professionals and is well. She is OK and will continue ... as planned," the publicist said.
During the next episode of The Wendy Williams Show, Williams addressed her on-air fainting, admitting, "It was scary. It was really scary." However, she joked that she still tried to make her fainting look "as cute as [she] could make it."
Getty Images
Months later in February 2018, Williams revealed to her fans that she'd been diagnosed with Graves' disease, which the Mayo Clinic describes as "an immune system disorder that results in the overproduction of thyroid hormones." Williams said, "Graves' disease squeezes the muscles behind the eyeballs," explaining that that was why her eyes would twitch at times.
In an effort to help Williams feel better after she'd complained of sleepless nights and irritability, her doctor reportedly ordered her to take three weeks off from work — a move that Williams wasn't too pleased with. "I was pissed," she confessed, noting that she was especially upset at her doctor's orders because she'd taken three days off not long before for "flu-like symptoms."
Though she didn't open up about having Graves' disease with the public until February 2018, Williams, according to a March 2018 interview with People, was first diagnosed with both the disease and hyperthyroidism 19 years earlier.
"I feel a hundred percent better than I was a few months ago. I had a storm going in my body is the best way I can explain it," Williams shared. "It came from me neglecting my six month endocrinology appointment."
To the magazine, she added, "I love doing the show, but I love me more. So I'm going to take care of me, so I can be there for them."
Hopefully, Williams will continue to make her health a priority. Her vast fanbase, her co-workers, and her friends would want her to focus on herself so that she can be in the best shape possible. Let's make 2019 a healthy one, Wendy!