The Controversial Career Tyreek Hill Wants To Pursue After The NFL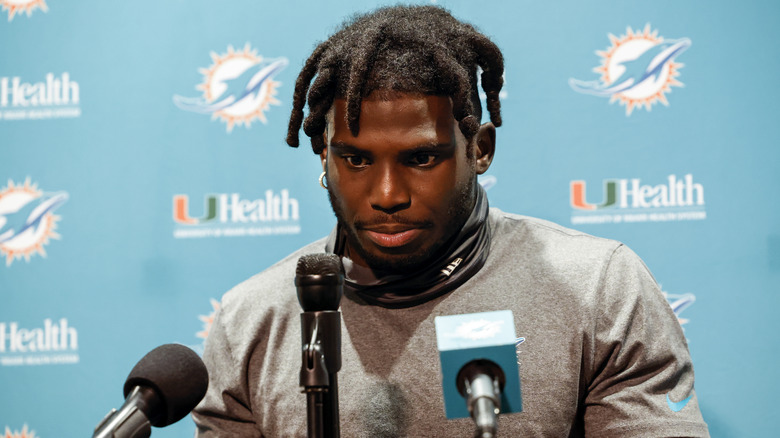 Don Juan Moore/Getty Images
Even if you're not an NFL fan, Tyreek Hill is one of the most recognizable names in the league. Once a favorite target of Patrick Mahomes, the former Kansas City Chiefs wide receiver now wears a Miami Dolphins jersey, and as of 2023, he's made an immediate impact on the team. "No one else in the league has that ability that Tyreek has," Houston Texans head coach DeMeco Ryans complimented Hill, via AP News. "...Not only is it just his speed, but he is very strong. When he gets the ball in his hands, he is a very strong runner and he can bounce off of tackles and make guys miss."
Currently, at 29 years old, Hill may still have a good few years left in his NFL career, but talk is already turning to what he plans to do after he leaves the field for good. Many NFL alums have lucrative brand collaborations, advertisements, or broadcasting gigs under their belts — for example, former Dallas Cowboys star Tony Romo signed a decade-long $180 million contract with CBS in 2017, per Sporting News. This massive amount of money has since been eclipsed by Tom Brady's $375 million deal with Fox in 2022, according to the New York Post.
However, Hill's retirement plans involve monetizing his body and fame in a different way. In a September 2023 Twitch video that made the rounds on social media, the wide receiver told fans that he wants to be a porn star.
Tyreek wants to make it big in the adult film industry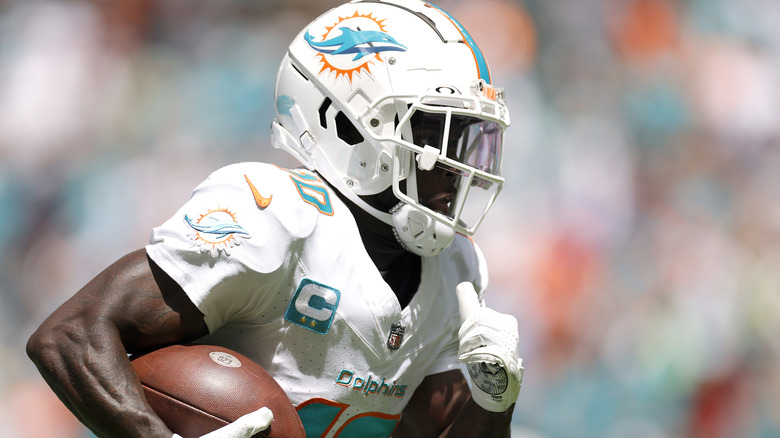 Carmen Mandato/Getty Images
Tyreek Hill seemingly shocked Tampa Bay Buccaneers player Mike Evans into silence with his plans to break into the adult film industry. "Nah, when I retire, bro, I really want to be a porn star, bro. Dead serious. You think I got that?" Hill asked Evans, after Evans inquired about his future career plans on Twitch, via the New York Post. After remaining quiet for a few seconds, Evans finally responded, "Nah, I mean, whatever you want, bro."
The wide receiver initially announced his plans to retire after the 2025 season, but he told Sports Illustrated that his dad has long been encouraging him to walk away for good. "'He told me, 'You can make all the money in the world, but what is it for if you're not able to spend it? You don't want to spend your whole life working,'" Hill explained. So perhaps, he may be transitioning to the porn industry sooner rather than later.
Unsurprisingly, the sports world had lots to say about Hill's announcement. Taking to X, formerly known as Twitter, ESPN personality Stephen A. Smith speculated that the Pro-Bowler is already prepping for his future career. "If you got a woman in your life, you're talking about having aspirations of being a porn star, chances are, you've already been practicing. And that's not a crime," he said, adding that though he'd never want that for himself, "you can't knock Tyreek Hill."
Tyreek Hill changed his mind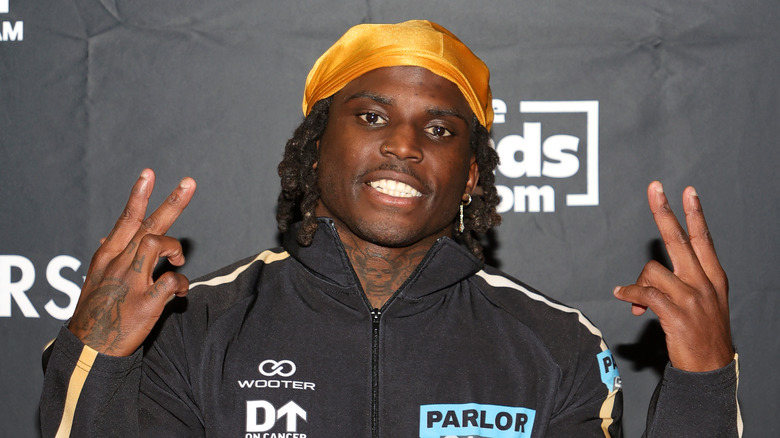 Ethan Miller/Getty Images
With the Internet buzzing over whether they'd see Tyreek Hill on PornHub anytime soon, the Dolphins player made a U-turn regarding his previous statements. "A lot of my teammates are hating on me right now," he told reporters in late September. "But I was joking. I was definitely joking. That's something that I don't want to do. I was just joking." It seems a little bit under the belt (pun intended) to joke about a career in porn — but then again, Hill has a controversial past. The athlete was arrested after assaulting his pregnant girlfriend in 2014, and almost didn't make it into the NFL as a result of the incident. In 2021, he seemingly mocked domestic abuse on TikTok, angering fans in the process.
But if Hill doesn't want to break into the adult film industry, what does he plan to do? Look no further than his medium of choice — Twitch — for clues. Previously, Hill has streamed to the platform while playing popular video game Fortnite, and he plans to monetize his second love of gaming. "I really want to get into ... the gaming space," he dished to Radio 810 (via Fast Company) in April. "I'm using my platform, creating a gaming team, which [hasn't] launched yet. ... I'm going to just sign ... different content creators, different athletes." Looks like we will be seeing more of Hill away from the field, just not as much of him as we first thought.