Prince William Appears To Ignore Meghan Markle In New Christmas Video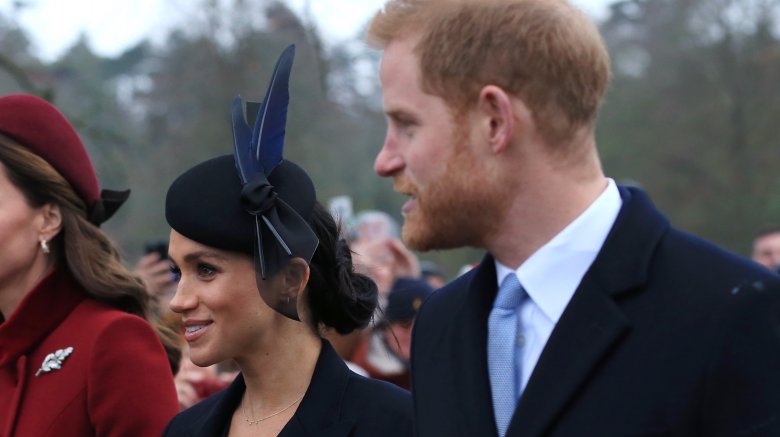 Getty Images
What is going on between Prince William and his sister-in-law Meghan Markle?
While both Prince William and Meghan Markle attended royal Christmas festivities with their respective spouses, they didn't appear all that chummy as they left a morning service at St. Mary Magdalene Church at Sandringham on Dec. 25, 2018. In a video posted to Instagram by a Kate Middleton fan account, William, Meghan, and company walk down steps toward a car. As pointed out by the Daily Mail, Meghan, at one point, turns to William and appears to try to spark a conversation with him. However, William doesn't meet the former Suits star's eye and focuses instead on fiddling with his scarf.
And many have taken William's move to be a purposeful act to avoid talking with Meghan. "It's sad William ignored Meghans chatter as it looked she said something to him," one social media user wrote, as reported by the Daily Mail.
"So sad that before Harry was married, three of them could act goofy to each other. Now, they don't," another said.
According to Yahoo! News, William, Kate, Harry, and Meghan's presence at the Christmas day church service marked the first time the four royals had been seen together in public since the the Remembrance Day services in November 2018.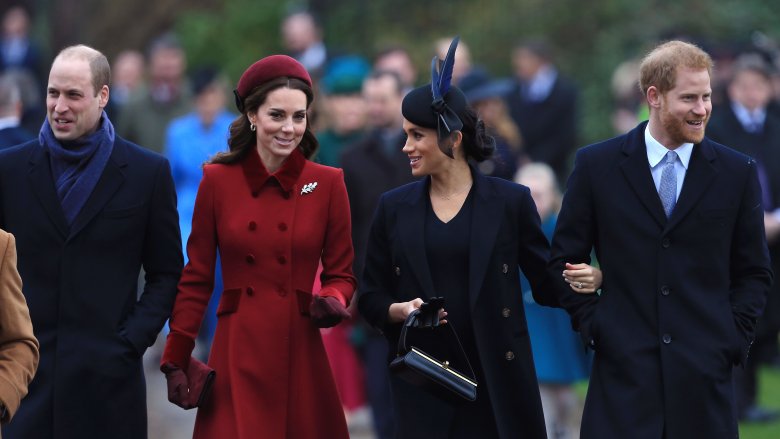 Getty Images
There have been rumors that William and Harry haven't been getting along. Their relationship issues may have started when William allegedly questioned whether or not Meghan would make a suitable bride for Harry. "The problem is that the Cambridges [William and Kate] felt things had moved very quickly between Harry and Meghan," a source told the Mail on Sunday (via Express). "Wills particularly was worried and felt close enough to Harry to voice his thoughts."
Harry was reportedly hurt by his older brother's words and defended his then-fianceé.
It's also been reported that Kate Middleton and Meghan Markle have had some problems in their relationship as sisters-in-law. Kate has reportedly been sad about the state of her and William's relationship with Harry and has felt that he is "changing." It's also been rumored that Kate was upset at how Meghan treated her staff ahead of her May 2018 wedding to Harry.
A source shared with the Mail on Sunday, "Meghan's a strong character and so is Kate, so it doesn't surprise me there have been clashes."
According to the Daily Mail, William and Harry's grandmother and the British monarch Queen Elizabeth II ordered Kate and Meghan to put on a united front at the Christmas service at St. Mary Magdalene Church. Kate and Meghan appeared to do so, as they were reportedly seen smiling and laughing together.
Regarding Kate and Meghan's alleged feud, an insider told The Sun (via The Mirror), "The Queen and Charles have allowed the situation to play out without overtly interfering — but they both made it clear that Christmas was for the whole family to really come together."
The source continued, "That meant the two couples walking into church together as the Fab Four just like they had last year. Yes, it was awkward and uncomfortable given what's gone on over the past 12 months. But the alternative of even more negativity on Christmas Day wasn't worth thinking about."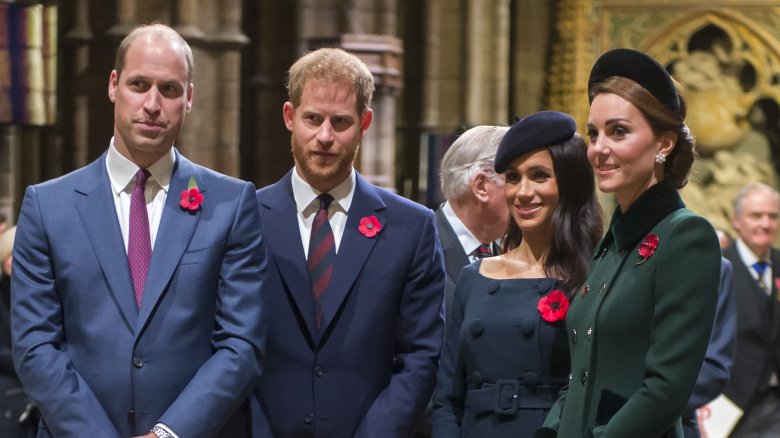 Getty Images
Still, while we — of course — can't say anything for sure about the royals' relationship, getting along may not have been easy for Kate and Meghan. And it also might not have been too genuine. Commenting on the royals' interactions, body language expert Judi James told the Daily Mail, "They're walking in step, and there's enough mirroring to suggest like mindedness too. Kate has her left hand raised at the same time as Meghan — they're both gesticulating in an over-congruent way to show they're having a conversation." She added, "'It looks performed, they're possibly trying a bit too hard."
Commenting on Harry and William's behavior, James continued, "They've both got their hands stuck in their pockets and I didn't see any connection signals between them at all."
Hopefully, whatever may be going on between Meghan, Harry, and their royal in-laws can be resolved sometime soon. After all, the two have a baby on the way, and, if there's ever a time for family members to put aside their differences and come together, it's when there's a little one entering the world.