WWE's 'Mean' Gene Okerlund Dead 76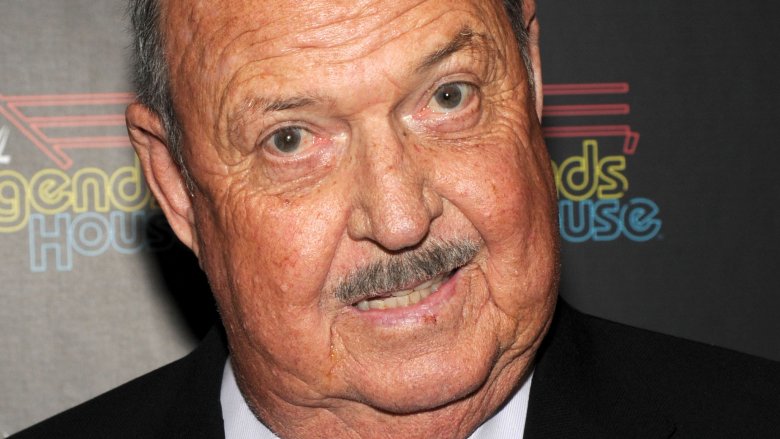 Getty Images
Gene Okerlund, a WWE Hall of Famer, has sadly passed away.
Okerlund, who was known as "Mean Gene," died on Wednesday, Jan. 2, 2018, as reported by the WWE. He was 76 years old. At the time of this writing, Okerlund's cause of death has not yet been released to the public.
Okerlund made a name for himself as a WWE interviewer, commentator, and host since the 1980s. Throughout his career, he worked alongside professional wrestling icons like Hulk Hogan, Ric Flair, Andre the Giant, and Randy "Macho Man" Savage, as noted by ESPN.
Having appeared on shows like All-American Wrestling, Tuesday Night Titans, Wrestling Challenge, and Prime Time Wrestling, Okerlund was inducted into the WWE Hall of Fame in 2006. He later made his final WWE appearance on the 25th anniversary of Monday Night Raw on Jan. 22, 2018.
Following Okerlund's passing, many took to social media to mourn and pay their respects to the WWE star. WWE executive vice president Paul "Triple H" Levesque, for instance, tweeted out, "A voice and soundtrack to an entire era of our industry. He was the star of some of WWE's most memorable segments." He went on, "'Mean Gene' was beloved by all who got to work with him. Our thoughts are with his family at this difficult time."
Wrestler Hulk Hogan posted, "Mean Gene I love you my brother HH."
Ric Flair shared a few old photos of himself with Okerlund, writing, "One Of My Closest Friends Since 1972 Until This Very Sad Day In 2019." He continued, "Not Only The Greatest Voice And Personality In The History Of Announcing, But A Man Who Touched Everyone's Life Who Were Fortunate Enough To Know Him. Rest In Peace Knowing No One Will Ever Replace You."
Our thoughts are with Okerlund's loved ones.