Charlie Sheen's Split From His Ex-Fiancée Brett Rossi Ended In Disaster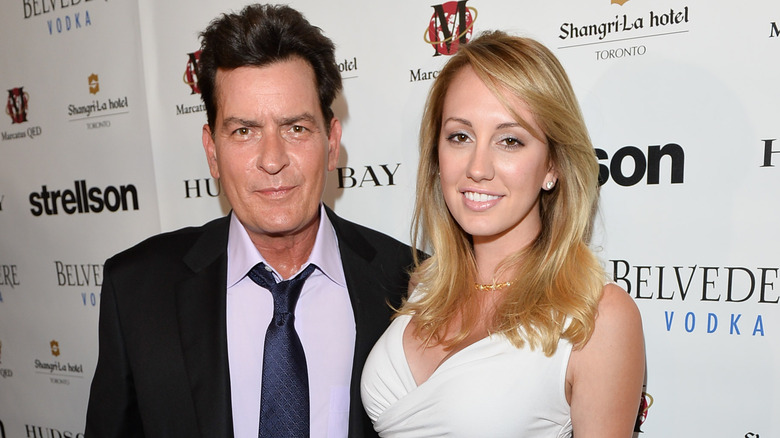 George Pimentel/Getty Images
Charlie Sheen and ex-fiancée Brett Rossi had a seemingly amicable split that later turned into a bitter legal feud. The former couple started dating in November 2013 but called it quits in October 2014, marking one more entry in Sheen's awful love life. Despite the breakup, the two appeared on good terms even though Rossi didn't become Sheen's fourth wife. "She's a terrific gal — but we've mutually decided to go our separate ways and not spend the rest of our lives together," Sheen said in a statement to E! at the time. 
The following month, Rossi was hospitalized for an overdose. "She still has not gotten over the breakup," a source told Radar in November 2014. Rossi later confirmed she had indeed struggled following the breakup.
The next year, Sheen dropped a bombshell when he revealed that he had been diagnosed as HIV positive roughly four years earlier and that certain people were using that information to extort money from him. "I trusted them and they were deep in my inner circle, and I thought they could be helpful. My trust turned to their treason," the "Two and a Half Men" star said while appearing on "Today" in November 2015, which was just over a year after his engagement to Rossi ended.
Shortly after, a lawsuit was filed by Rossi that alleged Sheen had agreed to pay her one million dollars following their breakup but had now backed out of that deal. The lawsuit made several harrowing claims, including that Sheen had not originally disclosed his HIV status to Rossi, even though they were sexually intimate.
Brett Rossi reveals why she was scared of Charlie Sheen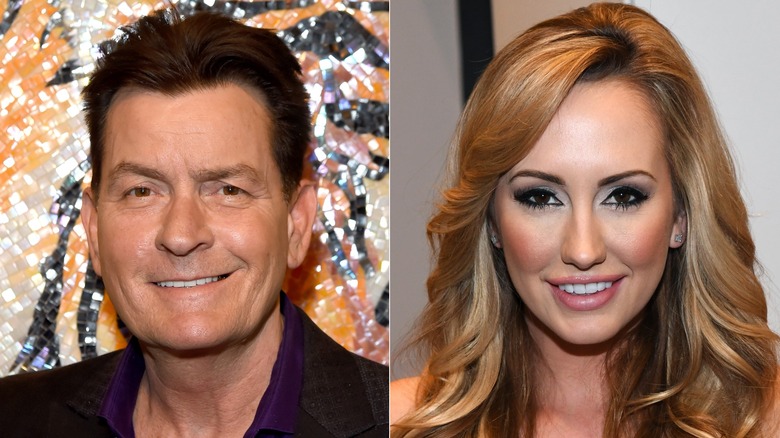 Dave Benett/Getty & Ethan Miller/Getty Images
In the lawsuit filed by Brett Rossi, whose real name is Scottine Ross, she alleged that Charlie Sheen had sex with her four or five times before she found his HIV medication, and he finally came clean about his medical status. "Plaintiff would never have engaged in sex with him, and the resulting relationship between the two would never have occurred," the court documents filed in December 2015 read, per People. 
Rossi also claimed that, when she became pregnant with Sheen's child, the actor demanded that she have an abortion. "[H]e did not want his child to have his blood type (i.e., HIV-Positive)," the documents stated. Rossi also alleged that the "Major League" actor had been physically and emotionally abusive. "For a year, I kept this secret ... I'm terrified of him," Rossi said while appearing on Fox News in December 2015, via Us Weekly.
Court documents filed by Sheen's defense denied Rossi's claims and said that the "Platoon" star had been forthcoming about being HIV positive. "She was the one who insisted on having unprotected sex with Sheen 'like a normal couple,'" the court documents read, per the NY Daily News. The defense also focused on Rossi's past as an adult film performer. "This is a case by an extortionist ... who gets paid for sex as a prostitute and a porn star," the docs read. The pair battled in court for several years before the case was resolved.
Brett Rossi celebrated the end of the lawsuit
The court case between Charlie Sheen and Brett Rossi was sent to arbitration in 2016. That was in accordance with a non-disclosure agreement that had been signed between the former couple when they were engaged in November 2013, per court documents obtained by The Hollywood Reporter. Although Rossi's lawyers argued that the NDA was not applicable, the judge believed it encompassed the case.
Three years after Sheen had appeared on "Today" claiming to be extorted, the lawsuit between him and Rossi was dismissed in November 2018. Details were sparse, but as reported by TMZ, it was believed that the two reached a settlement. Weeks after the case was resolved, a separate report from TMZ said that Rossi was heading to Scores Gentlemen's Club in Las Vegas where she planned to have a lavish blowout party to celebrate the end of the legal dispute.
Although the legal battle was behind her, Rossi was upset with how Sheen's attorneys dredged up her past in the adult film industry, and how she was portrayed by the media. "[It] was automatically assumed that I was a liar even though the person I had the suit against had a 30-year history of drug abuse, alcohol abuse, abusing women," she said in an interview with Amanda Knox for VICE in early 2019. "How dare I, a pornstar whore, stand up to Hollywood royalty?"