A Look At The Obama Family's Lavish Lifestyle Post-White House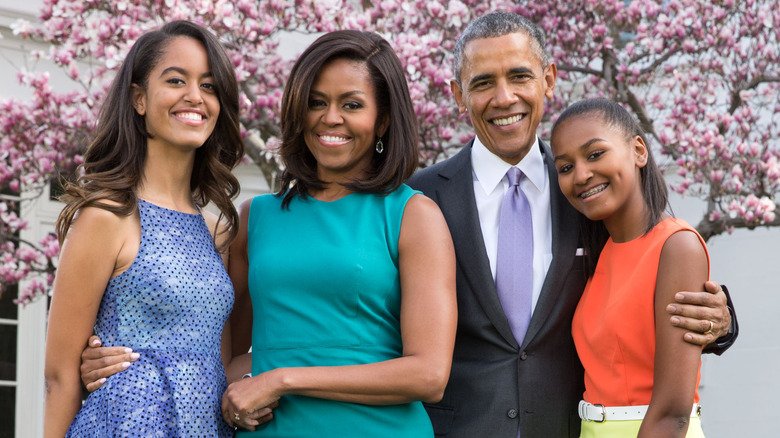 Handout/Getty Images
The Obama family's post-White House lifestyle is seriously goals. Okay, so their life at 1600 Pennsylvania Avenue was cushy, too. You know, aside from living in a fishbowl, needing 24/7 security, and dealing with the problems and criticism of an entire country. Indeed, behind those bright white walls, the Obama family enjoyed all the modern amenities the White House had to offer. The Obama family encountered some pretty convenient luxuries, including, but not limited to, a solarium, a Chocolate Shop, a bowling alley, a private movie theater, and even a music room.
Basically, there was never any real reason for the family to seek outside entertainment until the end of Barack Obama's second term (even though they definitely did). But if you thought that the Obamas left behind a life of luxury once their time at the White House ended, think again. Almost immediately after leaving office, Mr. Obama whisked Mrs. Obama away on a 10-day vacation to a billionaire-owned private island called Necker Island, per CNBC. While the outlet noted that the former president was friends with said billionaire, the trip undoubtedly cost the couple a pretty penny. Or at least it would've without their connections. Either way, it's not like the Obamas aren't used to spending and living lavishly. 
The Obamas have dropped $20 million in real estate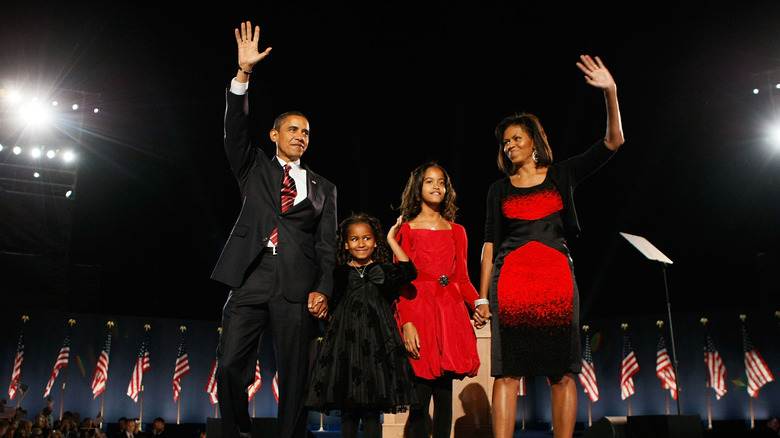 Joe Raedle/Getty Images
Vacations are great, but after spending nearly a decade in the White House, securing a personal home was probably pretty high on the Obama family's to-do list. According to Hello, the Obama family has two mansions — one in Washington D.C. and another in Massachusetts. And they're worth a whopping $20 million! According to the publication, the Massachusetts home — located in Martha's Vineyard — is the most expensive, at $11.75 million, while the property, located in Washington, D.C., cost $8.1 million. But that's still pocket change for Mr. Obama, who's worth $70 million, according to some estimates.
While Barack and Michelle initially rented the D.C. property so that their daughter, Sasha Obama, could finish her high school years at the same school, they eventually purchased the home. By the way, as far as the most expensive homes in their neighborhood, their home comes only second to Jeff Bezos' $23 million estate. The Obamas snagged their Martha's Vineyard home after becoming attached during a previous vacation. Given that the home comes with private coastline access, you can't exactly blame them.
Michelle Obama still spends big on fashion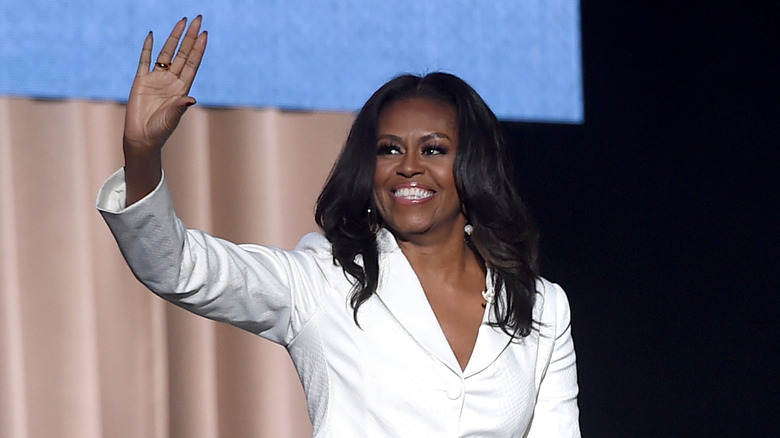 Kevin Winter/Getty Images
Michelle and Barack Obama were easily the most stylish couple to call the White House home. That's a fact, even though the former president had that hilarious mom-jeans moment during his presidency. However, Mrs. Obama definitely had her husband beat in the fashion department. Her time as First Lady catapulted her into the role of a fashionista. Of course, her fashion influence has hardly waned since she became a private citizen. In case you didn't know, Michelle's wardrobe is expensive, too.
In 2019, the former FLOTUS shelled out nearly $20,000 for one of the looks worn during her "Becoming" book tour. According to Page Six, Mrs. Obama — who donned a sparkly pink pants suit — spent just under $2,500 on the business-chic look. However, the bulk of her fashion budget (that day) went to her $16,250 diamond earrings. It's a good thing that she's sold a ton of books! However, this is not the only time Mrs. Obama has pulled out her checkbook for fashion's sake. In 2022, the one-time First Lady wore a fabulous faux leather look from Palmer Harding's line, which People reported set her back $1,640.