Ex-NFL Player Sergio Brown Arrested In Connection To Mother's Grisly Murder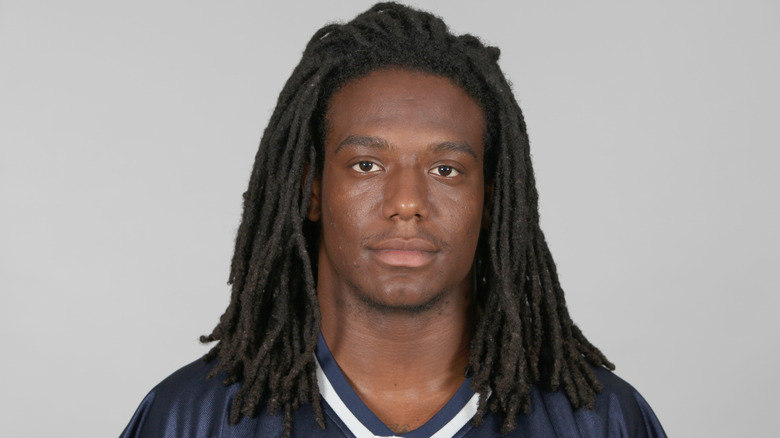 Handout/Getty Images
In the wake of his mother's tragic death, former Buffalo Bills player Sergio Brown has been arrested for murder, the New York Post confirms. Back in September, close relatives of Sergio contacted the police, reporting that the NFL star and his 73-year-old mother Myrtle Brown were missing. Things however soon took a dark turn when Myrtle was found dead in a creek near her Chicago home. As reported by NBC News, the Cook County Medical Examiner has since ruled Myrtle's death a homicide, confirming she died from "multiple injuries due to assault." The Maywood Police Department also confirmed that Brown's whereabouts were still unknown at the time. 
A few days later, Sergio raised even more questions after sharing some outrageous claims about the Maywood Police Department in an Instagram rant. In a since-deleted post, the NFL star accused Maywood Police and the FBI of previously kidnapping him. "They kidnapped me twice from home, The Maywood Police Department," Sergio said in the clip which was later shared on X, formerly known as Twitter. The former Atlanta Falcons player also called news of his mother's death "fake," adding that authorities were most likely behind it. "I thought my f***ing mama was on vacation in Sinaloa. That's f***ing fake news, get the f*** out of my goddamn face. She's retired ... the FBI had to do it, they have the power to do s*** like that."
Amid his rant, Sergio presumably also mistakenly revealed his location as Mexico City. It appears this lead proved useful, as the athlete will now be facing the law.
Sergio Brown is facing murder charges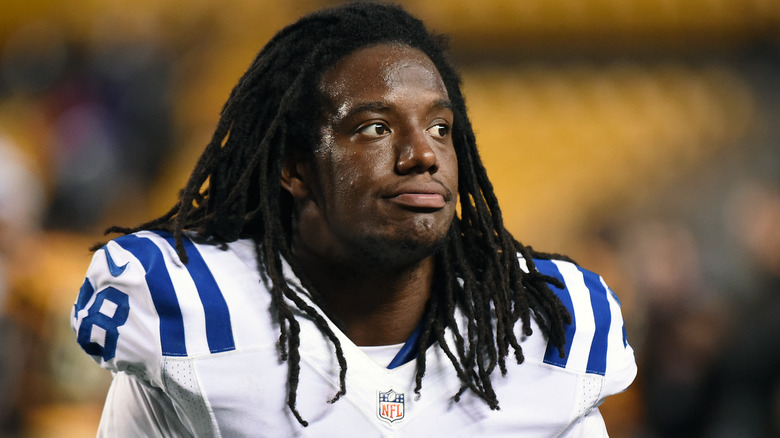 George Gojkovich/Getty Images
As reported by the Associated Press, Sergio Brown was arrested in San Diego on October 10 after attempting to reenter the United States through the Mexico border. He was subsequently taken to the San Diego County Jail where he was held on a fugitive felony warrant without the option of bail. During an October 11 court appearance, the NFL star reportedly agreed to an extradition to Illinois where he will be charged with first-degree murder. According to BBC News, the athlete is facing a possible maximum sentence without the option of parole. Sources confirmed to CNN that Mexican authorities were tipped off on Brown's location in September and subsequently agreed to have him deported back to the United States after an arrest warrant was issued for the athlete. 
Brown's arrest comes only a few days after he was spotted enjoying a night out at a club in Mexico. In a video shared by TMZ, the athlete was surrounded by women and seen dancing shirtless, buying alcohol, and having conversations with some other people. While a source confirmed that the Simmons-Brown family has yet to establish contact with Brown since his mother's death, NBC News reports a statement where they admitted to feeling "heartened by the news that Sergio Brown has been apprehended and returned to the United States unharmed." The footballer's brother, Nick had previously put out a plea, asking Sergio to return home. "If anyone knows where he is I want him to know that I love you and please come home," Nick wrote on Instagram. 
The Simmons-Brown family is committed to finding out what happened to Myrtle
After news of Myrtle Brown's death and Sergio Brown's disappearance broke, Sheila Simmons — sister to the late 73-year-old — spoke to WGN9, revealing that she had been unable to reach the mother-son pair in the days leading up to the horrific discovery. "We're going to find out what happened because it's not normal for my sister to not answer her phone, not to respond to text messages. People have been reaching out to her since Friday. No one was able to reach her," she explained.
Carlos Cortez, Myrtle's neighbor in Maywood also confirmed to authorities that he had last seen the 73-year-old with Sergio on September 12. A Ring camera on Cortez's doorbell would later show the NFL star burning some of his mother's belongings. "They seen him taking out the trash, and they seen him have a bonfire where he burned all her clothes," Cortez told CBS News.
In the wake of her death, friends and loved ones have continued to pay tribute to the late Myrtle Brown. "Myrtle, she was an outstanding woman, and I'm hoping she's in the right place and she's with God," Cortez said while speaking to CBS News. Sergio's brother, Nick Brown also took to Instagram, thanking fans and loved ones for their support. "Mom, thank you for being strong, caring, diligent, fancy, funny, and for saving my art. I won't let you down," he added in the caption.