Sergio Brown's Wild Instagram Rant Raises Even More Questions After His Mother's Death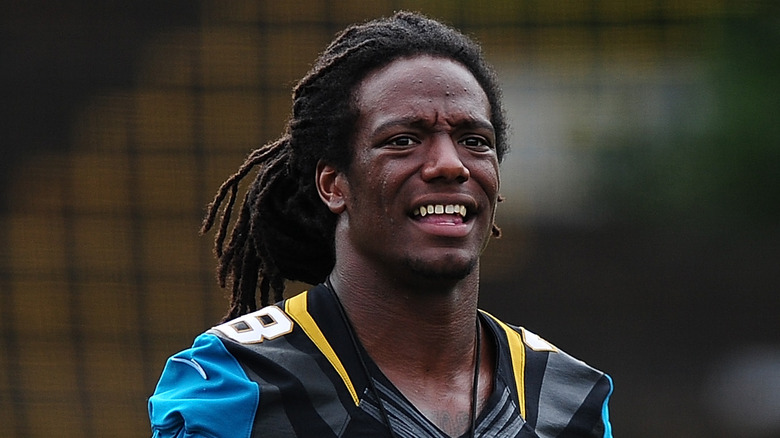 Dan Mullan/Getty Images
The Sergio Brown mystery continues to deepen, becoming more and more bizarre by the day. The latest twist to the saga came after Brown posted a wild Instagram rant that raised even more questions amid his mother's death.
Per ABC Chicago, authorities became involved after family members reported the former NFL star and his mom, Myrtle Brown, had gone missing. Things took a dark turn on September 16 after Sergio's mother was found dead in a creek behind the home she shared with her son. Neighbors said the retired NFL star, who played alongside Tom Brady for the New England Patriots, was regularly spotted walking around the Addison Creek, Illinois neighborhood with his mother. WGN reports the Cook County Medical Examiner's Office determined that Myrtle, who celebrated her 73rd birthday on September 8, had suffered assault-related injuries.
Myrtle's sister, Sheila Simmons, said she last spoke to her sibling on September 14. Sheila received a call two days later telling her Myrtle and Sergio were missing. She drove to their Maywood house, where she noted there had been a disturbance. Family members discovered Myrtle's body during a search later that day. Neighbors told local radio station WBBM that Sergio had acted out of character before his disappearance. "He wasn't himself the last few months. He was out of his mind," a local said. "They see him taking out the trash, and they see him have a bonfire, where he burnt all her clothes." But, as it turns out, Sergio isn't exactly missing.
Setting off an Insta alarm
Sergio Brown's bizarre behavior has continued to escalate since the discovery of his mother's dead body in a creek behind their Illinois home on September 16. The New York Post reports that Brown posted a wild rant on his Instagram Stories, which appeared to show that he's hiding out in Mexico. The story was posted to the account @intPlayerWithAPassport under the name "Brown Passport." The bio reads, "U know who locked me out my @sergiobrown38 page. Beggin Comedian. Follow at own risk." Brown's official Instagram page hasn't been used since October 2021.
According to The Neighborhood Talk (via Deadspin), the now-deleted video was geo-stamped as Mexico City. In the clip, Brown made multiple outlandish claims, including insisting that he believed his mom had gone on vacation and that the FBI and local cops had kidnapped her. Brown also claimed that he'd been snatched by authorities himself previously. "They kidnapped me twice from home," he said. "The Maywood Police Department."
"P Sherman, 42, Wallaby Way, Sydney," he says in a later Instagram Story, which has "Finding Nemo" characters framing it and the location of Sydney Opera House. "Oh my God, I can't. Just keep swimming, just keep swimming. Missing? What the f***?" he asks. "This ain't no 'Finding Nemo.' What the f*** is going on? This is dramatic. Lucky, I'm not a sad joke. You..... what the f***. Just keep swimming," he concludes, cackling. However, Sergio's exact whereabouts amid his mother's declared homicide remain unknown.
Another video appearing to show Sergio Brown has emerged
A concerning new social media post regarding Sergio Brown has surfaced. A video was shared via the Brown Passport account's Instagram Stories on September 20 showing a shirtless Sergio walking down the street, with the tagged location of Maywood, Illinois. In the clip, the ex-athlete sings lyrics to the Drake song "Legend" such as, "Oh my God, Oh my God, If I die, I'm a legend." Prior to this, the account reposted a dance sequence video from @shoeragami.
Per the Associated Press, the validity of the posts from this account is being looked into by the police in Maywood. The news outlet added that, currently, Sergio is still regarded as a missing person. His whereabouts have remained unknown since a missing persons report was filed for Sergio and his mom, Myrtle Brown, by a family member on Saturday, per the Independent. On Monday, Sergio's brother, Nick Brown, posted an Instagram tribute to Myrtle after her death, in which he also discussed the search for Sergio. "My brother Sergio is still missing. If anyone knows where he is I want him to know that I love you and please come home," Nick wrote. He went on to state, "If you have any information on Sergio's whereabouts please send them to the Maywood Police Department." Law enforcement officials have not identified Sergio as a suspect or a person of interest related to his mother's death, which has been ruled a homicide, BET wrote.