Why Fans Are Talking About Madonna's Behind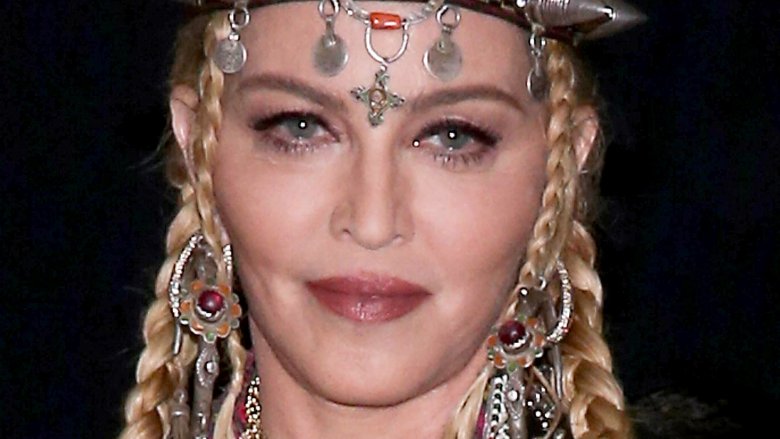 Getty Images
Madonna shocked fans when she performed on New Year's, but it wasn't her singing that had people's jaws dropping — it was her behind.
On the first day of 2019, pop music icon Madonna delivered a surprise performance at Stonewall Inn, a bar in New York's Greenwich Village, as reported by Page Six. The bar, which was reportedly where 1969 riots sparked the LGBTQ movement, had named the "Like a Virgin" singer the ambassador for the 50th anniversary. So, fans expected Madonna to do something in honor of her new title, but apparently no one thought she'd deliver so quickly.
Shortly after midnight on New Year's, Madonna gave a speech about kindness at Stonewall Inn and sand two songs — her hit "Like a Prayer" and Elvis Presley's "Can't Help Falling in Love" — with her 13-year-old adopted son, David Banda, on guitar (via USA Today). Wearing an all-black ensemble with glittering chains and jewelry, Madonna stunned — although her backside is what wound up stealing the show, as it appeared much larger than it's looked in the past.
The Shade Room shared footage of Madonna's performance on Instagram and wrote, "Sis been doing her squats!!!"
"What in the fake booty hell???" one commenter wrote beneath the post, according to Page Six.
And plenty of other people have been commenting on Madonna's rear end on social media. "As a society we have made Big Butts so BIG Madonna went out and got one. I'm done," one Twitter user wrote.
"Madonna need to leave the butt implants alone," another tweeted.
From the photo, it's unclear if Madonna may have had butt implants or if she's packing padding beneath her jeans. According to People magazine, some suggested that Madonna may have had a wallet or a mic pack in her back pocket. Radar Online reported that Madonna's plumper rump could be due to a number of procedures, lighting effects, or even the result of her doing exercises like squats or lunges.
But the truth about Madonna's behind has remained a mystery, even after Madonna herself commented on the gossip surrounding her backside.
Madonna posted a photo of herself on Instagram from the New Year's Eve celebrations on Thursday, Jan. 3, 2018. In the caption, she wrote, "Desperately Seeking No Ones Approval," alongside a tears of joy emoji. She continued, "And Entitled to Free Agency Over My Body Like Everyone Else!! Thank you 2019!"
Noting that "Its Going to Be an amazing Year," she added the hashtags, "#2019 #freedom #respect #nofear #nodiscrimination."
It's been suggested that Madonna has had plastic surgery before. In June 2011, the Daily Mail asked experts to weigh in on if they believed the pop star has had any work done. One doctor claimed that Madonna had likely had botox, a facelift, and volume restoration done to her face. Another believed that Madonna may have had eyelid surgery, a nose job, and a chin enhancement.
If Madonna has had any plastic surgery, she's largely remained mum on the matter. However, she reportedly once said, "I am not going to hold a press conference if I have plastic surgery. But I've said many times, I think about it and I sure don't rule it out" (via the Daily Mail).
Though speculation about what Madonna has or has not done to her body has been making headlines, it's important to shed a light on just what she said during her speech at the Stonewall Inn.
"If we truly look and we truly take the time to get to know one another, we would find that we all bleed the same color and we all need to love and be loved," she said after remarking on the 50th anniversary of the 1969 riots (via People). "As we stand here together tonight, let's remember who we are fighting for and what we are fighting for. We are fighting for ourselves. We are fighting for each other. But truly and most importantly, what are you fighting for? We are fighting for love!"
Calling for more "love and peace" in the new year, she pushed for people surprise others with "unexpected acts of kindness." She continued, "Let's be counterintuitive. Share what you know with someone you don't agree with. Get outside your comfort zone. Let's try to be more forgiving. Maybe we will find an opening to let the light come in. Let's close up the distance between one human being and another."
She asked, "Are you ready to do that?"