Scott Disick Criticized For 'Racist' Photo Of Daughter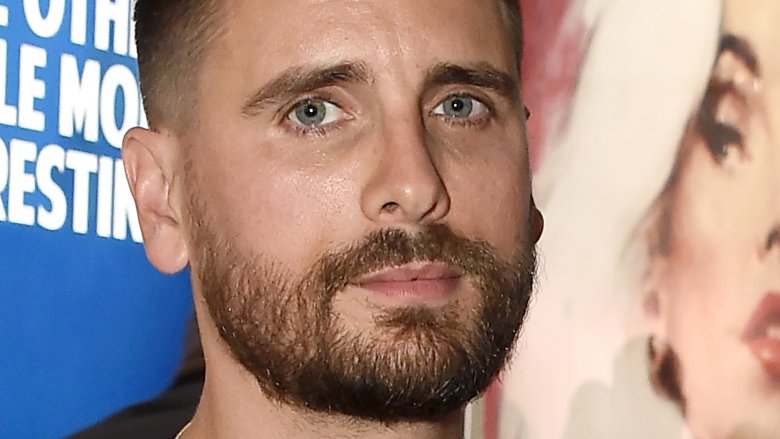 Getty Images
Keeping Up With the Kardashians star Scott Disick is in hot water after posting a photo with his daughter that some people have deemed to be "racist."
On Instagram, Scott Disick shared a picture of himself with daughter Penelope, whom he shares with ex-girlfriend Kourtney Kardashian, with his 21.1 million followers. "Best first date of 2019!" he wrote in the caption, along with a red heart emoji and a prayer hands emoji.
In the snap, Scott and his 6-year-old kid, whose full name is Penelope Scotland Disick, are seated at a table and have chopsticks, and Penelope, looking at the camera, pulls up at her eyelids with her fingers under her eyebrows.
Fans were quick to criticize Scott for the picture, which many considered to be racist to Asian people. As noted by The Sun, one commenter wrote, "Why the F is his daughter doing that? Eating Asian food and being racist??"
Another Instagram user said, "All that wealth, you'd think some would go towards education on ignorance and cultural sensitivity."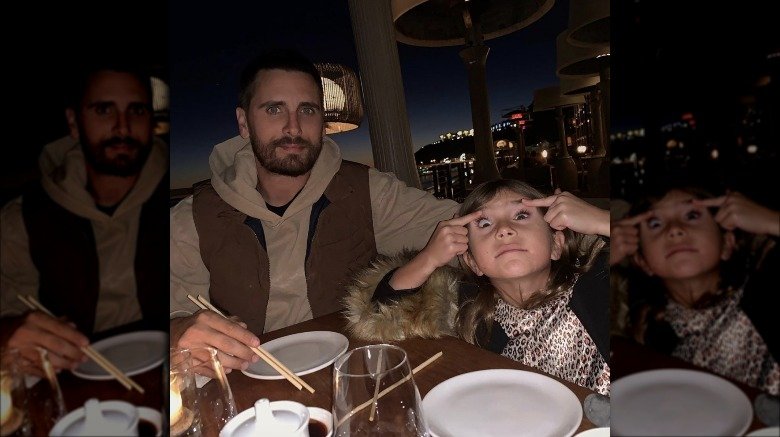 Instagram
Besides calling Penelope out for allegedly mocking Asian people, others slammed Scott for potentially teaching his daughter racist behavior. "It's a [parent's] responsibility to teach a kid to do the right thing," someone told Scott in the comments section.
A different user said, "Wow and this is a prime example of how racism is taught. People aren't born with it. Ignorance at its finest."
However, not everyone is convinced that Penelope's pose is racist. For example, one commenter wrote, "No one can do anything in this too sensitive world, my goddess. She's just a kid doing something funny."
Another said (via People), "She's a little girl! It's not racist! Calm down, she's holding her eyes UP!"
Penelope does appear to like making silly faces when the camera's on her, as evidenced by one of her mother's August 2018 Instagram posts, which showed Penelope with a mouthful of pasta in one snap and making a scrunched-up face in another.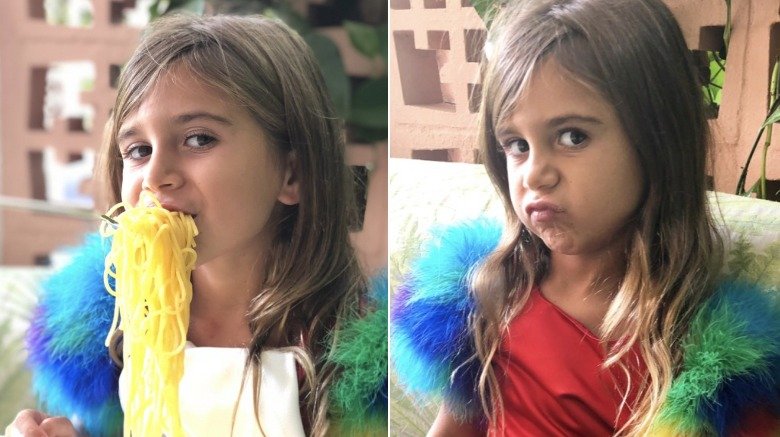 Instagram
At the time of this writing, neither Scott Disick nor Kourtney Kardashian have commented on fans' accusation that Penelope's pose in her dad's Instagram post was offensive. However, a source told Hollywood Life that Kardashian was upset that people were calling her daughter "racist" online.
"Kourtney thinks it's absolutely absurd that people are criticizing the photo of Penelope and even suggesting she, or Scott, is racist," the insider said. "When Kourtney saw the cruel comments calling her daughter racist, she was blown away that people are actually attacking a child."
The source went on to share that Kardashian allegedly isn't mad at her ex for posting that photo because "they both know that Penelope doesn't have a racist bone in her body." Kardashian reportedly knows that her daughter was being "playful" and acting like a "goofball," as she sometimes does.
The insider further explained, "Kourtney doesn't blame Scott because she knows he never would have viewed the photo that way either. Penelope was simply making a funny face and it had nothing at all to do with poking fun at Asian people or their culture. Particularly being raised in a family of mixed race, Penelope doesn't view other races any different from her own."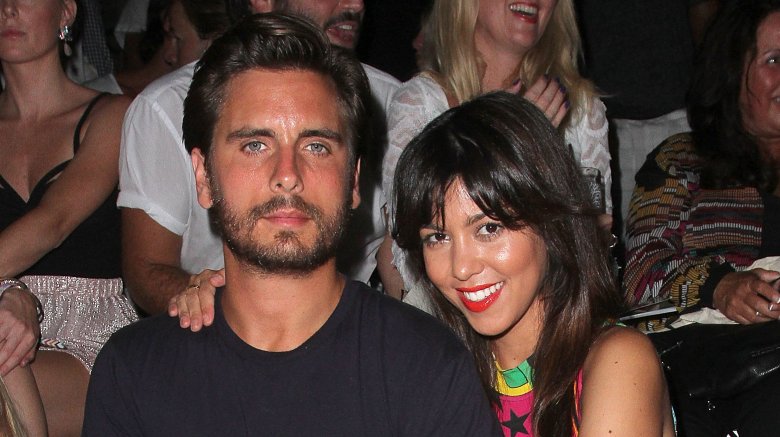 Getty Images
The Kardashian crew is certainly familiar with allegations of racist behavior. In 2014, Scott Disick faced backlash for his Halloween costume (via BuzzFeed). What did he dress as, you ask? An Arab sheikh. As could be expected, fans were upset at the obvious cultural appropriation.
In June 2017, Kim Kardashian was accused of doing blackface in promotional photos for her makeup line KKW Beauty, as she appeared heavily tanned. However, she hit back at the accusations in an interview with The New York Times. "I would obviously never want to offend anyone. I used an amazing photographer and a team of people. I was really tan when we shot the images, and it might be that the contrast was off," she said. "But I showed the image to many people, to many in the business. No one brought that to our attention. No one mentioned it."
She noted that she and her team made changes to the photos after hearing fans' complaints. She also claimed, "Definitely I have learned from it."