Ellen DeGeneres Faces Backlash After Defending Kevin Hart Following Oscars Controversy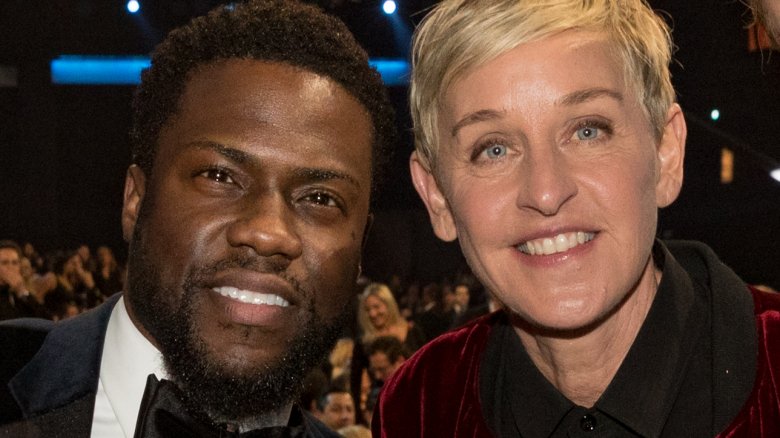 Getty Images
Talk show host Ellen DeGeneres found herself in hot water this week after weighing in on the 2019 Oscars hosting controversy.
During comedian Kevin Hart's Friday, Jan. 4, 2019, appearance on The Ellen DeGeneres Show, the titular host sided with her guest, who addressed his decision to step down from hosting the Academy Awards last month after his past homophobic tweets resurfaced.
Over the course of a six-minute segment, Hart opened up about the headline-making matter, during which several social media users spoke out against the stand-up comedian due to his history of making controversial comments about the LGBTQ+ community. Calling the online backlash a "malicious attack" on his career and character, Hart told DeGeneres in part, "I know I don't have a homophobic bone in my body. I know that I've addressed it. I know that I've apologized ... I don't want to have to have this conversation anymore, because I know who I am. I'm not that guy."
As Nicki Swift previously reported, Hart, 39, famously decided to quit hosting the award show in early December 2018 — just days after it was announced he'd be following in the footsteps of last year's host, Jimmy Kimmel. "I have made the choice to step down from hosting this year's Oscar's....this is because I do not want to be a distraction on a night that should be celebrated by so many amazing talented artists," Hart, who previously refused to apologize for his remarks, tweeted at the time. "I sincerely apologize to the LGBTQ community for my insensitive words from my past."
For her part, DeGeneres encouraged Hart to reconsider his decision during their recent interview. Revealing that she personally reached out to the Academy on his behalf, she said, "I called them, I said, 'Kevin's on, I have no idea if he wants to come back and host, but what are your thoughts?' And they were like, 'Oh my God, we want him to host! We feel like that maybe he misunderstood or it was handled wrong. Maybe we said the wrong thing but we want him to host. Whatever we can do we would be thrilled. And he should host the Oscars.'"
Regarding Hart's past anti-LGBTQ+ tweets, DeGeneres noted, "As a gay person, I am sensitive to all of that. You've already expressed that it's not being educated on the subject, not realizing how dangerous those words are, not realizing how many kids are killed for being gay or beaten up every day." While referring to those who had called Hart out as "haters," she continued, "You have grown, you have apologized, you are apologizing again right now. You've done it. Don't let those people win — host the Oscars."
Of course, it wasn't long before a number of social media users slammed DeGeneres for defending Hart. "I also believe in forgiveness," one person tweeted. "But I also believe that forgiveness requires an actual apology. Not 'I'm sorry people are so sensitive.' Just 'I am sorry.' All he had to do. And he indignantly refused because he felt his moment was being tainted. That he was the aggrieved."
Meanwhile, another Twitter user wrote, "In light of Ellen absolving Kevin Hart for his history of homophobic remarks, this seems like a good time to reiterate that no one member of a marginalized identity can forgive a bigot on behalf of the entire group." She added, "I'm queer and I still don't want Kevin Hart to host the Oscars, so take THAT, Ellen."
"First, the people who brought up Kevin Hart's past tweets — like me — were not, as Ellen characterized, 'haters,'" BuzzFeed reporter Adam Vary wrote in a Twitter thread. "The host of the Oscars had made anti-gay jokes, and LGBT people who love the Oscars were legitimately startled to see just how harsh his words were." He added that it wasn't a "mob of people out to get Kevin Hart. It was a group of people who wanted to understand Hart's thinking about those hurtful tweets & his stand-up jokes."
For her part, DeGeneres has continued to reiterate her position on Twitter. "In this conversation, @KevinHart4real was authentic and real, and I'm in his corner," she wrote to her 76.8 million followers, adding, "I believe in forgiveness. I believe in second chances. And I believe in @KevinHart4real." 
Presumably in direct response to the subsequent backlash, the Ellen DeGeneres: Relatable comedian wrote in a follow-up tweet, "However you feel about this, the only positive way through it is to talk about it. Thank you for being here, @kevinhart4real."
The 91st annual Academy Awards will air at 8 p.m. on ABC on Sunday, Feb. 24.