Eddie Murphy And His Fiancée Paige Butcher Have Quite The Age Gap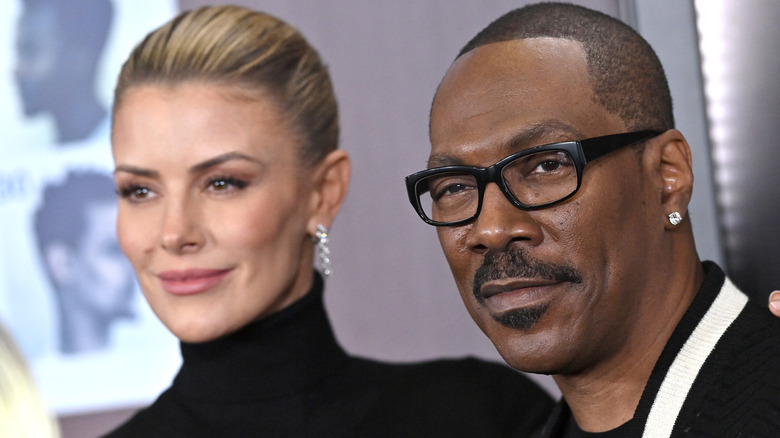 Axelle/bauer-griffin/Getty Images
While Eddie Murphy is celebrated worldwide for his comedic timing and performing prowess, his love life has also become fodder for fans and gossip mags alike. He has fathered 10 children with five different women, and his romantic exploits have included Spice Girl Melanie Brown, producer Tracey Edmonds, and the mother to five of his kids, model Nicole Murphy. In 2012, at age 51, Eddie again found lasting love — and an ever-expanding family — with Australian model Paige Butcher.
The paths of Murphy and Butcher first crossed on the set of 2006's "Big Momma's House 2," in which Murphy's friend Martin Lawrence stars and Butcher had a background role. Like ships passing in the night, however, the model and "Candy Cane Lane" star didn't strike up their romance until six years later. Four years after their first date, the couple welcomed their first child, daughter Izzy Oona Murphy, in 2016. They announced their engagement two years later. One month after that, Butcher gave birth to their second child (and Murphy's 10th), Max Charles. In addition to building her family with Murphy,  Butcher has warmly embraced his existing, blended one. In 2016, the Aussie showed up to support Murphy's daughter, Bria, at the premiere of her Jason Biggs-starring comedy, "Amateur Night." Happily posing on the red carpet next to Bria and her mother (and Murphy's ex-wife), Nicole, Butcher looked cozily at home with the extended Murphy clan.
Murphy and Butcher are seemingly going the distance, a feat made more impressive when you consider their 18-year age gap.
Eddie Murphy and Paige Butcher are thriving despite a cross-generational age gap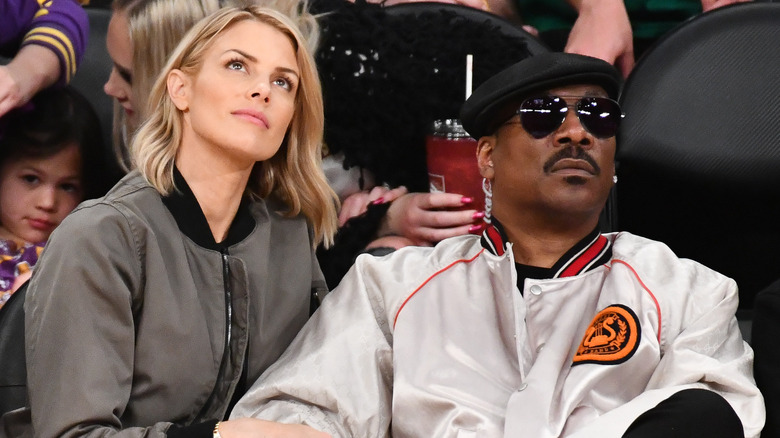 Allen Berezovsky/Getty Images
Eddie Murphy and fiancée Paige Butcher (born on October 6, 1979) have an 18-year age difference. The gap, however, hasn't stopped the lovebirds from growing even stronger with time. So, what's their secret?
According to Butcher, protecting their privacy as a couple has been key since the beginning. After all, dating a megastar of Murphy's caliber has the definite drawback of public scrutiny. When she started dating the "Dr. Doolittle" star in 2012, she recognized an exceeding need to keep the details to themselves. Deleting all her social media accounts, the model explained the decision to Vanity Fair in 2013. She said, "I'm in a relationship with a celebrity, so I felt like there's already enough of me out there. I felt like I was giving out too much information. I was giving people too much access. I like to keep as much private as possible now." Butcher additionally noted that any tiny detail can be weaponized against her in the public eye — and she would rather not feed into the cycle. "The more you put out, the more you get back," she explained.
Shielded from unnecessary prying eyes, Butcher and Murphy were able to focus on family and building a strong foundation for their relationship. As they've proven, age can be nothing but a number.

Eddie Murphy and Paige Butcher share a mutual love for charity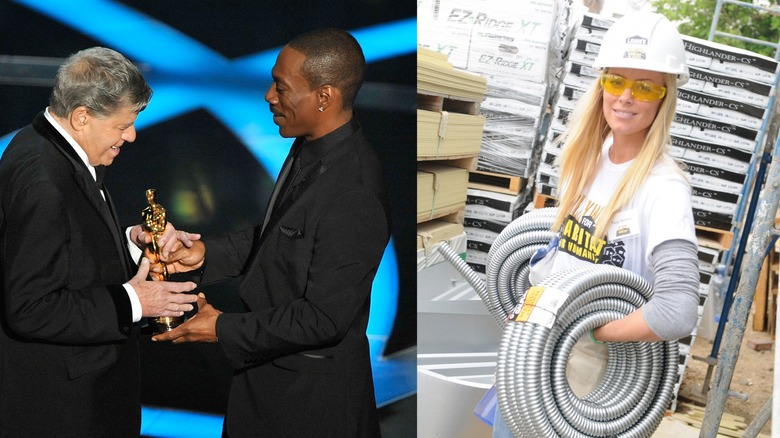 Kevin Winter/Getty & Vivien Killilea/Getty Images
Despite their age difference, it's not hard to find passions in common between Eddie Murphy and Paige Butcher. While they live a cushy life now, Murphy and Butcher are united in their commitment to humanitarian work. Murphy has supported various causes over the years, including the Martin Luther King Jr. Center for Nonviolent Social Change, the AIDS Foundation, the Screen Actors Guild, and the HollyRod Foundation, a charity helping those with Parkinson's Disease and other debilitating conditions. The comedian also founded the Yeah! Foundation, which is dedicated to youth education and providing aid to the homeless.
As for Butcher, she has been a hands-on advocate for Habitat for Humanity and Wheels for Humanity. Finding her charitable roots while living on the East Coast with New York Cares, the model told Vanity Fair in 2013, "I'm such a nurturer and love taking care of people," adding that before she deactivated it, she "would just post my volunteer work" on her Instagram feed. Beyond the satisfaction of helping others, Butcher also finds artistic expression in volunteering with Habitat for Humanity and Wheels for Humanity (She builds houses with the former and refurbishes wheelchairs with the latter). "They get donations of old wheelchairs that are broken, and we change the tires out, clean them, and put new seats in, and then they send them to third-world countries," Butcher describes her work with Wheels. In Los Angeles, she has continued her charitable work at local homeless shelters.