Chrissy Metz Speaks Out About Alison Brie Red Carpet Moment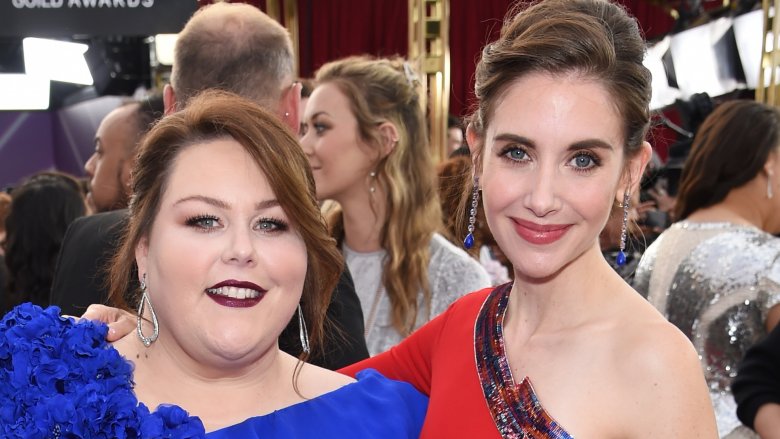 Getty Images
This Is Us star Chrissy Metz has addressed that awkward Golden Globes red carpet moment, in which she sounded like she was calling out fellow actress Alison Brie.
Chrissy Metz commented on speculation that she'd called Glow's Alison Brie a "b***h" after an interview. Speaking with Us Weekly during the Golden Globes on Sunday, Jan. 7, 2019, Metz said, "It's unfortunate people want to say stuff that they don't know is true or not. Alison and I obviously are friends." She continued, "She knows that I would never say something like that."
Metz added that Brie is "somebody that I really revere" and shared that she and Brie had "already texted about" the gossip.
"It's kind of terrible. So I'm glad that ... I mean, I know the truth," Metz went on. "If you actually listen to the video, I don't say anything. It's actually not me speaking about that, so it's unfortunate."
The whole Metz-Brie drama began after Metz had finished an interview with the official Golden Globes Facebook Live pre-show. After interviewers asked Metz if she knew Brie and the show was transitioning to an interview with Brie, Metz allegedly called Brie "such a b***h," as noted by the Today show.
Metz quickly denied saying those words when the moment started making headlines. "I'm so distraught and upset," she told People at the awards show. I don't speak about anyone like that I don't speak like that. I love Alison, I follow her." She noted, "When I was walking up they said, 'Do you know Alison,' and I said, 'Oh boy, do I.' I love her."
For her part, Brie initially seemed confused by the whole ordeal. When asked about the alleged comment by a Vanity Fair reporter, she reportedly replied, "But why? I know her. I saw her on the carpet and I told her how beautiful she looked."
She later took to Instagram to address the matter in her Stories. "Nothing but love for @chrissymetz!! Rumors can't keep us down."
It's worth noting that one of the pre-show co-hosts, AJ Gibson, believes Metz did not call Brie a "b***h" but instead had called her a "babe," as he told Page Six. And, if you listen to the footage, it does sound like that's just what Metz said.