FIJI Water Girl Was The Real Winner At The 2019 Golden Globes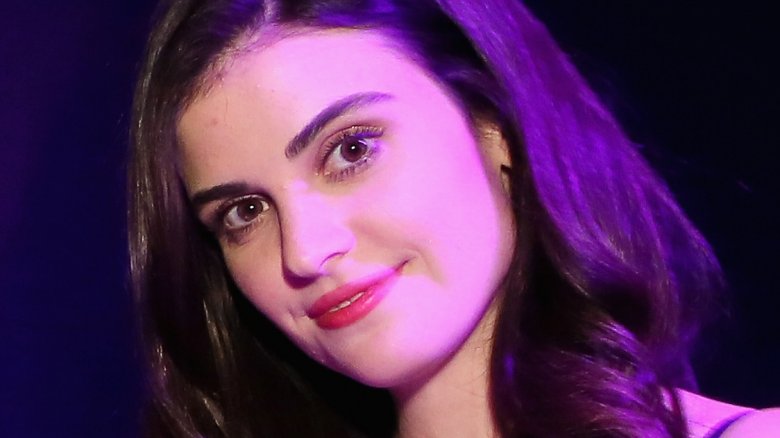 Getty Images
All the stars walked the 2019 Golden Globes red carpet, including one surprising up-and-comer — the FIJI Water Girl.
While celebrities posed for press photos on the red carpet ahead of the Golden Globe award ceremony, model Kelleth Cuthbert stole the spotlight by essentially photobombing stars' pictures, as reported by E! News. You see, Cuthbert served as one of the night's models hired by FIJI Water, holding a tray of — you guessed it — FIJI Water bottles for the event's attendees. Given her job of the night, she quickly became known as FIJI Water Girl.
Cuthbert can be seen in the background of many photos, easily spotted by her gorgeous indigo blue three-tiered gown and often staring directly into the camera lens. She posed behind the likes of comedian Jim Carrey, Bodyguard's Richard Madden, model Heidi Klum, Sharp Objects star Amy Adams, and many, many more.
And people watching the red carpet shows at home were here for it, as they took to social media to comment on Cuthbert's ever-present appearance, launching her into meme status. "We stan a hydration advocate, you better work Fiji water girl #GoldenGlobes," one Twitter user wrote.
One person jokingly tweeted, "And the #goldenglobe for most ominous photobomb goes to . . . FIJI WATER GIRL!"
"That Fiji water girl is really out here stealing scenes," a post read, while another person quipped, "$100 says Fiji girl is cast as a CW superhero next pilot season."
FIJI Water responded to the online reaction to Cuthbert's photobombing by tweeting, "We're so glad everyone is talking about our water *senses ominous presence* She's right behind us, isn't she? #FIJIwatergirl."
The water brand also released a statement regarding Cuthbert's photos, which was obtained by Page Six. "The award for Best Supporting Actress in (literally) Every Picture goes to FIJI Water Girl! FIJI Water Girl is a Los Angeles-based model and first-time FIJI Water Brand Ambassador," FIJI Water's statement read.
"For more than a decade, FIJI Water has proudly maintained a presence at high-profile events, including major award shows, international film festivals and movie premieres," the brand continued. "As the official water sponsor of the Golden Globes, FIJI Water, along with its FIJI Brand Ambassadors, hydrated guests on the red carpet and during the star-studded show. FIJI Water will continue to hydrate more of Hollywood this coming awards season."
According to Time, FIJI Water has served as the "official water brand" for the Golden Globes since 2015.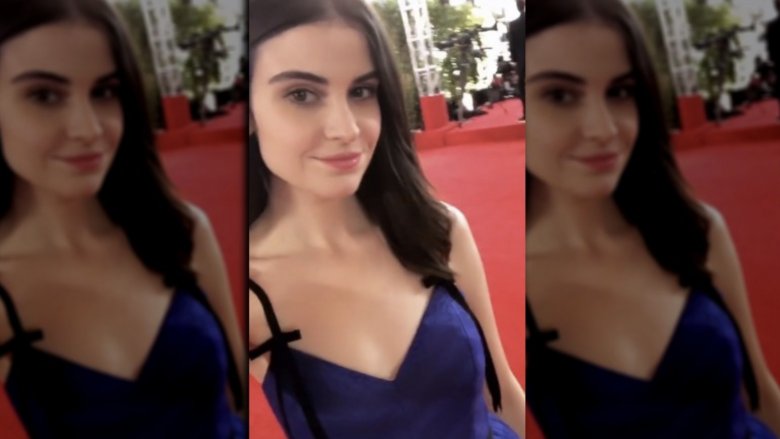 Instagram
So, just who is FIJI Water Girl Kelleth Cuthbert? Well, she's a model who has worked for the likes of "Wilhelmina in Los Angeles, Heffner in Seattle, Donna Baldwin in Denver, Key in Vancouver and Plutino in Toronto," as noted by People magazine. She's also worked for the German agency East West.
The Daily Mail reports that Cuthbert is from Canada and has a college degree in social work. According to Us Weekly, she specialized in "mental health and addiction counseling."
The Daily Mail added that Cuthbert moved to Los Angeles in 2015 and has appeared in multiple lingerie and bikini photoshoots, as well as in Maxim.
And for any of you who developed a crush on Cuthbert during the Golden Globes, we're sorry to break it to you, but she's a married woman. She's reportedly married to photographer Christopher Von Steinbach, whom she met in 2010 and wed just six months later.
Cuthbert appeared to enjoy herself at the Golden Globes, as she shared a photo of herself on the red carpet on Instagram. In the caption, she wrote, "Not the worst way to spend a Sunday... #goldenglobesfijigirl #fijiwatergirl."
She also took to her Instagram Stories to post a couple of articles about her gig on the red carpet. Sharing a screenshot of one article with the title "Forget the Celebs, Fiji Girl is Doing the Absolute MOST at the Golden Globes," she wrote, "DEAD," along with a tears of joy emoji. She also thanked Time magazine for their article, "The Fiji Water Girl Stole the Show at the 2019 Golden Globes Red Carpet."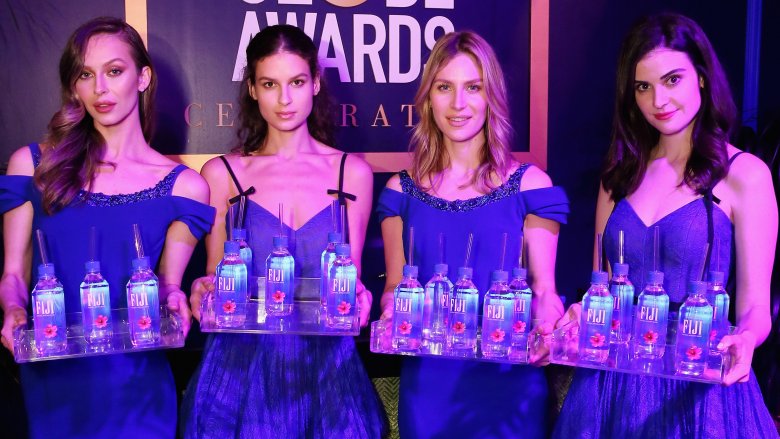 Getty Images
Cuthbert reacted to her sudden fame in an interview with Glamour, telling the magazine, "I do love a good meme, so I think it's incredibly ironic and funny that I'm one now. The first meme of 2019, apparently!"
She continued, "My husband is laughing very hard about all of this. ... This is something I would go viral for. I feel like I've been photobombing people since I was a kid."
Speaking to the Los Angeles Times about her Golden Globes photobombing efforts (via the Daily Mail), Cuthbert — who was actually one of four women hired to hold trays of FIJI water at the event — shared, "It's all strategic," adding, "You've got to angle."
Since she's gained recognition after posing on the red carpet, Cuthbert's Instagram following has skyrocketed, going from about 53,000 followers (via Us Weekly) to a whopping 99,600 followers at the time of this writing.
Given her successful FIJI gig and her viral photos, something tells us we're about to see a whole lot more of FIJI Water Girl in the future.