Hailey Baldwin Opens Up About Anxiety, Insecurities On Social Media
Getty Images
Supermodel Hailey Baldwin is greeting 2019 with a brand new attitude.
On Sunday, Jan. 6, 2019, the Drop the Mic co-host took to Instagram to share an open and honest message about her ongoing battle with anxiety and insecurities.
"Stepping into 2019 I want to be more open, I want to be more open about the things I struggle with, and be able to be more vulnerable," Baldwin wrote in a lengthy text-post to her 16.9 million followers, captioning a snapshot of herself smiling while flashing a peace sign toward the camera. "I'm a 22 [year] old, and the truth is no matter how amazing life may look from the outside I struggle... I'm insecure, I'm fragile, I'm hurting, I have fears, I have doubts, I have anxiety, I get sad, I get angry."
While revealing her daily struggle with confidence, Baldwin added, "I'm not writing this for a pity party or for sympathy but just to simply say, I'm a human.. I'm a young woman, I'm learning who I am and, it's REALLY FREAKING HARD." Baldwin went on to note that her tendency to compare herself with others has sometimes made her feel "simply broken," and encouraged her fans, particularly women, to focus on self-love and lifting each other up. "So this year I'm gonna do my very best to just be ME and be confident with who I am," she concluded. "Cause I am enough, and I'm loved, and you are enough and you're loved." Well said!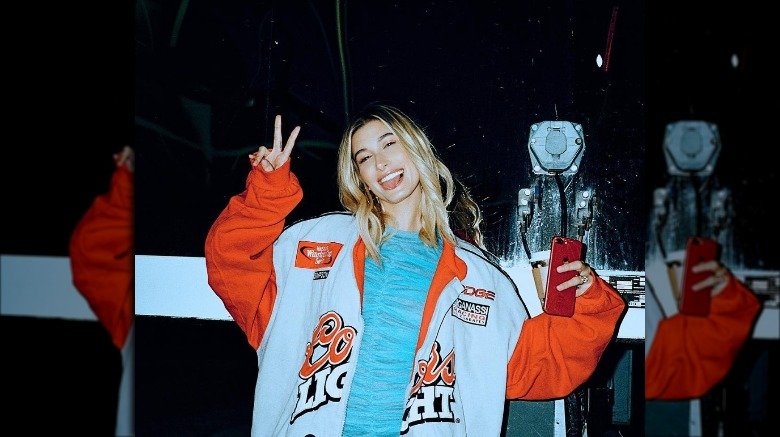 Instagram
Readers may be aware that this isn't the first time Baldwin has used social media as a platform to speak her mind, particularly when it comes to her high-profile marriage with pop star Justin Bieber. As Nicki Swift previously reported, Baldwin, 22, and Bieber, 24, secretly tied the knot at a New York City courthouse in mid-September 2018. After dating on and off since 2015, the happy couple officially got back together last June and announced their engagement just a month later.
Baldwin, who previously spoke out against the "negativity" and criticism surrounding the couple's whirlwind romance, made headlines in early December 2018 when she took a stand against online bullying. While opening up about the mental toll it's unfortunately taken on her, she wrote in part, "It's hard to focus on your well-being and mental health when each time you open Instagram someone is tearing apart your job, or your relationship or essentially any of the things in your life that are positive."
For his part, it sounds like the Biebs couldn't be prouder of his new wife for continuing to share her truth and inspire others on social media. According to Entertainment Tonight, the "Sorry" hitmaker wrote in the comments section of Baldwin's latest post, "This is beautiful hun."