The Tragic Truth About Suzanne Somers' Life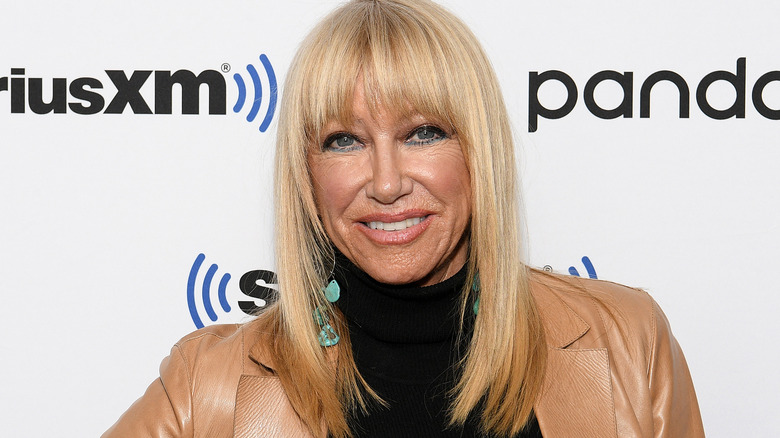 Dia Dipasupil/Getty Images
We may receive a commission on purchases made from links.
Suzanne Somers (nee Mahoney) died on October 15, 2023, just one day before her birthday. "Suzanne was surrounded by her loving husband Alan, her son Bruce, and her immediate family. Her family was gathered to celebrate her 77th birthday on October 16th. Instead, they will celebrate her extraordinary life, and want to thank her millions of fans and followers who loved her dearly," read a statement shared with People magazine by publicist R. Couri Hay. Somers had recently been diagnosed with a recurrence of breast cancer after beating the disease years ago.
Somers was born on October 16, 1946, in California. Her mom, Marion, worked as a medical secretary, while her dad, Francis, was employed at a brewery. "I grew up poor," Somers said on the "Hollywood Raw" podcast in 2022. But everything changed for Somers once she got her big break. Somers was best known for her role as Chrissy Snow on "Three's Company," which aired in the late '70s and into the 80s. She landed another recurring role in the '90s, portraying Carol Foster Lambert on "Step by Step." Somers was a mom of one son, Bruce Somers Jr., whom she welcomed in 1965, with her then-husband, Bruce Somers. But even her adult life wasn't all glitz and glam. It was riddled with tragic details, many of which haunted her until the day she died.
Suzanne Somers gave her final interview days before her death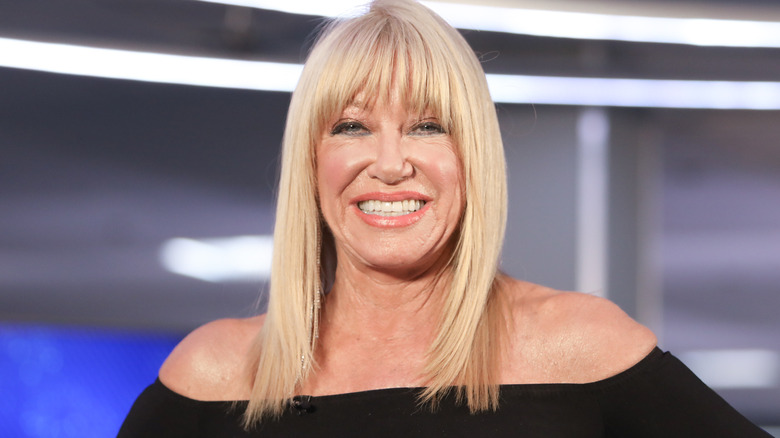 Paul Archuleta/Getty Images
After she left the acting world for good in 2001, Suzanne Somers became an entrepreneur, and was featured on the Home Shopping Network (HSN) selling products including clothing and jewelry for more than a decade. From there, she started dabbling in wellness items, such as vitamins, and even an exercise tool called the ThighMaster, which made her millions. Over the course of her life, Suzanne made herself a star. She appeared on Broadway, had her very own residency in Las Vegas, and authored more than a dozen books. She was first diagnosed with breast cancer in 2000, before it came back a second time in 2023.
The former actor didn't let on about how sick she was, but fans had been concerned about her health due to her lack of public appearances and her absence from social media (someone else appeared to be running her accounts for the past several months). However, just days before she died, Suzanne told People magazine that she had made plans for her birthday. "I heard Caroline is making her famous short rib tacos," Suzanne said, referring to her daughter-in-law. "And I have asked for copious amounts of cake. I really love cake," she added. 
Suzanne didn't officially turn another year older, however, though her publicist ensures fans that she died "peacefully at home."
Suzanne Somers was diagnosed with breast cancer at age 54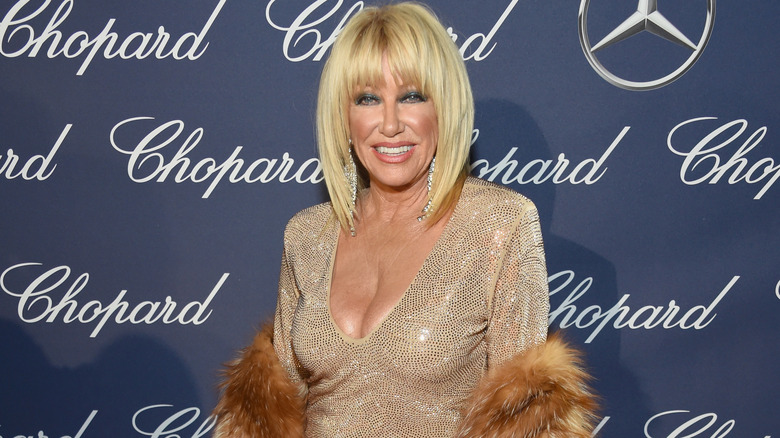 Michael Kovac/Getty Images
Although not super uncommon, the majority of breast cancers diagnosed in the United States occur after age 60. Suzanne Somers was first diagnosed with breast cancer in 2000 when she was just 54-years-old. "I think the most shocking words I ever thought, I never thought, I would ever in my life hear someone say to me that you have breast cancer," Suzanne said during an interview with Larry King in March 2001, revealing her diagnosis publicly for the very first time. Suzanne went on to explain that her doctor suggested she have an ultrasound following her annual mammogram, and it was then that a 2.4 centimeter tumor was found. Suzanne had surgery followed by radiation treatment. She refused chemotherapy but opted to try an alternative treatment to grow back her breast.
In a 2018 interview with Us Weekly, Suzanne shared a bit about how things had been going since she opted for cell-assisted lipotransfer. "They took fat from my stomach, spun out the stem cells, discarded the weak ones, took the strong ones, injected them into this breast with, like, a turkey baster, and for a year I felt, like, electrical zippers growing the blood vessels," she explained. She appeared very happy with the results. "I have two breasts again that are mine. No implants, no foreign objects in my body," she said.
Suzanne Somers' father was abusive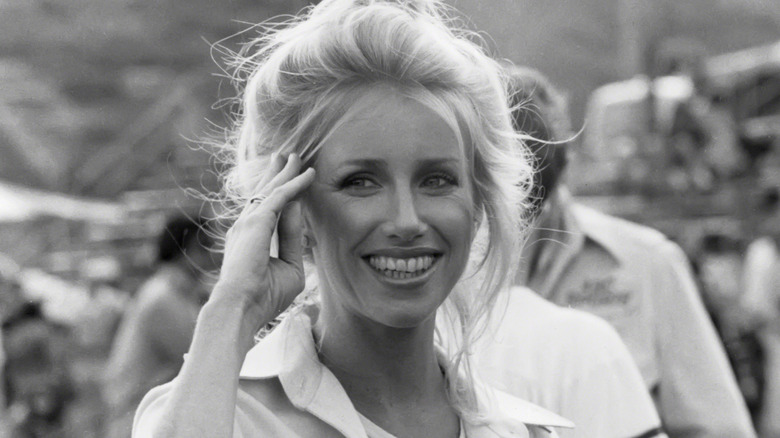 Images Press/Getty Images
Suzanne Somers didn't always live a glamorous lifestyle. In fact, she had a difficult upbringing, mainly because of her father. "I had the craziest, most violent, most unbelievable father," Suzanne said in an interview with SouthCoast Today, sharing a story of when she and her siblings took shelter in a closet in their childhood home to protect themselves from his wrath. This wasn't the only time that Suzanne opened up about the abuse that she suffered at the hands of her father, either. "That great guy faded and the person who emerged was the drunken one: mean, frightening, abusive," she wrote in her book, "Two's Company: A Fifty- Year Romance With Lessons Learned in Love, Life & Business." 
"Laughter was replaced by long scary nights hiding from him in a locked closet, where my brother, sister, mother, and I trembled in fear, praying he wouldn't find us and hoping he'd just pass out," she added. Suzanne was the type of person who would focus on the positive and try to find the silver lining. She wrote that she wouldn't allow those hard times to bring her down. When she was older, Suzanne revealed that she was able to make amends with her dad. In a Facebook post uploaded in 2018, Suzanne shared that she and her dad were able to come together after he got sober, and they built a new relationship in the years before he died.
Suzanne Somers went through a divorce when she was 22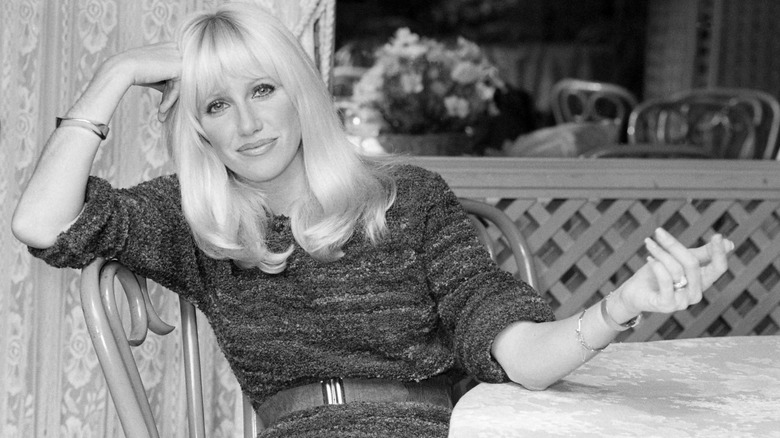 Joan Adlen Photography/Getty Images
Suzanne Somers' rough childhood made her want to leave home as soon as she was able, and that's just what she did. When she was a teenager, she met a man named Bruce Somers and ended up getting pregnant — the perfect reason to remove herself from under her father's thumb. In an interview with Entreprenista, Suzanne explained why she ended up marrying Bruce. "If you became pregnant, abortion was out of the question, and you HAD TO marry the father. I did the 'right' thing and I was miserable, except for my little baby," she said.
Suzanne and Bruce went their separate ways shortly after the baby was born, which also posed a challenge for the star. "Getting pregnant and getting a divorce a year later only contributed to my low self-esteem and my need for constant crises," Suzanne told the Tampa Bay Times. Following her split from Bruce, Suzanne went on to find love in a less traditional way and ended up having an affair with television host Alan Hamel, who was married at the time. "Back then I was lying, manipulating, hiding. . . . I blamed myself for everything," she told the outlet, admitting to having an abortion after getting pregnant with Hamel's baby. Suzanne and Hamel got married in 1977 and were married until she died in 2023.
Suzanne Somers' childhood weighed on her for years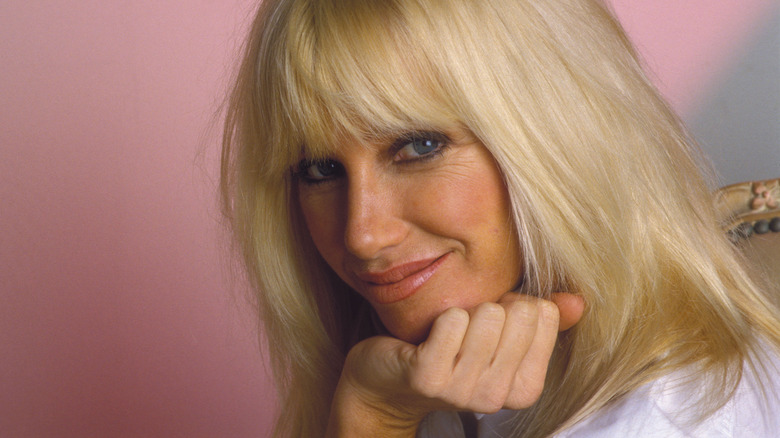 Bob Riha Jr/Getty Images
Suzanne Somers did her best to push through some of the most tragic, scary times of her life, but her upbringing greatly affected the person she became. Suzanne often talked about how her father doubted her, telling her that she'd never be successful. "When he was drinking, he would tell me I would never amount to anything – that I was 'nothin' a BIG 0," Suzanne wrote on Facebook in 2018. Even as an adult, her past would creep up on her at times and she often felt unworthy or undeserving. 
In an interview with SouthCoast Today, Suzanne's second husband Alan Hamel spoke about how his wife still called back to those tough times, especially when she was tired. "That stuff never fully leaves you," he said, adding that, at times, "she gets a look on her face — in her eyes — that's very vulnerable. I'll know that she's not feeling really good about herself in that moment." Things weren't always easy for Suzanne, who had to overcome a lot of her own insecurities to live a peaceful life. And she knew that giving yourself grace also isn't easy. However, once she was able to patch things up with her dad, life got easier. "Forgiveness is a gift you give yourself. It allowed me to release the stored pain and be free," she wrote on Facebook.
Suzanne Somers' son almost died in a car accident
Suzanne Somers went through a very traumatic experience when her 6-year-old son was involved in a car accident that nearly claimed his life. Suzanne hadn't shared many details about what happened on that terrifying day, but she remained grateful that everything worked out. Nevertheless, Bruce Somers Jr. was having bad nightmares in the aftermath — nightmares can be symptoms of PTSD. In an effort to help her son, Suzanne took little Bruce to a local health center for therapy. About a year into it, a therapist told Suzanne that she was the one who needed to work on her mental health. "He's fine. You need to stay,'" Suzanne recalled the therapist saying to her during her interview with SouthCoast Today. "I said, 'Why?' That's when she said, 'You're a walking apology. I've never met somebody with such low self-esteem,'" Suzanne added.
Suzanne and her only son had a very close relationship, and he has posted about his mother from time-to-time on social media. "My mother loves and supports me like no other. Because of her, I am confident and I am resilient. She always reinforced that I had the ability to achieve anything I wanted. And when I have had setbacks in my journey, she was there to remind me of their lessons and help heal the wounds to get me back on the playing field," Bruce captioned an Instagram post on Mother's Day in 2019.
Suzanne Somers once feared she was going to be raped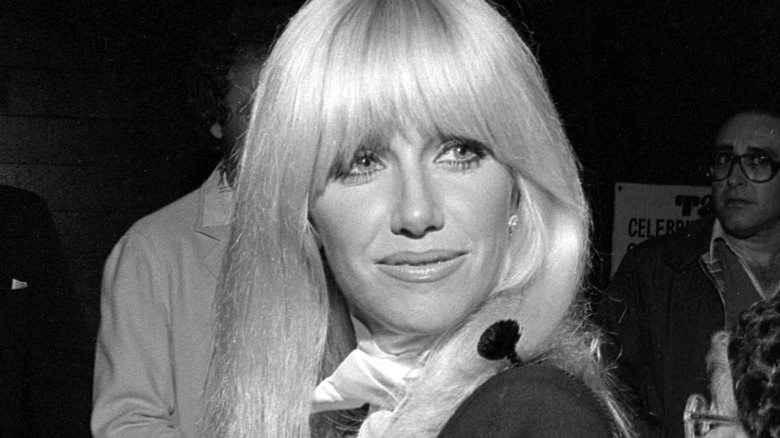 Mediapunch/Getty Images
Following the car accident that nearly claimed Suzanne Somers' son's life, she found herself in a tough spot; broke and unable to pay for his care. When she was presented with an offer to pose for Playboy, she couldn't turn it down because she really needed the money. And so, she traveled to Mexico for a photoshoot. In an interview with People magazine in 2017, Suzanne recalled an incident that happened while she was there. "I went down to lie by the pool, and all of a sudden a creepy guy was there," she began. The man was a waiter whom Suzanne said had been intoxicated. He made his way over to her and offered her drugs, which she refused. But he persisted. "He fell all over me, and I ran into the house," she said.
Suzanne tried to remain calm and hoped that if she was just quiet enough, the man would go away. "I'm thinking, 'I am just so going to get raped, or killed. I had no power at all," she said. The other people traveling with Suzanne returned to the hotel in the nick of time and Suzanne was spared from any additional interaction with the man. The sad truth behind Suzanne being in Mexico was that she was flat broke and really needed the money; she agreed to pose for Playboy to help pay for her son's hospital bills.
Suzanne Somers was fired from Three's Company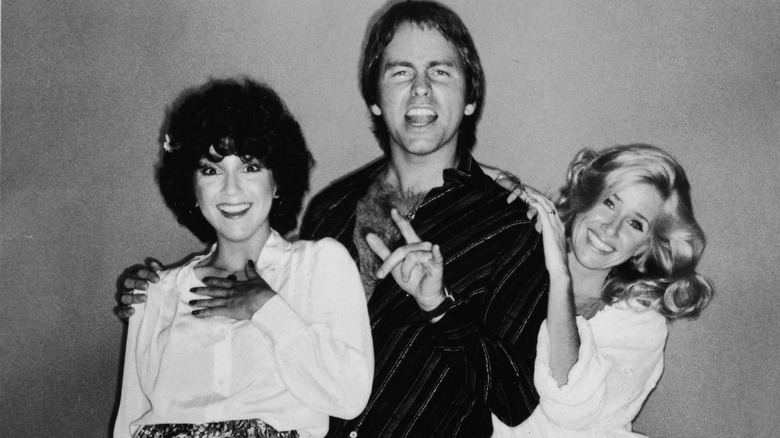 Hulton Archive/Getty Images
Suzanne Somers got her first acting gig in the late 60s with an uncredited role on the television series "Bullitt." She took on a few additional small roles over the years as she continued to audition in hopes of getting her big break. Eventually it came, in 1977, when she was cast as Chrissy Snow on the television sitcom, "Three's Company." However, Suzanne almost didn't star on the show at all. In a 2008 interview, producer George Sunga explained that the role of Snow wasn't actually fleshed out, making it difficult to find the perfect person to portray her. It wasn't until a failed pilot that producer Fred Silverman threw Suzanne's name into the casting mix. She auditioned for the role and the rest was history. But that wasn't exactly the be-all and end-all of Suzanne's time on the show.
In 1980, after being on the show for three years, Suzanne decided to ask for a raise from $30,000 an episode to $150,000, which would have been equal to Ritter's pay. Unfortunately, the network refused to budge and turned around and fired her instead. "Getting fired for asking for a raise wasn't fair, but I landed on my feet and I've done OK," she told The Hollywood Reporter. She didn't seem to have any regrets, however. "I'm so glad I did that show. It made me. It gave me everything. It was the chance that everyone hopes to get," Suzanne told ET in 1982.
Suzanne Somers' home was destroyed by a wildfire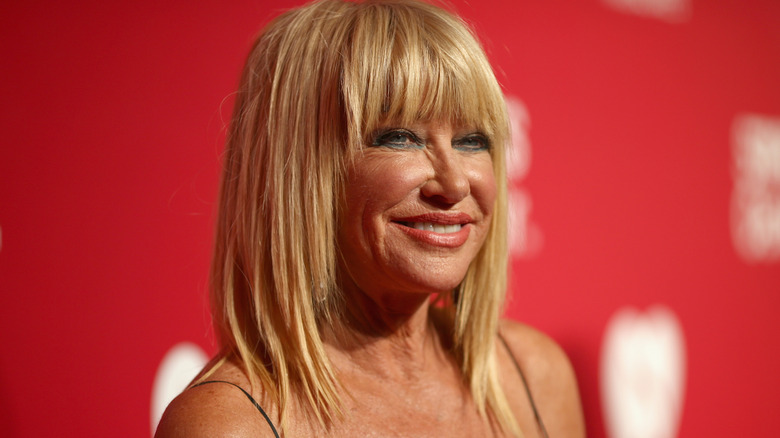 Christopher Polk/Getty Images
In 2007, Suzanne Somers' home in Malibu, California, was completely destroyed by wildfires in the area. Soon after the fires broke out, the Santa Ana wind made it nearly impossible for firefighters to contain it, let alone put it out. Suzanne's home was one of four that suffered extreme damage in the area. "It's a total loss. The good news is Alan and Suzanne weren't hurt," an assistant for Suzanne's husband told Fox News at the time. When it was deemed safe to do so, Suzanne visited the land where her beautiful house once stood.
"There's not a death in the family," she told reporters, according to Reuters. "We'll rebuild and I really think we'll learn something great from this. What else can you do with tragedy but look for the opportunity to grow? It was a beautiful house. It was a beautiful place to live," she added. However, Suzanne decided not to rebuild. Instead, she sold the property, which consisted of two parcels of land near the Pacific Coast Highway, in 2016. About five years later, a new waterfront abode was placed up for sale with a price tag of $40 million.
Suzanne and her husband, Alan Hamel, lived in Palm Springs for many years, but decided to downsize in 2019. They listed their 10-bedroom mansion for sale and moved into a modest $2 million home in Southridge. 
Suzanne Somers revealed her breast cancer returned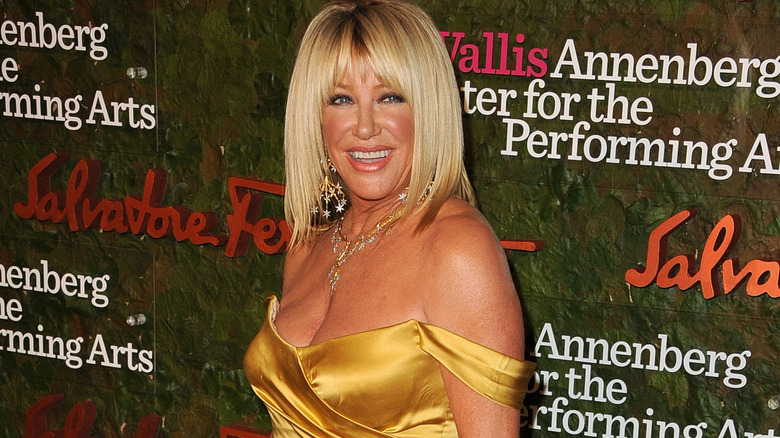 Steve Granitz/Getty Images
Later on in life, Suzanne Somers appeared to be on top of the world, helping people by sharing her tips for a healthy lifestyle and living a peaceful life with her husband, outside of the hustle and bustle of Hollywood. However, in July 2023, she shared the devastating news that her breast cancer had returned. Suzanne shared a candid post on Instagram, ensuring her fans that this wasn't something new and that she was ready to take on the challenge. "I know how to put on my battle gear and I'm a fighter. Alan has been by my side every step of the way. I can't even explain how much he has done for me. If it's even possible, we are even closer than ever," she wrote.
Alan Hamel also spoke out about his wife's recent diagnosis, telling Page Six that she had received some good news from her doctors in June 2023. "But cancer is tricky and we will now closely monitor everything going forward," he added. Further updates on Suzanne's health weren't made and fans remained hopeful that she was feeling okay — and that she'd be able to pull through. Ultimately, cancer claimed Suzanne's life, leaving those closest to her heartbroken; especially Hamel, who penned a poem to his wife before she died. In trying to find the right words to describe his love for her, he landed on the word "us." 
"Uniquely, magically, indescribably wonderful 'us,'" read the last line of the poem, which was obtained by ET.