How Bad Bunny Landed In Legal Trouble With His Ex Carliz De La Cruz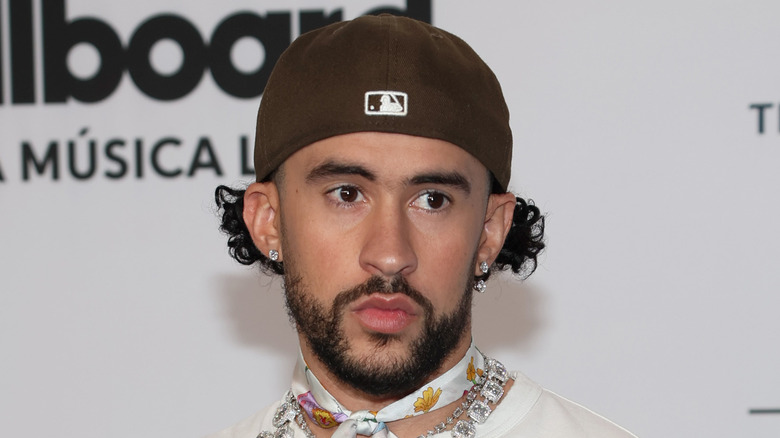 Rodrigo Varela/Getty Images
Like many musicians, Bad Bunny uses his experiences with his exes to write and create new music. But, the voicemail inspiration from his ex, Carliz De La Cruz, landed him in some legal trouble. 
Bad Bunny and De La Cruz's romance may not be as widely known as his latest relationships because the former couple dated long before the Grammy winner made a name for himself in the music industry. The two sparked their romance in 2011 at the University of Puerto Rico, per The Guardian. The couple was not only in close quarters at school but also at their jobs. He and De La Cruz worked at the same supermarket as they attended the university. Things got so serious between the two that De La Cruz even claimed that the "Tití Me Preguntó" singer popped the question in January 2016.
However, the two were headed down different paths. Bad Bunny was trying to become the next biggest musician — which spoiler: ended up happening — and De La Cruz wanted to become a lawyer. The couple reportedly got back together in 2017 before they eventually called it quits shortly after. Based on the bio on De La Cruz's Instagram page, she, too, achieved her dream of becoming a lawyer. And it looks like she may have used her knowledge of the law to take her ex, Bad Bunny, to court over her iconic line, "Bad Bunny, baby."
Carliz De La Cruz sues Bad Bunny over voicemail
If you consider yourself a Bad Bunny fan, you're probably familiar with the voice recording that says, "Bad Bunny, baby," in his track "Pa Ti." Or, maybe you heard the voicemail at the beginning of his song, "Dos Mil 16." Either way, this recording has been the center of a new lawsuit handed to Bad Bunny from his ex, Carliz De La Cruz.
According to NBC News, De La Cruz sued the Latin singer for $40 million for using her voicemail in his songs without her consent. In May 2022, a representative for the musician reportedly called De La Cruz, hoping to acquire the recording. The lawsuit described, "In that call, (the representative) said, 'I know you don't like to talk about Voldemort (referring to Bad Bunny), but I need to ask you something." Apparently, the "Dakiti" singer and his manager, Noah Kamil Assad Byrne, also named in the lawsuit, offered $2,000 to buy the recording off De La Cruz. However, she ended up declining the offer.
De La Cruz claims the musician still released "Dos Mil 16," which featured the voicemail without her consent, per Pitchfork. The lawsuit shares, "Since De La Cruz made it clear that she did not consent to its use, its publication constituted an act of gross negligence, bad faith [...] since all parties had and still have knowledge of these facts and even so decided to be reckless and break the law."
Has Bad Bunny responded to the lawsuit?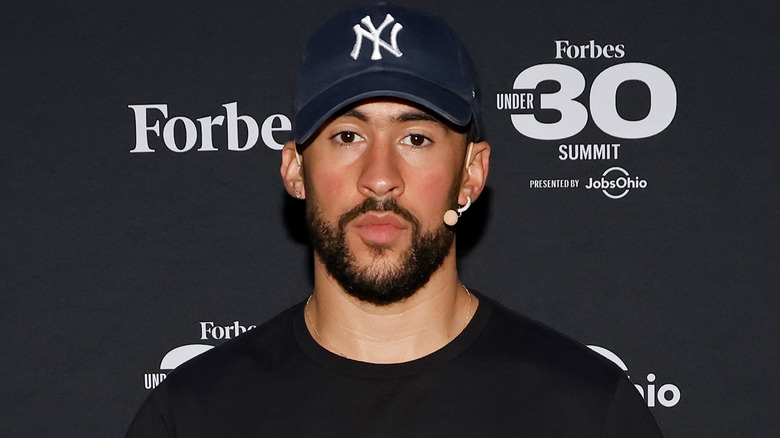 Taylor Hill/Getty Images
Bad Bunny doesn't seem to be affected by his latest lawsuit from his ex-girlfriend, Carliz De La Cruz. The "Ojitos Lindos" singer and his team have yet to respond to the allegations that he used the voicemail "Bad Bunny, baby" without De La Cruz's consent, per CNBC. However, the musician doesn't appear to be too bothered by the lawsuit, neither musically nor personally.
A month after De La Cruz sued Bad Bunny, he performed on one of the biggest stages in the world. The Latin singer headlined Coachella 2023, although his setlist did not feature "Pa Ti" or "Dos Mil 16." Whether that was because of the recent lawsuit or not, Bad Bunny has continued to release new music. In October 2023, the musician revealed he will release his long-awaited fifth studio album, "Nadie Sabe Lo Que Va a Pasar Mañana." Bad Bunny won't let his lawsuit with De La Cruz get in the way of releasing new music. Moreover, he's not going to let it affect his relationships.
Bad Bunny and Kendall Jenner have been in a whirlwind romance since February 2023, per Glamour. Speculation surrounding the two grew as they were spotted out on dates. Bad Bunny has never talked about or confirmed his relationship with Jenner, though. They continue to go strong as Bad Bunny moves on with his life despite all the legal issues he's facing from his ex-girlfriend, De La Cruz.