Courteney Cox Doesn't Like Calling Boyfriend Johnny McDaid This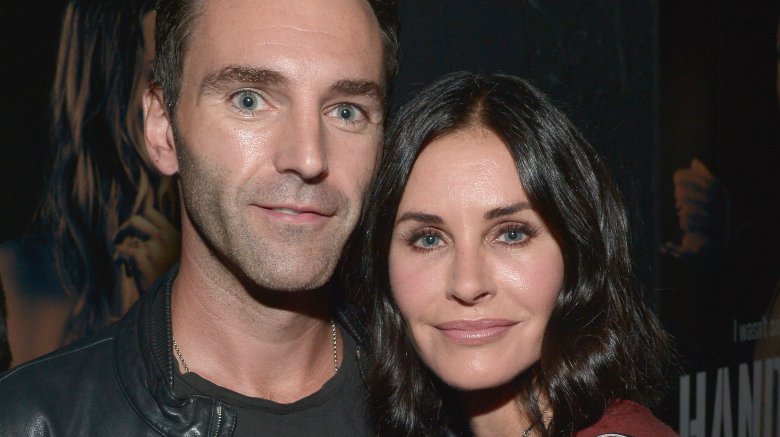 Getty Images
Courteney Cox has been with boyfriend Johnny McDaid for a long time, but she still can't bring herself to call him by a certain title.
Appearing on Jimmy Kimmel Live on Monday, Jan. 7, 2019, the Friends star opened up about her relationship with the songwriter and Snow Patrol musician. Host Jimmy Kimmel asked Cox, "How is your ... man friend? What will we call Johnny?" To which, Cox replied, "My man friend — that's good. I don't know if that would go over that well."
She then continued, "He's my partner — that's what he calls it. Partner." But Cox isn't a fan of the term "partner," and it's apparently because of its past connotations. "I'm from Alabama, so you don't really say partner unless you're in the same sex," she shared with Kimmel. "He's my guy, he's my one, but saying partner is difficult for me."
The actress, who shares daughter Coco with ex-husband David Arquette, recalled calling McDaid her "partner" when in Atlanta, and she said people got the wrong idea. "I was in Atlanta not that long ago and I was like, 'Oh, I'm supposed to meet my partner at Section F' and they were like, 'Oh, I'm sure she's gonna be there, don't worry,'" she said.
"Not that it matters," she added. "It's just a different way to speak."
Cox and McDaid previously announced that they were engaged back in June 2014, after dating for six months. Unfortunately, it wasn't long until they broke up, ending things by December 2015 (via E! News). However, the two stars found their way back to one another in 2016. That May, Cox and McDaid walked the BMI Pop Awards red carpet together. Speaking to E! News about their relationship at the event, McDaid said, "Just look at us. I love her. I've always loved her."
We're glad to see these two are still going strong.