The Real Reason Why R. Kelly's Brother Bruce Is In Prison
R&B singer R. Kelly's older brother, Bruce Kelly, appeared in the Lifetime docuseries about his famous sibling, Surviving R. Kelly. But unlike other people interviewed for the show, Bruce gave his two cents about his brother from the confines of prison.
Bruce Kelly spoke about the "I Believe I Can Fly" crooner from Chicago's Cook County jail, as reported by People magazine. The 53-year-old is currently being held there on a $100,000 bond, after being arrested in March 2018. So, just why is Bruce behind bars? Burglary ... but that's not all.
He also faces several other charges: "possession of a stolen vehicle and possession of a controlled substance," as well as "escape/violating electronic monitoring." Bruce is being held without bond for both possession charges.
While he's scheduled to appear in court for the burglary charge on Jan. 29, he'll first head to court for the possession charges on Jan. 24.
These charges aren't the first Bruce has ever faced. As noted by Oxygen, court docs indicate that Bruce has previously been arrested for "criminal trespass, theft, retail theft and and a handful of other burglaries." Vibe adds that Bruce has also been taken into police custody for violating his probation.
According to Decider, who reported on a tweet with Bruce's alleged illinois Department of Corrections inmate database profile, Bruce previously entered Vandalia Correctional Center on July 7, 2016.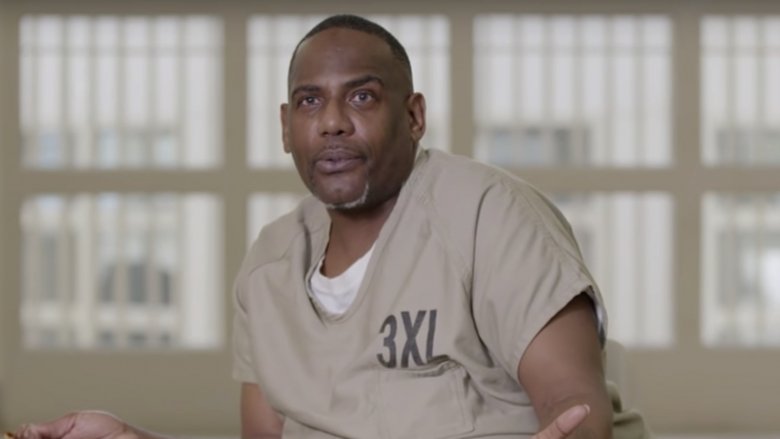 YouTube
In his interview for Surviving R. Kelly — which aired over the course of three days, from Jan. 3 to Jan. 5, — Bruce Kelly recalled earlier moments with his famous brother. "Rob was shy and very timid. If you stared at him in his face he would cry," he told Lifetime's cameras (via Oxygen).
He also shared that, when the singer was younger, he'd had trouble reading and writing and had allegedly been bullied over it. Remembering once finding R. Kelly crying in the bathroom, Bruce stated, "I said, 'Robert what's wrong with you, man?' ... He just broke down and started crying again, 'I'm just tired of all these kids teasing me cuz I can't read.'"
Bruce, however, also discussed his brother's alleged sexual relationships with minors, inciting the wrath of viewers on social media when he seemed to defend R. Kelly's rumored trysts with underage girls.
"You have people who have fantasies about different things," Bruce said during Surviving R. Kelly. "I like older women, go figure, you know. But that's just a preference. Everyone has preferences. So what is the big deal? What is the big issue with my brother?"
Getty Images
R. Kelly has, over the years, been hit with allegations of committing sexual abuse against underage girls. He was once accused of making a sex tape with a 14-year-old girl, allegedly urinating on her in the footage (via The Cut). However, he was acquitted largely because both he and the alleged victim featured in the tape denied that they were the people in the video.
Kelly has long been rumored to have had a sexual relationship with late singer Aaliyah, whom he's thought to have married when she was just 15 years old (via People).
He's also been accused of running a sex cult, as reported by BuzzFeed News in 2017.
"Yeah, f*** Bruce Kelly," one person tweeted in response to Bruce's comments. "Preference is iced coffee over hot coffee. Not teen girls over women of age."
Another tweet read, "Boy, Bruce Kelly, being a man who targets underage girls is not a damn 'preference.' That's sexual predatory behavior worthy of legal consequences. Sex offender ish and should never be condoned."
The publication Black Girl Nerds tweeted out, "I have to give kudos to @lifetimetv @dreamhampton and the rest of the crew: Making the sole sympathizer speak with full view of the prison cell and his prison jumpsuit was genius. It show where all the R Kelly sympathizers need to end up."
Since Surviving R. Kelly aired on TV, interest in the singer's alleged crimes has been renewed. As noted by The Cut, Georgia authorities have launched an investigation against R. Kelly, with the Fulton County District Attorney's Office reportedly reaching out to women who shared their experiences with the artist on the docuseries. Two women have come forward in Chicago about alleged abuse they suffered at R. Kelly's hands.
Many celebrities, including Lady Gaga, have publicly condemned R. Kelly, and R. Kelly's estranged daughter, Buku Abi, has spoken out about her father, calling him a "monster" in an Instagram Story (via The Cut). She added, "I am well aware of who and what he is. I grew up in that house."
R. Kelly has denied all allegations made against him via his attorney, Steven Greenberg (via E! News).